One of the current experiments in Steam Labs is called Deep Dive, which Valve worked with game developer Lars Doucet to create. It's a really cool idea and it got a nice big update recently.
It allows you to click a game, then get a bunch of new suggestions based on how similar they are. The new update should improve performance, a new matching algorithm based on tags, bug fixes and so on. You can see the full details on it here.
The matching algorithm still needs improving though, the idea of now using important tags sounds good but in practice for me it barely worked at all when there should be a lot of similar titles. Clicking Black Mesa for example some key tags used are FPS and Shooter, which we actually have quite a number of but the "Very Similar" field was entirely empty. Same happens with Counter-Strike: Global Offensive, the list was almost empty (surely Insurgency should be a good match?). Again with XCOM 2, we have tons of similar turn-based strategy games and it came up mostly dry again.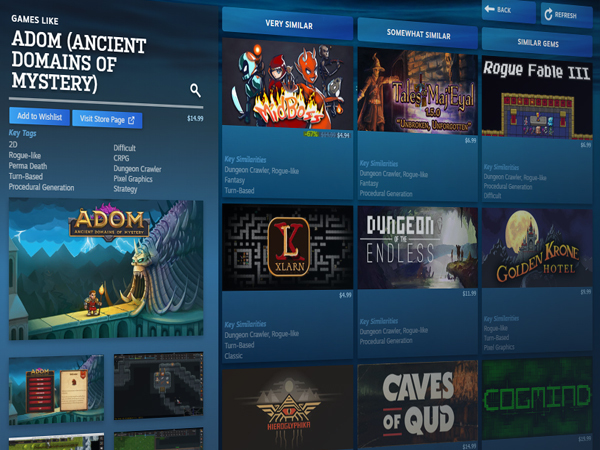 Despite the current issues while in development, I can see a huge amount of promise in this feature. One that when finished could be incredibly useful, especially for when you're in the mood for something specific but you just can't make up your mind.
Additionally the developer of Deep Dive, Lars Doucet, could use some feedback on presenting Linux games. Currently, it respects your platform preferences on Steam. So if you go to your preferences (at the bottom) and tick only Linux, it will only show Linux games. This seems to have caused an issue though, where it can end up running out of suggestions due to Linux having a lower amount of games (although see above about it not matching well anyway right now).
On Twitter, Doucet asked us for some feedback. The issue they mentioned is that with Steam Play/Proton, should they show titles for that too and how to best present it? If you have thoughts on it, do share them in the comments for the developer to see.
Some you may have missed, popular articles from the last month: