I will admit, after dropping an update last night with a big new Operation for Counter-Strike: Global Offensive I was a little sceptical with the Battle Pass system. However, it's surprisingly good. This update shows what Valve can do when they experiment a little further.
Note: You do not need to buy the pass to play the missions, only earn the rewards.
There's not many of these missions in yet, but Operation Shattered Web goes on for at least 16 weeks so there will no doubt be more coming. Let's talk about the new co-op Virus Outbreak mission for example, which uses the Danger Zone map Sirocco. Valve has actually expanded the map, with a big underground complex and some new voice-over from your leader and the enemy leader.
They've taken all the additions to CS:GO over the last year or so and done something quite fun with it. Since this new mission requires co-op, this is also the first time I've made use of the Looking to Play system added in May this year and it works well. Within a few seconds of turning it on, I had invites ready to begin.
Your mission is to gear up, with plenty of weapon options to pick from on your ship then get through an underground complex to recover a container. It seems like this container holds the actual Virus that spreads during a Danger Zone game when the missiles hit the ground, playfully expanding upon the lore of CS:GO Danger Zone.
When you're ready, you hop onto a boat which then almost instantly dumps you onto the shoreline of Sirocco. From here, you have to make your way into the compound dealing the with the guards spaced around, a sniper or two and find the entrance to the vast underground complex. This requires a little teamwork, to open doors and take down enemies at various positions.
Valve put quite a bit of effort into making this somewhat exciting with all the new features, given the age of CS:GO it actually does hold up quite well.
You fight your way through, going through various rooms and corridors with some rather interesting events like the enemy leader letting out a bunch of inmates to try and take you down when you're trapped in a room. That was a bit of a shock, I will admit, having a bunch of people run at you with knives in a dark room.
Eventually, you come across your mission objective to secure the Virus container. However, the enemy leader mentions your own leader knows rather a lot about it all—asking why you think that is, so what's really going on? Perhaps we will find out in missions from later weeks.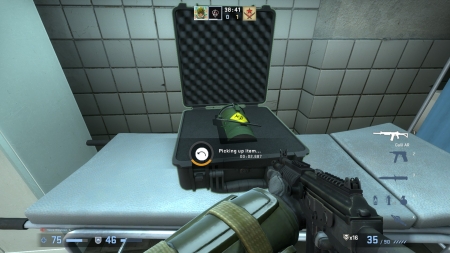 Once you make it out, you have to then head towards and secure the helipad, as you try to defend it against a large wave of enemies coming down on you. It gets a little heated, with the enemy leader mentioning that you could become part of the experiment (hello Danger Zone).
Your helicopter arrives, but it's no good. There's enemies everywhere and the enemy leader fires a missile right next to your position, causing your ride out of there to bug-out and find a new location to pick you up. This is where it gets more exciting and ridiculously frantic as you have to run along the shoreline, while dodging enemy fire to get to the new pickup location, while you also have the Virus spreading closely behind you and it's actually challenging.
There's also a few special coins you can collect, three of them on this map although so far I've only managed to collect one of them. Presumably, collecting all three will give you a boost on the Battle Pass. Trying to find them is a nice little extra though.
It's intriguing to see Valve continuing to take ideas from other games like this. Remember that Danger Zone was pretty clearly Valve being reactive to the market, with PUBG and Fortnite both being highly popular and now they're doing it a little again, as these in-level collections I've seen done in games like Fortnite. There's a good reason for it though, it keeps people coming back for more. As usual though, Valve add their own special flavour with the mission and game mechanics.
The other mission I've tried, Guardian: Vertigo, has you and a buddy defend a fixed position against increasingly difficult waves of Terrorists coming to a bomb site. Challenging, but not quite as fun as Virus Outbreak.
Honestly, I hope we see a lot more of this. It's a shame these special co-op missions are limited for the Operation, keeping them in and gradually adding more to build up a big co-op campaign could really expand the possibilities of CS:GO. It's nice to see the Battle Pass is not required to play them though, only earn the extra rewards. A nice touch at least.
Full details on Operation Shattered Web can be found here and the FAQ for a few other details. You can find Counter-Strike: Global Offensive free to play on Steam.
Some you may have missed, popular articles from the last month: