In Type Knight, you fight skeletons, bats, wraiths and more via the awesome power of your rapid (and hopefully accurate) typing.
Note: Key provided by the developer.
Released last month, Type Knight appears to be the first game by this developer and took around 18 months to deliver the final version on Steam after several demos on Itch.
As the titular "Type Knight", you automatically walk through the graveyard while enemies approach from the right of the screen with words above their heads - type that word and your character delivers an oddly satisfying swipe of his sword to decimate them.
The game is split into sections, starting with two waves of skeletons, but rapidly adding bats, wraiths and finally a boss fight.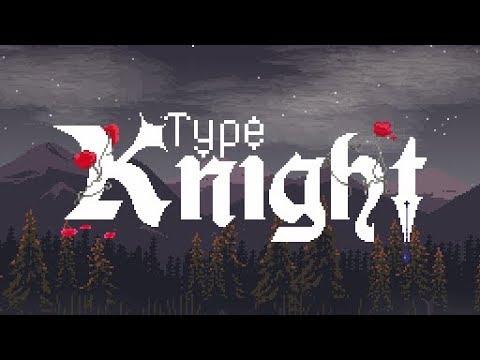 There are some really nice touches in this little gem. While retro, the graphics are quite pretty with parallax scrolling and some random weather effects. Animation is basic, but as I previously mentioned, also quite satisfying.
There are a few things I don't like, although at this price, that's to be expected. The game will only run in a window, and only in a 4:3 scale, which feels a little odd on today's widescreen monitors. I should also point out that while I've tagged it "educational", the game is quite unforgiving - I touch type at around 45 words per minute and I struggled to get past the first boss on the lowest skill level. The problem is that there's not much wiggle room for error. If you fail on a skeleton, you can become quickly mired by a second skeleton as you correct your first mistake. This is compounded by a lack of a "start word again" mechanic: you have to backspace your error as you would normally... meanwhile, bats might be swarming, and a wraith might also be asking for a defensive "red" word to be completed or you'll take even more damage!
Luckily, the game does offer one power up as you play - you get to assign a word to that power up and then you have three uses - type the word to defeat everything on the screen! Personally I'm fond of assigning "boom", but "help" works quite well, as does "wuss" and "argh". I'm reasonably certain that other four-letter words might also work pretty well!
The game also offers the ability to import your own word dictionary and play with that. You can even restrict certain characters from appearing at all. Finally, you can optionally play that new dictionary in classic mode, or in sequence.
This charming little game isn't going to change the world, but at £2.89/$3.99, Type Knight will while away an hour or two and who knows, maybe you'll become a faster typist as a result.
Some you may have missed, popular articles from the last month: