Recently Paradox Interactive and Paradox Development Studio put out a small update for Europa Universalis IV, initially saying it didn't really do much. However, after users did some digging, they had to release a statement about upcoming subscription plans.
Initially, the update notes said they were "running a few experiments aimed at reducing the threshold for new players to access the full EU4 experience" and that they didn't want to disclose what as it would "interfere with the test". Not long after the post, a user replied to show subscriptions mentioning a "monthly payment" for DLC access.
Paradox then ended up releasing a statement on it that "Yes, we want to test a subscription model for EU4" however to be very clear they also said they will not be "replacing the current model or changing how anything works now. We are simply adding another option". So you can either buy the DLC, or sub to perhaps access everything.
There's no getting around the fact that Paradox games end up with a lot of DLC. Looking at Europa Universalis IV, to buy all the DLC individually on Steam right now would cost around £254.94.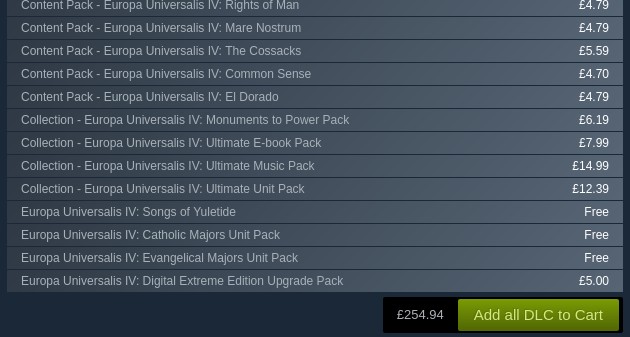 That's a pretty ridiculous sum. However, it does mean their games get supported and updated often with new free features for everyone for a long time after release. Still, it's a lot of extra content and quite intimidating for newer players and even plenty who've owned it a while and play it. That's who their target is with this of course, people interested but don't want to pay a big sum.
Full details of it haven't been released, their statement to clarify it only mentioned a limited amount of people will be given the option while they experiment with it and figure out things like the right cost. You can see their post about it on their official forum, along with the statement too.
What are your thoughts on their idea?
As a reminder, you can actually pick up Europa Universalis IV plus a ton of DLC super cheap in The Humble Europa Universalis IV Bundle.
Hat tip to Anastiel.
Some you may have missed, popular articles from the last month: