Megaquarium: Freshwater Frenzy, the first full expansion for the aquarium building game Megaquarium is a worthy addition to a game that was already wonderful. Note: Key provided by Evolve.
When Megaquarium itself released back in 2018 it was pure joy. Putting a great twist on the usual building sim, that often feels like a tired genre full of lots of the same. Building an aquarium isn't something we saw much of at all and it was a good game. Megaquarium: Freshwater Frenzy takes everything good and just gives you a whole lot more, a proper expansion like we used to see before miniature DLC became the norm.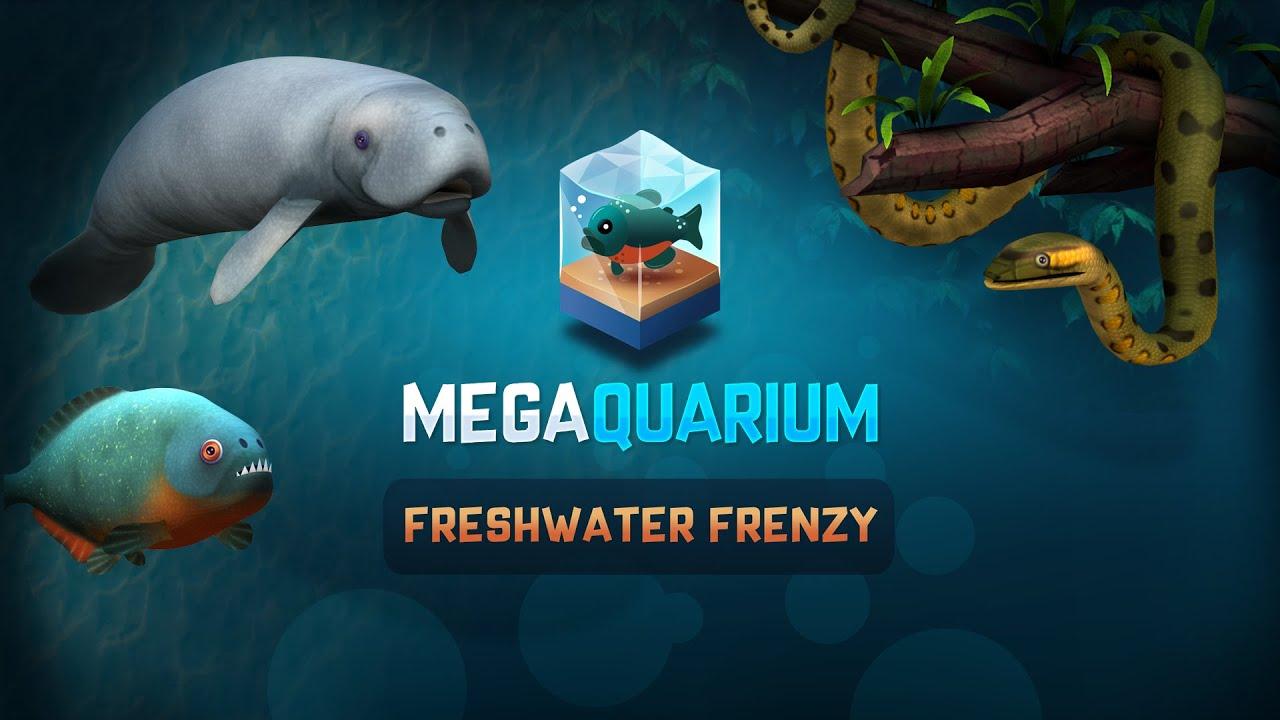 Building and expanding in Megaquarium is quite a meditative experience. I ended up completely engrossing in the building, ensuring everything matched up and looked good. It's quite sublime when you really dig into it, adding all these little (and sometimes big) fishies into their very own tank, sometimes mixing and matching fish that can get along.
The new campaign is a nice walk-through of the new mechanics but like with any good creative building game, it's the sandbox mode that continues to shine. With the addition of 30 new freshwater species, it's a whole new world of possibilities and enjoyment. That time you spent making the perfect aquarium? Prepare to spend a whole lot more time doing it again, only this time with a much bigger variety. Along with all the new species and their requirements, there's also plenty of new accessories to build and pretty-up your aquarium. Add to that all the new tanks you can make, like mixed element tanks that have both land and water for creatures like turtles it all becomes so much more interesting and rewarding to build and play.
While it has quite a lot new features, some of which are free for everyone in the latest update like the very handy animals ledger, Megaquarium: Freshwater Frenzy hasn't lost the big selling point: accessibility. It's still an incredibly friendly and focused game that's easy to get into and enjoy spending time with. However, thanks to all the additions you can make everything a lot more complex too that I think would satisfy many different types of gamers.
Like the base game features, Freshwater Frenzy can be modded too. It has Steam Workshop support and if you have the DLC, features like Breeding can open up another world there too.
Some of what else to expect from it:
The ability to become a breeder and rear baby animals
Selective breeding to create hybrids with unique color and pattern combinations
A new five-level freshwater campaign designed to challenge players to make the most of the latest additions and explore the game in new ways
Dozens of new objects including plants, equipment, seven new tanks, four new accessories to equip staff with and four new paints to keep the aquarium looking fresh
If, like me, you played titles including Zoo Tycoon in the past then Megaquarium and the new DLC Freshwater Frenzy are what I would consider an essential purchase. No problems found while playing through the Linux version, it performs well and looks great. My favourite feature is the ability to zoom right in, as if you're one of the visitors and really take in your creation and all the lovely aquatic life. I can see myself spending a great many more hours with it.
You can buy Megaquarium now on GOG, Humble Store and Steam.
Some you may have missed, popular articles from the last month: