Tallowmere 2: Curse of the Kittens, a name I would expect from something entirely different to what the trailer shows and you need to see this.
Coming from developer Chris McFarland, this is a roguelike platformer that has some insane looking action and honestly I think this is going to be good. Speaking to McFarland earlier today, they also confirmed Linux support with a plan to release later this year in Early Access.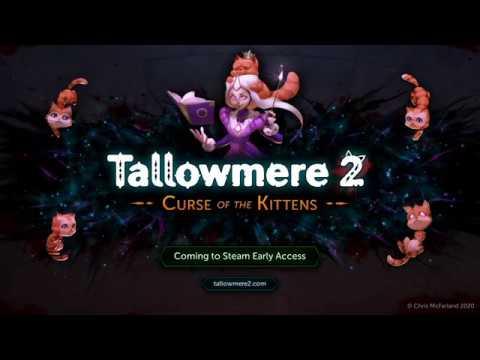 How can you not enjoy such a fun trailer? A nice bit of humour, mixed in with tons of action. I couldn't contain my laughter at the first bit of combat, how they block and then just continually smack the creature with their weapon. The combat looks like it has a lot of room for awesome tricks too. Brilliant. This is how you set yourself apart from so many other games being released all the time. Looks like a huge improvement over the first game. I have a feeling it's going to cause a "just one more run" feeling.
Some of what to expect from it include:
ROGUELIKE RANDOMNESS. Rooms, enemies, items, and modifiers are procedurally generated every run.
PLAY YOUR WAY. Choose your character and starting weapon before each adventure.
FIGHT. Each room contains more enemies the further you go.
WEAPON MASTERY. Use the right tool for the job – each weapon behaves differently.
LOOT. Uncover higher rarity levels and item tiers the deeper you delve.
STAY HEALTHY. Drink potions, find hearts, or visit Lady Tallowmere for healing.
UNLOCK. Expand your starting arsenal by progressing far enough. Success is rewarded, not failure.
What makes me even more interested is that you can play it solo, local co-op and even online with others. On top of that there's Steam Cloud to keep your saves backed up and Steam Leadboards to see how terrible you are compared to everyone else.
You can follow Tallowmere 2 on Steam. Once it gets a release date, we will hopefully let you know.
Some you may have missed, popular articles from the last month: