Beyond a Steel Sky, the big 3D sequel to the much loved classic Beneath a Steel Sky is out now with Linux support. A long awaited sequel too, since the original was from way back in 1994. A long time between them of course, with Beyond a Steel Sky being a much prettier game in full 3D with nice WASD controls and an absolutely fantastic style to it.
What is it? From Charles Cecil, creator of the Broken Sword series, with art direction by Dave Gibbons, legendary comic book artist behind 'Watchmen' it's an adventure set within a dynamic world, populated by wilful characters driven by motivations that the player can subvert. In combination with a unique hacking tool, multiple solutions to puzzles emerge from player choices. Playing as Robert Foster, you attempt to track down an abducted child that leads you back to Union City, one of the last remaining mega-cities in a world ravaged by shattering wars and political meltdown.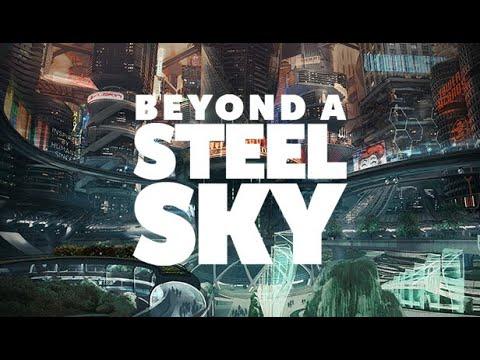 Beyond a Steel Sky had a lot to live up and it's always difficult to do what they've attempted here, to bring such a classic into modern gamers hands. It does set things up nicely with a great little comic-style intro, and the overall style of the game is fantastic. Being an adventure game, one with deep roots in the classic point and clicks, Beyond a Steel Sky may have been updated visually but it's still very much taking on the mechanics of the older game so you're hopping between conversations, solving a few issues and then repeating somewhere else.
The weird thing is how calm and chilled out Foster always seems, for someone in his position you would think there would be a lot more urgency about him but that's the feeling I got from the game and the pacing. It's quite slow going
This backtracking between conversations can be a little annoying, as characters tend to wander off so you're often left chasing the people you want. A minor point but still a bit frustrating. The modern interaction system is great though, giving you options that appear as you come closer to people and objects. There's plenty of quirky characters to meet, with some amusing events and conversations to be had. It helps that the conversation system is nicely streamlined too, with it noting when a talking point has something new with a little arrow that appears so you don't get stuck in a loop.
You're also going to be doing plenty of hacking to get around, which involves scanning the environment with a tool and then swapping around code blocks. It's not particularly difficult to do but fits perfectly within the setting. Simple and effective to progress through it but I do wish the game did more with it.
What's also quite nice is it has a proper hint system, that allows you to get an idea of what to do from the main menu during the game. It has a 30 second timer on it, so if you're truly stuck you mind need to wait a minute or two to get all the hints you need. It starts off somewhat vague and the more you click the more it gives.
It's come with a few technical troubles though while playing through before release. In the Linux version tested with an NVIDIA GPU I had it reliably crash every single time during the intro after starting a New Game, unless I made sure Vsync was on in the settings. That's sadly not the end of the technical issues encountered. Having "Detail Level" set to "High" seemed to break a bunch of shadows causing flickering black areas in lots of places, so I was forced to play it in lower settings. Those two things are likely Unreal Engine weirdness.
There's also cases of NPCs that like to try and walk through things including you, the game vanished a few times when ALT+TABBED away, a puzzle just didn't work on one of my saves causing a broken game and the list goes on. Speaking to someone I know reviewing it for Windows, it's clear technical issues are not limited to the Linux version. Lots of niggling issues that overall give it a feel that's a bit too rough. To Revolution's credit though, they promptly replied about some issues and are looking into them. On the side of performance though, there was no issue there for me. It remained smooth sailing 99% of the time minus a few loading hiccups.
Funnily enough, the idea of a sequel to Beneath a Steel Sky was talked about during the Kickstarter campaign for Broken Sword 5 - the Serpent's Curse. It was actually a $1M stretch-goal that wasn't hit so it's nice to see they delivered anyway.
It's a reasonably good game as a whole that could have been really great if a few of the rough edges were properly smoothened out. Overall though I enjoyed my time spent chatting with peculiar people, funny robots and hacking the city. The accents made me chuckle quite often because they're pretty over the top at times but they nicely play into it with some good voice actors.
You can buy Beyond a Steel Sky available now on Steam for £23.99 / $27.99 / €23.99 which is with a 20% discount until July 23. If you own Broken Sword 5, you're supposed to get an additional 10% off too.
Never played the original? You're in luck! It's not strictly required but if you have the time I would recommend it for the full backstory experience. You can actually play Beneath a Steel Sky easily on modern platforms if you wish to refresh your memory a little with ScummVM.
Some you may have missed, popular articles from the last month: