Today AMD revealed the Zen 3 CPU architecture along with the Ryzen 5000 series, with quite a big focus in single-threaded performance as they continue to fight Intel.
Jumping over the Ryzen 4000 series as expected, AMD has come out swinging as they've announced four processors in the Ryzen 5000 series. All of which will be available on November 5 so there's less than a month until you can get your hands on them.
As expected, they're going to be powerful too, with AMD claiming this being their biggest increase in IPC (instructions per cycle/clock) resulting in strong single-thread performance for those games that stick loads into a main thread. For gamers, these are going to be very competitive to Intel. AMD claimed a "19%" IPC increase compared with their previous generation of Zen. On top of that, they're claiming a big win on latency reduction between core and cache communication.
Above you can see the Ryzen 5900X, Ryzen 5800X and the Ryzen 5600X. However, they had another surprise which is their new top-end Ryzen 5950X which is something of a monster.
AMD's Mark Papermaster confirmed Ryzen 5000 is using the same 7nm node as before, however it is using a new core layout and new cache topology with design improvements "across all of the CPU components". Papermaster mentioned this new layout brings all of the cores onto "A unified 8-core complex, that accelerates core to core communication that's especially helpful to gaming workloads. That consolidation actually allows every core to directly access the 32MB of L3 cache, that dramatically accelerates workloads that are latency sensitive like gaming".
What will all that actually translate into when it comes to real-world performance? Well benchmarks will find out soon enough with the November 5 launch.
Here's the main specs sheet to make it easy for you:
MODEL
CORES/
THREADS
TDP
(Watts)
BOOST9/BASE
FREQ. (GHz)
TOTAL
CACHE
COOLER
SEP
(USD)
AMD Ryzen 9 5950X
16C/32T
105W
Up to 4.9 / 3.4
72MB
N/A
$799
AMD Ryzen 9 5900X
12C/24T
105W
Up to 4.8 / 3.7
70MB
N/A
$549
AMD Ryzen 7 5800X
8C/16T
105W
Up to 4.7 / 3.8
36MB
N/A
$449
AMD Ryzen 5 5600X
6C/12T
65W
Up to 4.6 / 3.7
35MB
Wraith Stealth
$299
When it comes to motherboard chipset compatibility, AMD explained the AMD 500 series are ready for the Ryzen 5000 series but they will need a "simple" BIOS upgrade.
You can watch the whole event right here with our embed below (or on the AMD website):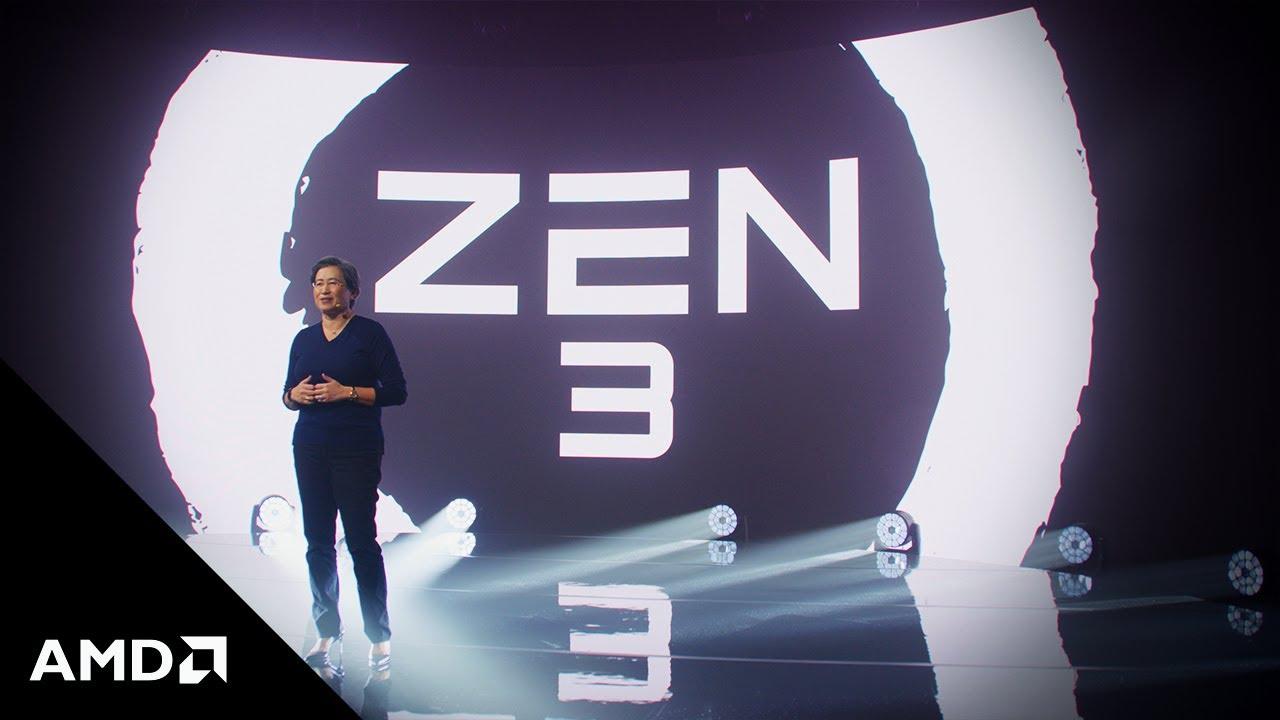 Looking to the future, Zen 4 was given a brief mention that it's still in the design phase and they've had multiple teams working at the same time to ensure they can keep doing new generations. Zen 4, going by the imagery shown during the event, is due before or during 2022 and that will be moving to a 5nm process.
AMD also teased out the AMD Radeon 6000 which they "affectionately call" Big Navi that seems to have stuck as a nickname now. They're saying it's the "most powerful gaming GPU we have ever built", well of course they would say that.
We will get more information for the AMD Radeon 6000 series on October 28 with their next planned event. Update: see more on the Radeon 6000 series in this later article.
To help you along a bit for those with JavaScript enabled, we've hooked up AJAX commenting and page turning in the comments so you can keep watching, comment and not have the whole page reload. Enjoy.
Some you may have missed, popular articles from the last month: