Ziggurat 2 from Milkstone Studios has arrived in Early Access, letting you jump into the shoes of a mage and blast through some freaky creatures with all sorts of wands and staffs in gorgeous first-person action. What's awesome is how Milkstone decided to support Linux right away too, so we have it from day-1.
If you've not played the original, fear not as you don't need to. It's a firmly standalone game, and thanks to the mechanics and progression it's real easy to get into and enjoy. Exactly like the original, it's a first-person dungeon crawling rogue-lite FPS that relies on speed and skill to progress through various rooms of enemies.
The story here is that the Ziggurat housed various dangerous creatures, some of which couldn't be destroyed so they were locked away. The Ziggurat was mostly destroyed during some sort of civil war between mages, and so tons of these creatures escaped. It's up to you to travel around and deal with them as best you can across various quests.
Here's some footage of it on Linux, keeping in mind this is the very first Early Access build: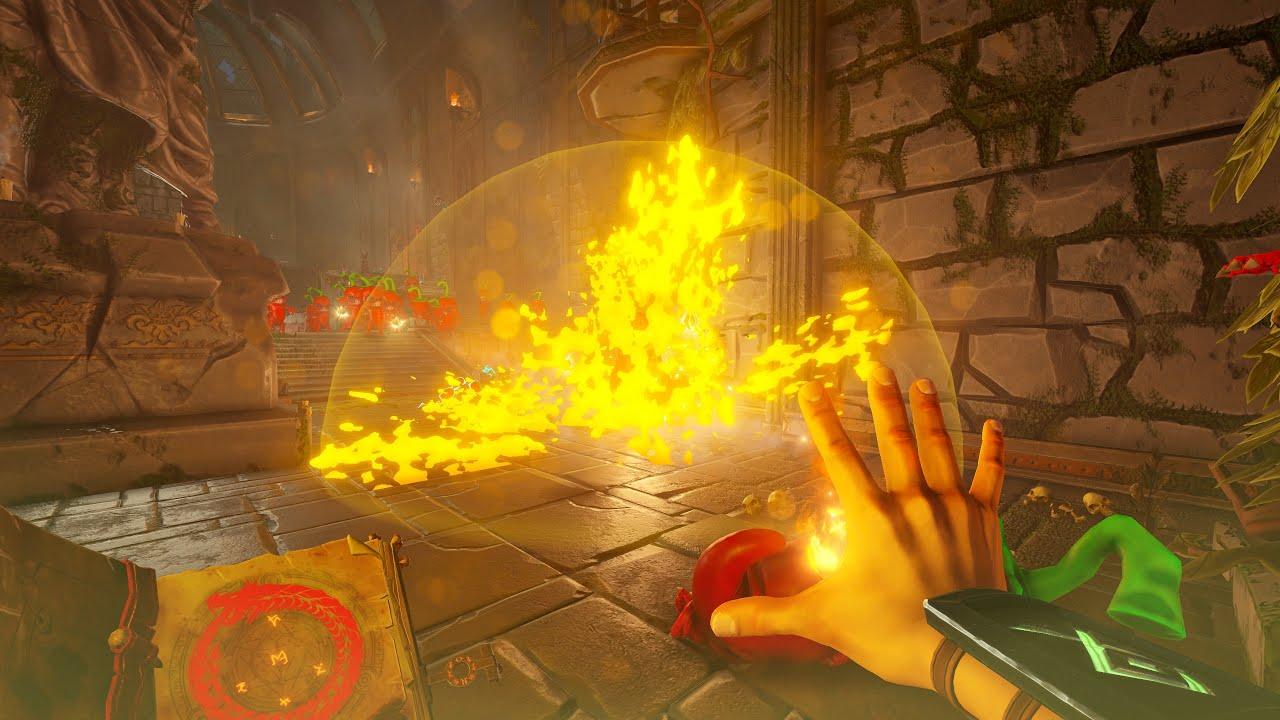 Performance note: when not recording, performance is noticeably smoother. The above video was on highest settings.
So far, it's very impressive. The action is incredibly intense, sometimes overwhelmingly so, the weapons and abilities are great and it looks visually fantastic too. Ziggurat 2 really gives you a true sense of being a powerful mage, and judging by the gameplay in the Early Access build it's only going to get better from here. Blast enemies with powerful magic from a staff or book until you run low on mana for them (each offensive item has its own mana-pool), then switch to your trusting ever-recharging little wand to thoroughly finish them off.  
Milkstone did some really great work on the design once again, the environments look slick and shiny with some good lighting and the enemies are just as varied before both in behaviour and abilities. Plus, those angry carrots continue to be wonderfully terrifying.
You're not just dealing with lots of creatures though, as there's also traps, loot chests to find and more as you explore. Compared with the original, you can expect to see more varied rooms. It's still randomly generated but they've gone a step further, by improving the room generation to give more interesting results. They also made the rooms smaller overall, to ensure the fights are more focused and have easier exploration.
With the progression system this time around, it all feels a bit more rewarding. You get to level up during your runs, picking between different upgrades to power you up. This is lost when you die though, but thankfully there's some persistent progression too. Each item has a certain dedicated experience pool and after you finish be it completing the mission or dying, some of your equipment or the character you played as earn experience towards special mastery levels so you can progress through a chain on each piece of equipment and all the characters too.
Currently you start off with two characters, each having their own special abilities and there's three more characters you can unlock as you through the missions. I much prefer Carina, who is able to quickly push back a group of enemies which is extremely useful in a big fight.
Their current plan is to remain in EA for at least 6-9 months, depending on player feedback and they have a lot still to add into the game. The also mentioned the price will rise when it's complete, and possibly during Early Access along with major content updates.
You can buy Ziggurat 2 on Steam.
Some you may have missed, popular articles from the last month: