The big day for System76 has arrived, as they've now officially launched the latest big upgrade to the Pop!_OS Linux distribution with Pop!_OS 21.04 bringing their new COSMIC desktop environment.
Based upon the stable base of Ubuntu, System76 are continuing to truly make their mark on the Linux landscape with big changes like this. They now do the hardware, the software and tailor the experience to be unique to them. The Apple of Linux? Getting there, little by little.
"The new COSMIC workflow introduced in Pop!_OS 21.04 is the culmination of years of user research and feedback. We've streamlined launching and switching between applications and made the interface simpler and more straight-forward while introducing numerous options to adjust the desktop to personal taste." — System76.
The biggest change is the permanent dock to have all your open windows and launchers. It's much closer to Windows and macOS, something people have griped with GNOME for in the past with sticking to their guns on no minimizing or maximising to a dock. Here's it's front and centre, with it being quite customizable too.
Options you have to tweak the dock to your liking include:
Expanding full-screen or condensing to a central island
Arranging on the bottom, left, or right side of the screen
Adjusting size to small, medium, large, or a custom setting
Removing icons for Workspaces, Applications, or the Launcher
Hiding the dock, or intelligently hiding the dock when windows approach the bottom of
the screen
Going dockless, if having icons on-tap doesn't fit your workflow
Having the welcome screen actually ask you how you want it all setup is a nice touch too, it's all simple to understand and doesn't overload people while also not locking things down so much. Overall, they've got a nice balance I think.

Click to enlarge the pictures.
Then you also have the Activities Overview that's now split between Workspaces and Applications. System76 said this approach "serves to reduce confusion while navigating the desktop". Their new application picker will also appear on the monitor that has focus too instead of spreading and they said how they're "discussing ways to make the Applications view more useful, but more research and experimentation is necessary to flesh out possible improvements"
System76 provided an overview video of the new desktop experience found with COSMIC: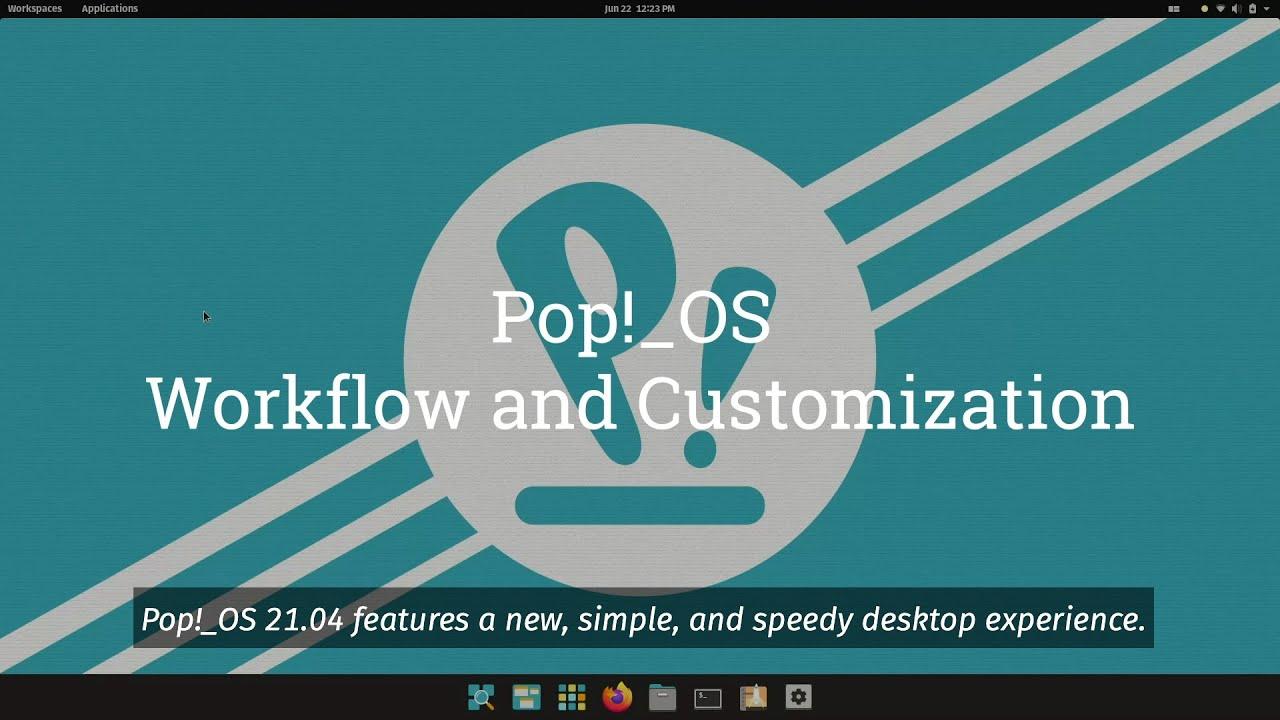 Does COSMIC stand for anything? We know some developers love their acronyms and here it's no different. COSMIC actually stands for "Computer Operating System Main Interface Components". Doesn't exactly roll off the tongue does it? COSMIC sounds better obviously.
The real question is why did System76 hook up their own set of extensions to GNOME, to change the overall experience compared to what they had before? In documents they sent over, they explained that they wanted to provide "advanced computing features in easily consumable ways" with the very slick Auto-Tiling that arrived in a previous Pop release being the first step towards that. On top of that they also said they want it to be simple and straightforward and so they "prefer literal design, in that there should be little to no guessing what a button or UI component does; it should say what it is and do what it says".
You can download from the Pop!_OS website. They have a download for Intel/AMD with their open source drivers, or you can pick the NVIDIA specific iso to get things setup smoothly with your NVIDIA GPU and the proprietary driver.
In other System76 news, we should be soon getting our hands on The Launch Configurable Keyboard which we're quite excited to test out. So look out for our thoughts on it!
Some you may have missed, popular articles from the last month: