Something smells a bit fishy here! Paradox Interactive has released the Stellaris: Aquatics Species Pack DLC along with another big free update for all players.
This actually sounds like one of the most interesting race packs released yet, especially with the new ship designs and the origins. Looking forward to personally diving deep into this one. Have a look at the release trailer below: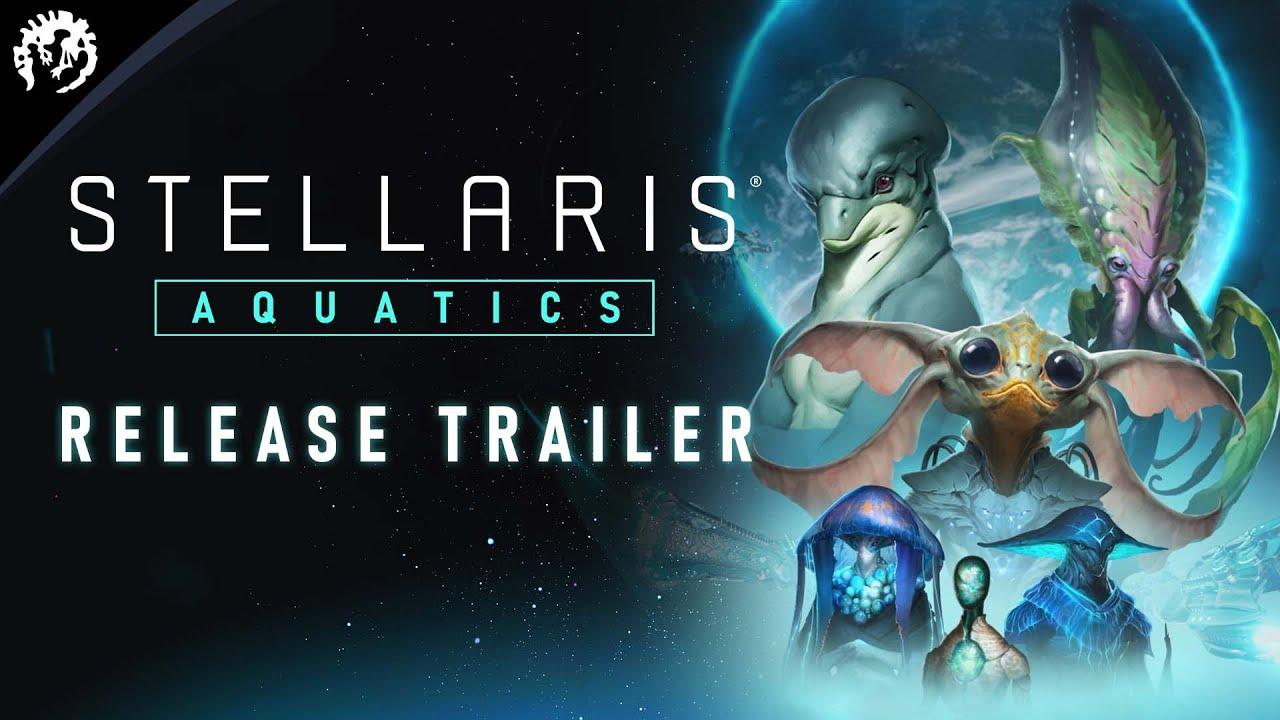 Here's what the DLC includes:
New Origins: 

Here be Dragons!: This ancient mythical beast stalks your home world, its deep sage-blue scales orbiting your humble kingdom. Your relationship with this proud creature will determine the lengths she will be willing to go to either defend or destroy you… you'd be wise to avoid displeasing it.  
Ocean Paradise: These peaceful civilizations lead a peaceful life in a bountiful environment. With no natural enemies as well as food deposits and bonuses, enjoy unhindered growth and opulence. 

New Trait - Aquatic: When species evolve to thrive on ocean worlds, they're also the stereotypical "fish out of water" on others.
New Civic - Anglers: The bounties of the sea, fresh seafood and rare pearls, are but some of the benefits of a seafarer's life. Visit the agriculture districts to cash in on these valuable consumer goods. 
New Ascension Perk - Hydrocentric: When you spend most of your time underwater, you figure out cheaper and faster methods of modifying your environment. Terraform planets into oceanic worlds, or make them bigger by harvesting water from other planets. Build the sandcastles of space!
New ship set with a sleek look, designed to help you yacht your way through space.
New Aquatics Dragon: A new, majestic space dragon will now grace the stars.
New Advisor: Sail the stars alongside the Seafarer advisor voice, inspired by high-seas adventure fiction.
15 new aquatics portraits to help you embrace your fishy new existence. 
As for the big version 3.2 'Herbert' upgrade, here's the main highlights:
Features
Multiplayer hosts that own the DLCs now unlock portraits as well as ship and background sets from the Plantoids and Humanoids Species Packs for clients that do not own them.
Added the ability to pick your main species' gender during game setup.
Added over 200 new star names for random galaxy generation.
Added 13 random events to terraforming to make the feature more engaging.
Added 4 new asteroid-related anomalies to spice up old anomaly categories.
Added 4 new Gas Giant anomalies.
Added 4 new anomalies to existing, uninhabitable worlds anomaly categories.
Added new options to several old anomaly events which share categories with the newly added ones above.
Enabled the Ship Browser for all players.

Improvements
Reinforcement fleets will now attempt to find a safe but longer path if the shortest path to the target fleet is not considered safe. This will reduce how often reinforcement fleets are spawned at the shipyard at the cost of increasing the MIA time (due to taking a longer path) in these cases.
Reinforcement fleets now consider systems that have both hostiles and allies in them to be safe for pathfinding purposes.
Reinforcing fleets using jump drives no longer require a safe hyperlane path to the fleet they are reinforcing.
Improved how shipyards are selected when constructing reinforcements to better utilize stations with multiple shipyards and mega shipyards.
Reinforcing fleets that fail to find a safe path to the target fleet will now merge with other fleets orbiting the same shipyard, if both fleets intended to reinforce the same target fleet.
Plantoids and Fungoids are no longer forced to have no gender, as you can now freely pick species' genders. Instead, every randomly generated species now has a 30% chance of being one of: genderless, female-only or male-only.
Added an additional option to the Alien Box event chain for Gestalts.
Added an Industrial colony designation to Ecumenopolis.
Made it so colony events will not fire on newly terraformed worlds to avoid some Ludonarrative Dissonance.
The default flag of new empires is now randomized, say goodbye to the red-black triangle flag!
You can buy on GOG, Humble Store and Steam.
Some you may have missed, popular articles from the last month: