Who doesn't love LEGO? ClockStone and Thunderful Publishing just recently released LEGO Bricktales and surprisingly, it came with full Native Linux support along with being Steam Deck Verified. They didn't mention anything about Linux before release, so it caught me by surprise but a welcome one and so I picked up a personal copy to give it a go.
LEGO Bricktales is set across 5 different themed biomes, where it's up to you to solve various puzzles by building anything that can help you. With physics at play, you need to ensure you're building something sound that won't fall apart.
I've actually been really quite enjoying this one. A great atmosphere, and it really does look the part — the LEGO style here is practically perfected. Having your constructions in the world, exactly as you make them is a really nice touch too, as is the ability to go back in sandbox mode and build them all bigger. While there is an overall story of helping your grandad rebuild a theme park, it's full of little mini-adventures as you go through and it's quite charming really. Good for all ages.
LEGO Bricktales is not really like any other LEGO game that has come before it. Most of them focus on some sort of action, whereas this is a stripped-down puzzle adventure from the creators of Bridge Constructor.
My only real gripe with it is that the camera controls can be a little annoying but you eventually get the hang of it.
Here's an intro and some Steam Deck footage: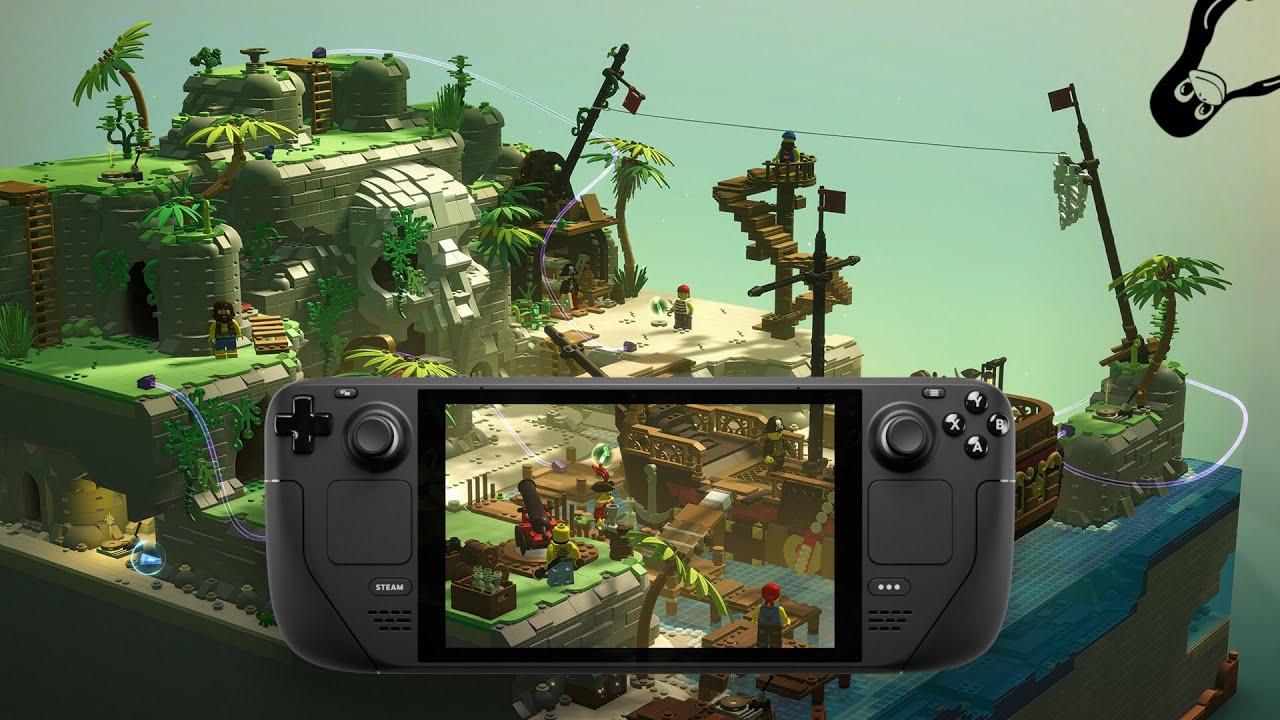 Note: currently, the Steam Deck uses Proton by default.
Game Features:
A globetrotting LEGO adventure: Experience a whimsical and epic adventure around the world, packed with charming dialogue and fun secrets to unravel.
Beautiful diorama worlds: Explore five varied story world biomes and the amusement park hub, all fully built out of LEGO bricks.
Build like never before: Discover the most intuitive brick-by-brick building in a LEGO video game, as you see your creations come to life in a three-dimensional world.
Test your skills with varied puzzles: Different types of puzzles will test your building skills. Use your engineering brain in functional physics-based puzzles to build a bridge for a digger to get across a river, put your designer hat on to build a stunning new throne for the King, or customize the rides in the amusement park.
Master your builds in Sandbox Mode: Unlock the Sandbox Mode upon completing a construction spot, then you go back in and improve your build with a huge selection of additional bricks from different themes.
Heaps of items to collect and unlock: Find collectables in the different dioramas and use them to buy cool new items for your wardrobe or new brick color sets for the sandbox mode.
Build your unique character: Create your own minifigure character from a huge selection of parts and unlock more options inspired by the worlds you visit as you progress through the story.
Some you may have missed, popular articles from the last month: