Pulling in tons of improvements for desktop mode, along with a healthy dose of bug fixes elsewhere, the SteamOS 3.4 update for Steam Deck has been released. This means you can now check for updates on Stable to get it, or switch back from Preview to Stable (tested fine across two Steam Decks just today).
There's a lot that's new including a jump across multiple versions of KDE Plasma for the desktop mode including 5.24, 5.25, and 5.26. Discover software store in desktop mode especially saw a huge amount of stability improvements, along with the app page redesign and a responsive view based on the window size. Plus all the other bug fixes and improvements for the Steam Deck as a whole, like supporting the new 8BitDo Ultimate Wireless controller dongle, graphics driver crash fixes, stuttering fixes and much much more.
Here's a brief overview video: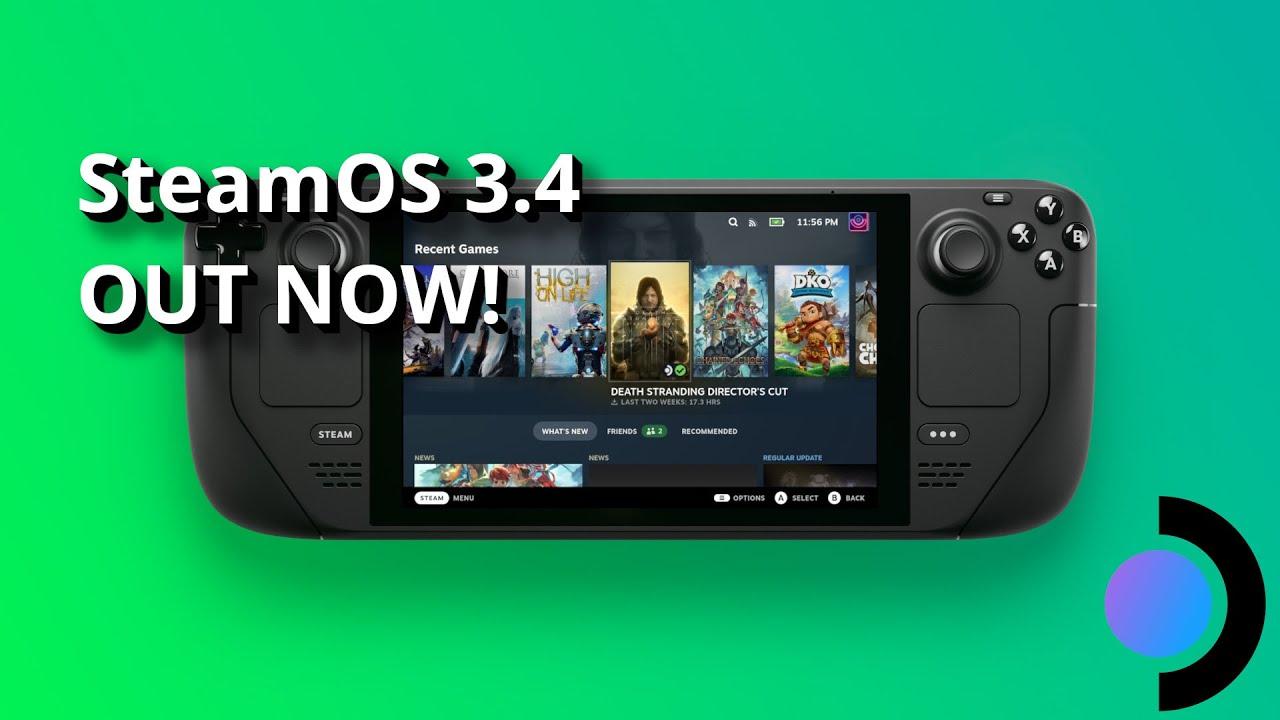 Full list of changes includes:
Rebased SteamOS on a newer snapshot of Arch Linux

This update pulls in the latest performance, security and stability fixes for the underlying packages that are the foundation for SteamOS
Most notably, this includes recent changes to KDE Plasma, Steam Deck's Desktop Mode. Full notes on these updates can be found on KDE's website here, here, and here. Here are a few of the highlights:

New Overview view to see all open windows and virtual desktops
Updates to KRunner, the built in assistant for searching and running tasks
New touchscreen gestures
New themes and wallpapers
Updates to widgets

General

Fixed issues with sleep affecting a small number of titles, where specific games would be frozen or exhibit glitchy behavior after waking up
Fixed a performance issue that could cause 100ms hitches during gameplay if adaptive backlight was enabled
Fixed a graphics driver crash when interacting with the map in DEATH STRANDING DIRECTOR'S CUT
Fixed issue with opening file managers if the gamescope session has been restarted
Fixed GPU clock settings sometimes not sticking if set manually (thanks to user xperia64 for the amdgpu kernel patch backport)
Fixed an issue with fan controller excessive sensor polling causing sporadic fan behavior and higher SSD temps on some NVME drives
New firmware for Docking Station

Fixes an issue where HDMI 2.0 displays are not detected during wake or boot up

Performance profiles

New option to allow Screen Tearing: at the cost of sometimes displaying partial frames, allows for lower average latency when VSync is disabled and the frame limiter is off,
Changed performance HUD level 2 to use a horizontal layout. It fits in the letterbox space for games running in a 16:9 aspect ratio.

Storage

Re-enabled TRIM for the internal drive as well as supported external storage devices, improving write performance

This includes a workaround ensuring that TRIM operations are safe for SD cards that advertise discard support but do not support it
Steam will periodically TRIM storage devices as needed
New button in Settings → System → Advanced to run trim immediately

Added an eject option for removable drives in Settings → Storage

This unmounts the removable drive, it does not physically eject it

External drives formatted as ext4 are now automatically mounted and available for use in Steam

Input

Disabled kernel DualShock 4 and DualSense trackpad → mouse emulation when Steam is running
Changed timing of virtual keypresses to improve game compatibility with on-screen keyboard

Fixes input issues with apps such as Street Fighter V, EA app

Fixed Steam Input's action set switching based on cursor visibility in Game mode
Re-enabled the built-in hid-steam kernel gamepad driver when Steam is not running in desktop mode, and added rumble support to it
Added support for the 8BitDo Ultimate Wireless controller dongle
Fixed a USB crash when using certain controllers such as the Hori Fighting Stick α

Audio

Fixed a case where the default audio device would display "echo-cancel-sink" and audio controls would cease to work correctly
Fixed a case where some applications would output audio to the wrong device
Fixed an audio driver bug that could lead to on-board audio crackling in some situations
Valve also didn't mention it but KDE Connect is now also included for easy file syncing.
Update: It was released with some issues with SD Cards, as the mount point (folder) changed, which would break a lot of non-Steam stuff and shortcuts so they've rolled that back as a very quick 3.4.1 update too. That change wasn't well communicated by Valve, so glad to see it rolled back promptly. Additionally 3.4.2 rolled out to fix an issue with HDMI/DisplayPort audio going to sleep after being idle on external displays.
Update 2: Valve also released a Stable Steam Deck Client update with the following:
General

Fixed regression causing games to crash due to missing dependencies

Steam Input

Fixed regression causing Switch controllers to not be detected properly
Some you may have missed, popular articles from the last month: