Have you been someone who loved playing games like Starcraft and Age of Empires primarily in multiplayer mode with your friends, or do you still play them? Then I might have something for you that could make your competitive RTS heart beat faster and bring some fresh ideas.
Arcane Wilds is a fantasy RTS game with a western-style that actually does many things differently than many other RTS games that have been on the market so far. Currently, the game is still in its Beta stage but already playable. However, keep in mind that there may still be changes to the game. If you're interested in trying out Arcane Wilds yourself, you can still participate in the closed beta and get a free key for the game, just like me. Simply follow this link. But now let's take a look at what Arcane Wilds is and what it's all about.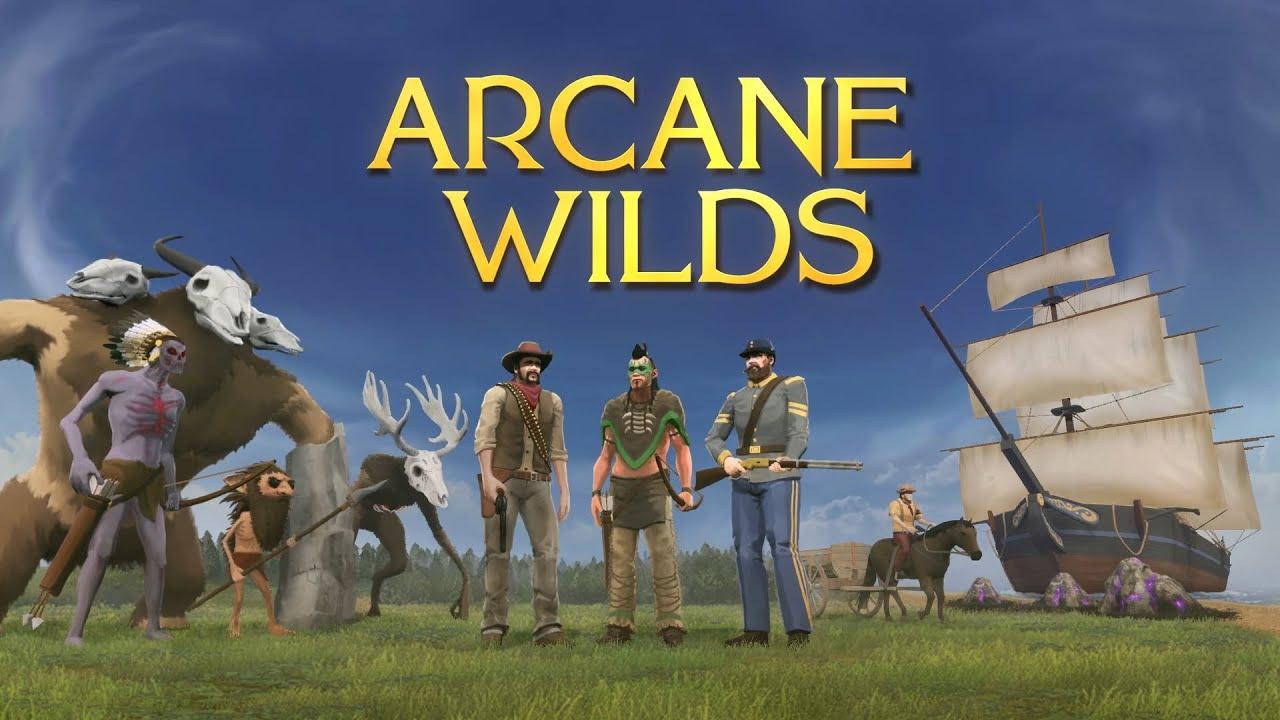 What is Arcane Wilds, and what is it about?
Arcane Wilds is a fantasy RTS game in a western-style setting, where three factions compete for dominance on small islands. The game can be played alone or online with up to eight players in multiplayer mode, using either Windows or Linux operating systems.
Although the game takes place in a fantasy world, all three factions are clearly inspired by the American 19th century.
There is an Army that strongly resembles an American Civil War army. This army has a powerful arsenal of weapons and well-trained units. Its low mobility is compensated for by its long range and the excellent firepower of its cannons.
Then there is a group of settlers, known as Colony, who most closely resemble settlers in the Wild West. These colonists are a ragtag group of gunslingers who prefer to use their explosive barrels, dynamite, and the concentrated firepower of Gatling guns to lead a well-balanced army into battle.
Finally, there is a Tribe faction, which most closely resembles the Indigenous peoples of North America. They have fast, agile units and mobile structures, and their medicine men and shamans can also cause devastating chaos among enemies.
In addition, the game features some fantasy elements, such as one of the two main resources, which I will discuss later, and several creatures that you may recognize from myths and legends.
Resource management and logistics system
While the three factions in Arcane Wilds differ from each other in gameplay, they are not the game's unique selling point. The innovative approach to resource management is the game's standout feature.
Resources can not only be collected but also stolen. This is possible because resources in Arcane Wilds are not abstract numbers on the screen, but physical goods that must be transported from point A to point B.
When starting on a map, players have a central port and a group of workers. The port is surrounded by a group of trees that up to 12 workers can work on to gather wood, which is actually called Supplies in Arcane Wilds.
We also extract Essence, which is required for certain upgrades, higher level units and technologies, and can be used in other ways.
Just like Supplies, Essence is a physical good in Arcane Wilds. This means that it must be extracted and transported by us, and can also be stolen from us. At the same time, we can lose these resources through clever theft by our opponent.
Additionally, there is a resource called Corruption, which is generated passively through the extraction of Essence. Corruption is required for unit upgrades and is not a physical good.
The skirmishes
As in most other RTS games, we must use both main resources to build new buildings or train units, and then send our army to attack our opponent.
The gameplay of Arcane Wilds is particularly focused on fast and intense battles, in which players fight for dominance on the map or try to outsmart their opponents with clever strategies.
The maps are symmetrical, like in many other RTS games, offering equal chances for all players. Distributed across the maps are various locations where we can gain certain advantages or resources.
For example, there are small groups of natives who are initially neutral towards us and only become hostile if we attack them. Attacking these enemies is a smart move, though, as we must expand our "Fame Level" – represented by the small crown and number in the middle of the upper screen – to increase our unit limit.
Aside from battles, we can also increase our Fame Level by exporting Essence or building certain large buildings on the map for the first time. This feature is a fresh idea because, unlike many other strategy games, we build houses in Arcane Wilds not to increase our unit limit but as a morale boost. This boost makes our units near the houses significantly stronger, which can turn a direct attack on a base into a suicide mission.
Another detail of Arcane Wilds, that is very different from many other RTS games, is the unit production. Although we build certain buildings in Arcane Wilds to produce units, they are automatically "pre-produced" over time and must then be "ordered" at the port.
Our "order" then arrives at the port by ship after a short time. We can even give commands to the prepared units before they come ashore. If we need to speed things up, there is also a button at the port to immediately send a ship. Alternatively, we can also order this immediately via a shortcut. However, the option's use is limited, as the timer extends by up to eight minutes with each use.
By the way, whether with the regular ship or the express option, we can order our units from anywhere on the map and do not have to go back to the port first, which makes unit production and deployment pretty quick and hassle-free.
The shortcuts in Arcane Wilds are otherwise well-thought-out. For example, like in other RTS games, we can divide our units into specific groups and select them from a distance. We can then command the units to pick up a specific resource package with a right-click and then bring it directly to our port via a shortcut (here Shift-X). With a little practice, we can even do this quite comfortably in the heat of battle.
The victory conditions
Some of you may have already noticed: the port is the central element of our armies. Without our port, we immediately lose the game, and the same can also be true for the opponent's port as our primary target.
However, in addition to destroying the port, there are also a few other victory conditions that are based on the different game modes. For example, we can capture certain relics from the center of the map guarded by a powerful monster, fend off a horde of attacking enemies, or liberate specific villages from enemies to win.
Other modes and features
There is also a campaign mode in Arcane Wilds, which, however, is currently only playable with the Army faction. In the campaign, we have a central island from which we can start various missions, which play out as small individual battles. The special feature of the campaign is our central main island, on which we can build buildings and prepare various units and upgrades for our next mission.
Arcane Wilds also offers a comprehensive and well-designed tutorial in the form of an academy, which, by the way, is also one of the main points in the main menu. And in fact, this academy is needed because there are a lot of game mechanics to learn.
This starts with the three factions. While the Army and the Colonists play relatively traditionally, the Tribe faction can construct buildings with their Travois. So, a building practically costs as much as a Travois.
In addition, there are different building areas, normal and corrupt ones, which are represented by green and violet underlays beneath the blueprints when placing a building. While normal buildings can be placed anywhere, we can only build certain higher-ranking buildings on corrupt areas.
If the goal of a battle is to capture the relics from the center of the map, their protectors become stronger with each neutral unit camp destroyed. This means that if we destroy too many of these neutral camps, we or our opponent may have difficulty obtaining the relic in the end. However, it also means that if we destroy too few of these camps, we may lag in our Fame Level, which in turn means a smaller army.
This creates a very interesting balancing act, in which we always have to consider how many of the neutral inhabitants we want to destroy before we start conquering the relic.
Criticism and comments
In terms of gameplay, I would like a bit more variety in the strategic placement of resources in the game. So far, our port has always been surrounded by a few trees, which makes resource gathering almost too easy and overshadows the excellent logistics element of the game. This could be solved, for example, by placing the trees further away from the port, thus creating a vulnerable supply line.
Also, Essence could be placed only once in the middle of the map, making it much more difficult for factions to even get higher-level units.
By the way, I really like the cute polygon graphics of the game – at least for a strategy game. However, I would like to see proper walls for the palisades. Currently, the palisades look more like a row of posts. But that is my only criticism of the model selection, and it can be easily fixed.
Overall, I think Arcane Wilds is already a really rounded gaming experience, especially for a Beta. With its fast gameplay and the relatively tricky peculiarities in resource management and unit production, I think Arcane Wilds can be a fascinating game for players who like fast and competitive RTS games.
That was my first impression of the game so far.
If you find Arcane Wilds interesting, you can still participate in the closed beta by following the link above and follow it on the Steam page.
Some you may have missed, popular articles from the last month: