With a curious blend of deck-building, creature-collecting and a little sprinkle of a life-sim, Moonstone Island is a colourful and very inviting game to add to your collection. It comes with full Native Linux support and it is Steam Deck Verified. Note: key provided by Raw Fury.
Taking some inspiration from Studio Ghibli classics like Kiki's Delivery Service, Castle in the Sky and more this is a real gem for people who want a more laid-back experience.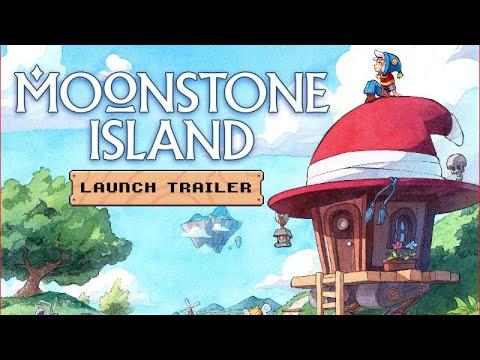 Game Features:
Explore a Wondrous World: Travel by balloon, broom, and glider through unique biomes to reach the farthest edges of the sky.
Settle Into Your New Home: Build, decorate and customize a cozy new home of your own on any of the 100 islands in your procedurally generated world.
Make New Friends & More: Become a true member of the community – befriend your NPC neighbors, go on dates, and fall in love!
Discover Wild Spirit Companions: Tame and befriend wild Spirits to fight alongside you in card-based combat.
Go Dungeon Crawling: Explore dungeons to earn upgrades, collect loot and uncover secrets.
Become a Full-fledged Alchemist: Optimize your alchemist with unique skills and upgrades, and craft dozens of items and vehicles to prepare for the treacherous wilderness.
Build Your Own Farm: Grow crops and flowers to brew potions and tame Spirits!
It works great on desktop Linux, although at times it seems the Steam Overlay refused to work. Running it with Gamescope seemed to get it to work though. There's also some minor stutter while exploring, which is a known issue they're working to improve. Other than that, I haven't encountered any problems so it's good to see another nice release.
Absolutely love the setting, it's just so ridiculously charming and sweet. The exploring is definitely interesting too, quite different to other similar games since it's all based on islands. Although, the exploration is a little slow to begin with, since after the intro you're making use of just a balloon (yes really — dangerous much?!) which also uses up your energy. But eventually you'll get more tools to explore a bit quicker.
Sure hope I don't have a bird strike…
Overall it really does seem like a lovely game that I've enjoyed exploring and finding new creatures, while going through many quests. The blending of all the different genres together is a bit odd at first but it really does work quite well. Always fun to see how other developers explore creature-collecting like this. Exactly the type of game you're going to want on Steam Deck too, with the colder months coming in - nice to cozy up with.
How long is it? You can expect somewhere around 40-50 hours, so it's certainly not a short game and once you finish the main story you'll be able to continue after in a more sandbox like way to just keep on doing your thing. It's a single-player game too, with no current plans to add in co-op.
This is one you don't want to miss out out. Wonderful.
You can buy it on Humble Store and Steam.
Some you may have missed, popular articles from the last month: