What would you do if there were zombies right in your neighborhood? Would you maybe head to the closest supermarket you usually shop at, check out the old police station where your uncle used to work for some guns, or even consider hitting up that pharmacy run by the grumpy lady who always gave you the creeps? Well, that's pretty much the deal with Infection Free Zone. Tested on Linux Mint with Proton Experimental.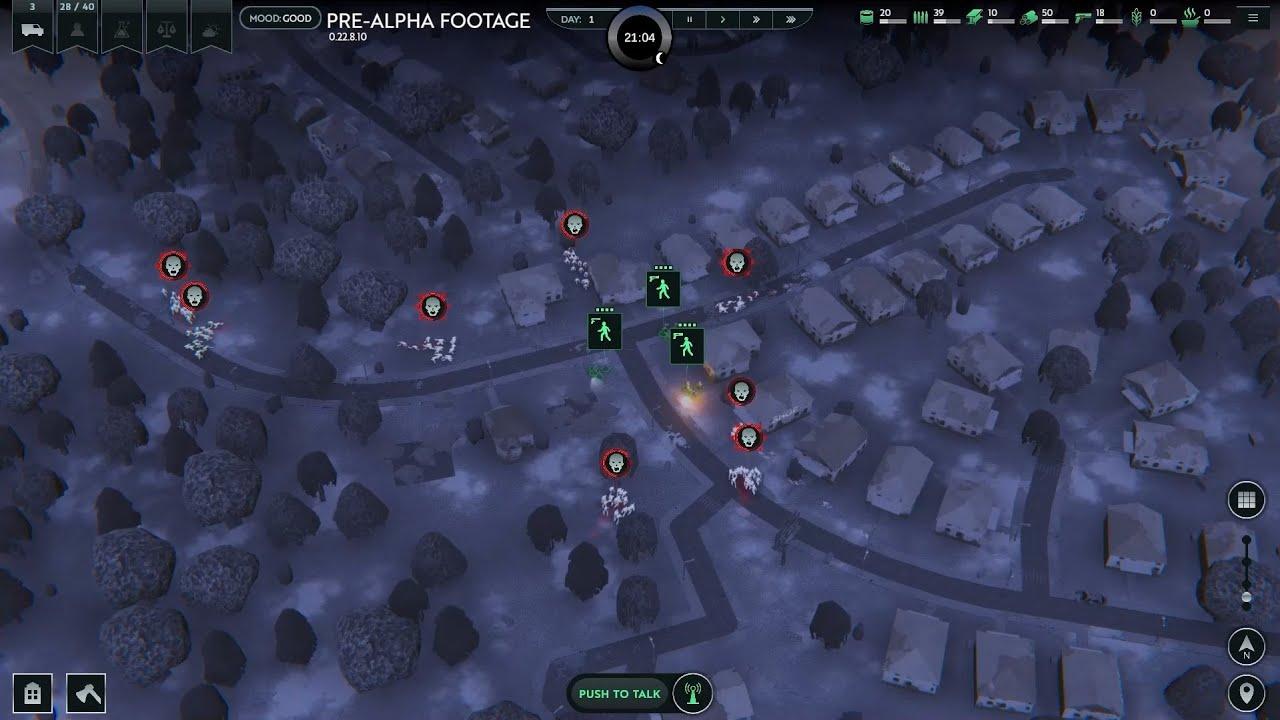 Infection Free Zone, cooked up by Jutsu Games and published by Games Operators, drops us right into a post-apocalyptic world that's been flattened by the relentless "Mad Virus". As survivors in abandoned cities, we're tasked with setting up an "Infection-Free Zone", repurposing buildings, beefing up our defenses, and scavenging for supplies. Every night, those infected creatures come at us, and we've got to defend our base. We can also do some research and trade with other survivors, though not everyone will be our friend.
The ultimate goal here is pretty straightforward yet challenging: lead our group of survivors, construct a base that can take care of itself, and fend off wave after wave of infected. In this quick look at the game's demo, I'll delve into the gameplay and see what makes Infection Free Zone stand out.
Infection Free Zone is an intriguing mix of city-building and survival strategy. We're busy setting up our home base, repurposing buildings, and putting up defenses. The whole repurposing thing is a bit different from the usual city builders. Instead of just plopping down new buildings wherever we want, we've got to work with what's already there. It adds a layer of strategy, especially when it comes to defending the base. Some buildings, though, we can place wherever we like, like defense towers.
Now, what makes this game super cool is not just how tough it can get, but also the fact that it uses real geographic data from OpenStreetMap. You can explore neighborhoods you know or discover new cities. In my test, I actually found the streets in the game also on Google Maps at the correct location.
When the full game comes out, you should be able to pick any city from around the world. The developers even say they've included specific buildings and their original purposes from OpenStreetMap. So, if you know where the supermarket is in your real world location, it should be right there in the game. I couldn't try this out in the demo because this function is not in the demo, though.
By the way, the game's main designer said in an interview that editing OpenStreetMap doesn't affect the game because the developers use their own version for it. Also, the devs promise different day and night cycles based on the city you pick and the season. It adds some variety to the game.
But this whole city map thing did lead to some weird moments in my test. For example, I saw German signs in a Chinese city. Still, the game's customization options are impressive, and I'd love to start in my current home base, Hanoi, or a little German town.
During my test in the German version, aside from those odd signs, there were some translation issues. Like when I ran out of wood, it said "draußen Holz" (lit. "outside wood"), which probably meant "out of wood". It was a bit strange, but I think the devs will keep working on the German translation. If you play in English, I'd guess there are fewer translation problems. Either way, it didn't ruin the fun of the game.
And trust me, it's a lot of fun, especially because of how challenging it is. At the start, it feels like your typical strategy game. We've got a base, workers, and soldiers, but we don't directly control the workers; we give them orders, and they do their thing.
One downside is that in open construction projects where we're short on resources, workers tend to get stuck instead of going to get what we need. For example, I couldn't build three fields at one point because I ran out of wood. But my workers just stood there waiting for the wood instead of going to find it. I could solve it by manually moving them away, but it'd be better if they did it automatically in a game like this.
The day and night cycle in Infection Free Zone is super important. During the day, our workers do their tasks, and at night, they hide in our headquarters or specially converted safe houses. Same goes for our squads, these little teams of four that we move around the city during the day to find supplies. Squads also fight for us, with four individual weapons and a shared ammo pool. When that pool's empty, they switch to melee weapons. I thought the day and night cycle went by pretty fast compared to what my squads could do in a day.
Just like with workers, it's a good idea to get squads in a safe house at night because it gets way more dangerous when it's dark. Zombie hordes roam around our base and even directly attack it.
My first night was pretty quiet, but on the second night, a bunch of hordes came right at me. Overall, my first playthrough was really challenging, and I eventually lost because I ran out of ammo, leaving my base nearly defenseless. Even though my squads could fight with melee weapons, they didn't stand a chance against all those zombies.
Besides the tough battles, there are other things that make the game realistic. For example, having a car is super important in this world. We can use it to gather resources, get around faster, and run over enemies. When we send a squad in a car to a house, they get out, collect stuff, and stash it in the car. Same thing when they come back to base, and it all happens smoothly with minimal clicking, which is great. But you've got to be careful with the car because you'll run out of fuel, and it might need repairs. Still, having a car can be the difference between survival and getting wiped out in Infection Free Zone.
In terms of performance and sound, I had pretty stable frame rates, around 38 to 40 frames per second on my Linux Mint system with the game's default settings. AMD Ryzen 5 2600 (12) @ 3.400GH / GeForce GTX 1660 SUPER.
It wasn't perfectly smooth, but it was definitely playable without any problems. However, I can't say for sure if this will hold up when bigger hordes of infected show up and start swarming my base.
The sound effects and background noises are okay, nothing extraordinary but they do the job. It's nice that all the dialogue is voiced, although it's just in English right now. As for the music, there's not much to say; it's got this eerie ambient sound that fits the game's atmosphere.
But here's one gripe: the wolf sounds were way too loud and not cool at all. I had to turn down the volume while playing, and that made other in-game sounds basically inaudible.
To sum it up, Infection Free Zone is a gripping and tough game that realistically portrays a post-apocalyptic world. Being able to pick real-world locations on the map is a cool twist, and I can't wait to play in my hometown.
In the full game, the devs promise over 40 buildings, different types of infected, research missions, 10 types of vehicles with upgrades, more weapons, and 30 kinds of events. That sounds like a lot, and I'm excited about the full version, though it remains unclear when the game is going to be released.
You can try the demo yourself on Steam.
Some you may have missed, popular articles from the last month: