Paradox Development Studio and Paradox Interactive are expanding another of their grand-scale strategy games, with Hearts of Iron IV: La Résistance announced during PDXCON.
Not just that, as they usually do they also confirmed a "significant" free content update will be released to all players. The free update will include a reworking of the resistance system, interface improvements to battleplans and air operations plus many other "quality of life improvements".
As for the Hearts of Iron IV: La Résistance expansion, they've not yet given it a release date other than "Coming Soon" but you can see the announcement trailer for it below: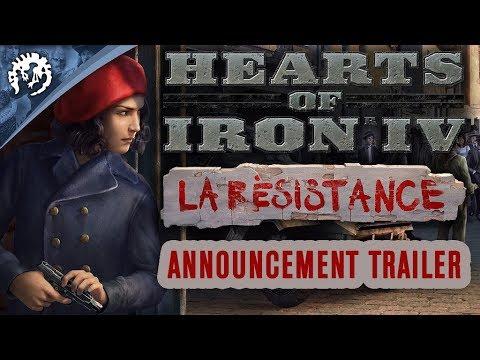 Feature Highlight:
New Focus Trees for France: New National Focuses for Free France and the Vichy Regime, as well as an option for conservatives to restore the old French Monarchy.
More in Depth Spanish Campaign: New National Focuses for Republican and Nationalist Spain, as well as an expanded Spanish Civil War that can spiral into a wider conflict..
Espionage: Use you Intelligence Agency to train spies to specialize in certain types of information warfare and develop passive resistance to enemy espionage, then send them on special operations.
Support Resistance: Use your agents to assist allied resistance movements, giving them what they need to damage the enemy.
Collaboration Governments: Use your agents to prepare the ground for collaborators to fill the void once you've conquered your target.
Code Cracking: Decrypt enemy communications to gain short term battlefield advantages.
Recon units: Scout planes can provide useful information on nearby areas while armored cars help in detecting and suppressing resistance activities.
The Steam page is also up to follow/wishlist.
Don't own Hearts of Iron IV? It's currently on sale on Humble Store and Steam.
Some you may have missed, popular articles from the last month: