Might and Delight has just released Book of Travels, an online RPG played they're calling a "TMORPG" meaning Tiny Multiplayer Online RPG and it's quite something. Note: personal purchase.
The idea is that instead of joining a server with thousands of people, you're given a world where you might come across a few others instead but not too many. Right now the total per server is only seven people, so you're lucky if you even see anyone and in a way it makes it a bit more exciting. Compared with other online RPGs, it's a much more solitary experience and one you can quite easily relax in.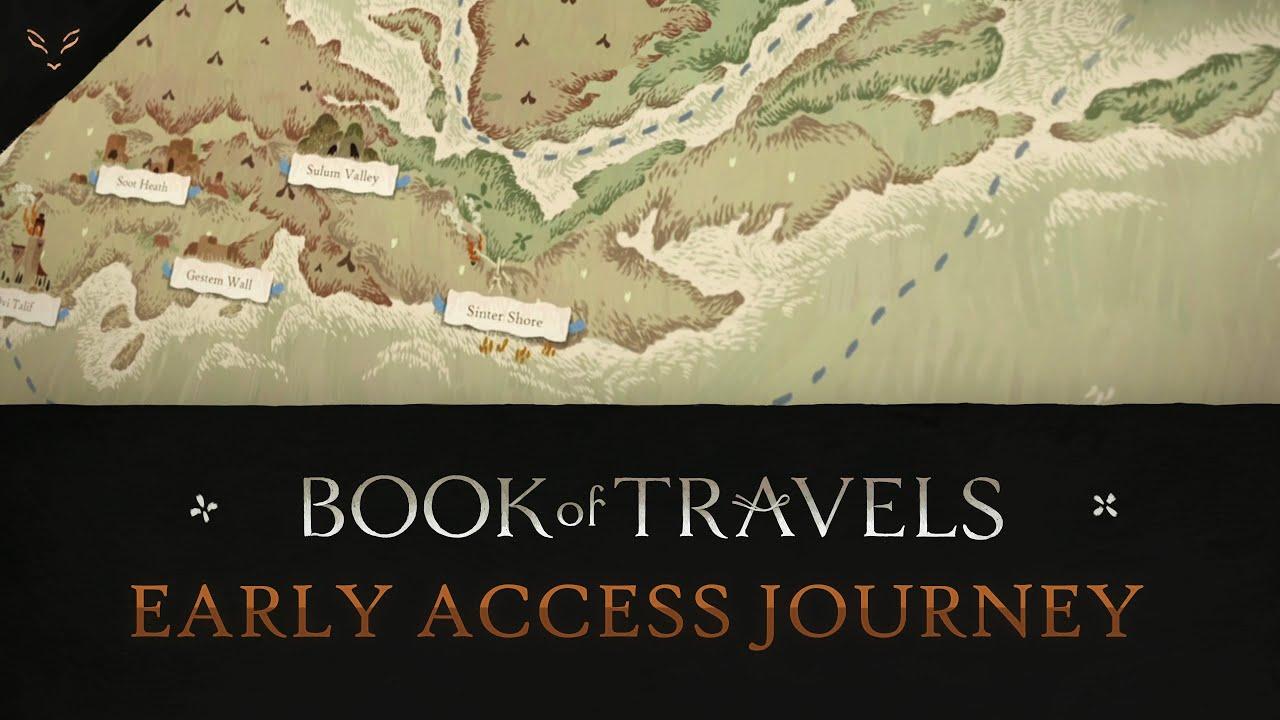 Book of Travels is focused largely on more traditional role-playing, like writing out your own character info during creation like something out of a proper tabletop game. There's no full chat system, no friends system (yet) and instead you rely on the in-game language with emotes to try and buddy up. If you want to that is, you can do most things alone it seems.
It seems each player will have a slightly different starting experience, based on what you choose for your character. Mine was locked up and eventually escaped to end up at the shoreline drenched while others might find themselves waking up in the middle of a field during the night.
It's the type of experience where you're probably going to need a pen and paper, as you're told a fair few things that leave it up to you to explore and figure out. Getting lost is easy and there's been plenty of times where I haven't had the tiniest idea what I was doing or where I was going. Thankfully, the map allows you to make notes on it so a physical pen and paper isn't actually needed, just remember to pin info to your map.
The art is what really pulled me into Book of Travels as it really is quite beautiful. Might and Delight always have great looking games (like the Shelter series) but this might be their best yet. I'm not particularly keen on how blurry it looks though, although I can't quite put my finger on why that is. It feels like it has some sort of filter on top of it the world (not the UI) that makes it all slightly out of focus. I really hope that becomes an option as it feels like it strains my eyes a bit when playing for longer periods. Switching down to Potato-level graphics makes it far more clear but then other parts look worse of course. Probably some sort of chromatic aberration that needs adjusting.
That one gripe aside, I can already feel myself drawn to it. I need to play more.
You're going to need a keen eye to play this, as the whole world revolves around the bartering system. You trade goods weighed against their value for other goods, so there's a lot of foraging involved to get the basics going. Lots of pointing and clicking at the floor to run from one side of an area to another, while you try to spot something worth grabbing. They do make that somewhat easy though, with the cursor changing to highlight something you can interact with and now and then they glisten but it's so light it's easy to miss too.
Unlike other online RPGs, death here is permanent. I have to admit, that is genuinely a little off-putting due to how slow the game is but it's also so ridiculously charming that makes me not care as much because making a new character and doing something entirely different in this world is also very interesting. Might and Delight say they're not married to the idea and so they're looking into ways to adjust it with a possibility to come back to life.
Funded on Kickstarter, Might and Delight has delivered a native Linux build right away for Early Access. This state of development is not something to forget, as it is very clearly not a finished game by any measure. Performance needs improving in a few places, there's a bunch of graphical options locked, you can't see or change keybinds and so on. A few Linux specific issues too like no debug menu so you can't get unstuck (oh dear) and the cursor seems a bit too big.
With the initial release they're going to keep it in Early Access for at least 2 years, and they have a big roadmap of content planned to expand the game in many ways to make the world deeper. I'll be keeping a close eye on this one as it has the beginnings of something great, although I'm not quite sold on it yet but once I've spent more time with it I'll have more thoughts.
You can buy it on Steam with 10% off until October 18.
Some you may have missed, popular articles from the last month: