I don't actually often play the big AAA games but for Death Stranding, I finally took the plunge and thanks to Steam Play Proton running it on Linux was a fantastic experience overall. Note: spoilers, personal purchase.
With my ancient PlayStation 4 on its last legs, I'm glad I sat on this and waited a little while for any patches and then eventually the Windows release on Steam so it worked out all quite nicely. I'm certainly no stranger to Hideo Kojima, having played through various Metal Gear games and always liked the production value Kojima puts in and Death Stranding delivers constantly. It certainly helps that it has an all-star cast with the likes of Norman Reedus, Mads Mikkelsen, Léa Seydoux, and Lindsay Wagner.
"Sam Bridges must brave a world utterly transformed by the Death Stranding. Carrying the disconnected remnants of our future in his hands, he embarks on a journey to reconnect the shattered world one step at a time."
The official description of it does it absolutely no justice. Then again, going into any sort of detail on the store page would probably give away too much - that's what reviews are for (sometimes - I try never to overly spoil). Not that you would understand a lot of it even with a longer and slightly more detailed look into what the game actually is. Here's the thing, even in the first 10 hours, you're probably still going to be thoroughly confused, but that's okay — it's all about the journey and looking completely ridiculous while carrying an insane amount of cargo on your back.
You run around with a strange baby in a container strapped to your chest called BB, this little one helps alert you to dangers appearing in the form of what they call BTs. Does BB start whining and your little spinning light starts going wild? BTs are near. BB also tends to get a bit annoyed if you keep falling over, so you need to detach them and rock them to sleep too. It's so thoroughly weird but kinda sweet at the same time.
At its core, Death Stranding is an open-world delivery sim set in the post-apocalyptic USA. You travel around between buildings, taking on delivery jobs and completing them gives you Likes. As you explore, you will also find missing packages you can pick up and deliver to gain some extra Likes. These missing packages you find do form quite a big part of the gameplay. You can choose to deliver them in full to their original destination for maximum Likes, or deposit them somewhere else for safety and get a few less.
These Likes form as part of the character statistics system, allowing you to level up your porter grade eventually boosting your abilities to help you push forwards. There's a lot more to the Likes system, as you can also give out Likes to various things in the world that other players put down. While it's a single-player game, there are online elements with you seeing objects from other players like a helpful ladder, a sign and more. There's some lore around the Likes system too, as it serves another purpose. With everything going on, people started getting depressed and some went mad due to all the stress. Scientists discovered what they called "Likecin", a hormone that basically restores your mental state but the body only makes it in response to external stimuli - hence why Likes are everywhere.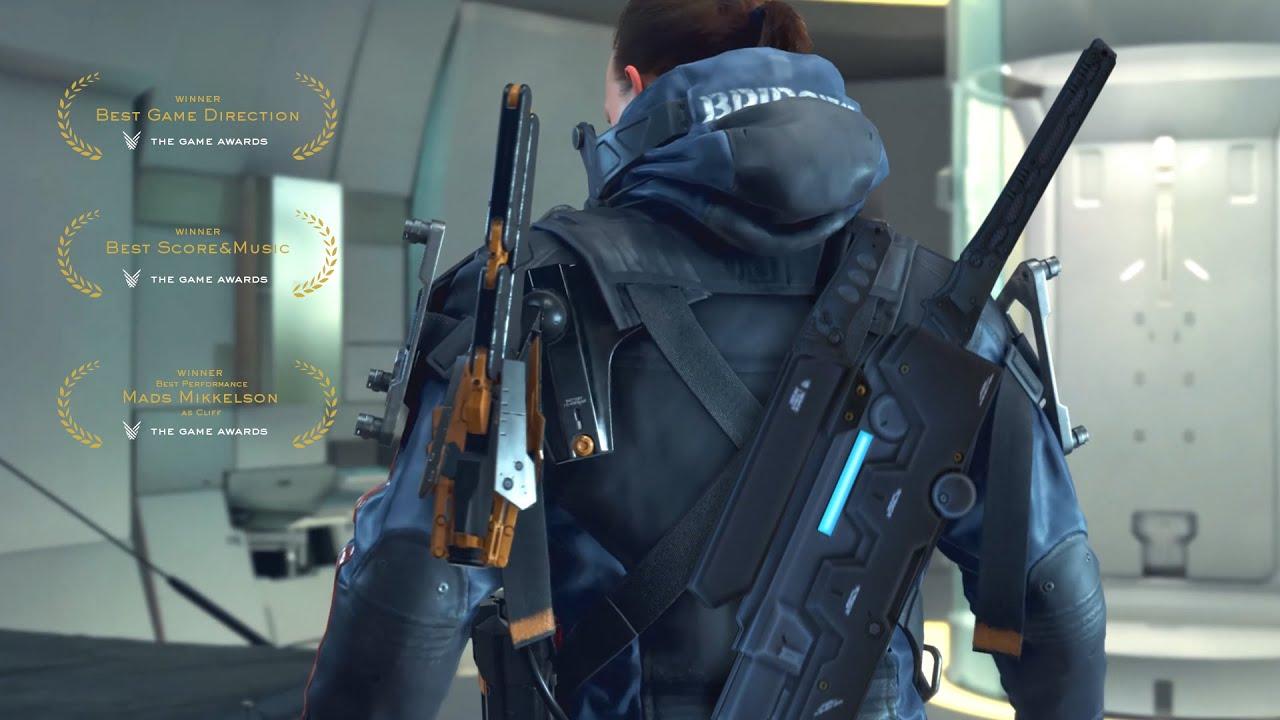 Enjoy slow games? Good. Death Stranding is certainly that. I even spoke to friends about the game, finding myself uncontrollably smiling when talking about just how unique an experience it is. A walking simulator? In many ways yes, but unlike anything else. Even just the basic walking mechanics are darn clever and keep you on your toes, or face-first in the mud if you're not paying enough attention. You can choose to hold the straps on your backpack to keep your balance but reduce your speed, or YOLO it and constantly tap between the straps to keep it centred so you don't trip and fall. It's a simple idea that doesn't sound like much but Death Stranding does it so exceptionally well.
Death Stranding also becomes quite a different game a good few hours in once you get vehicles and weapons, it's not so frightening once you get to that stage. You even get the opportunity to eventually fast-travel too. The thing is, even though you can go faster, you don't always want to and that goes back to why it's a slow game.
If you want to understand more, and you should, you get a constant trickle of mail sent to you by various NPCs you meet. You also get sent various interview texts to read over too. This helps form the lore of the world, with you getting various scientific reports on the history preceding the start of the game. This plays into the whole slowness of the game. It wants you to take a break and look around a bit, and so taking a break in a private room you get in each major building gives you ample time to read through it all. You might also find you need to give Sam a little rest out in the wilds, which also saves the game and restores stamina.
There's a frankly ridiculous amount of info you're supposed to absorb in such a short time in the first 10 or so hours. BB, BTs, people who suffer with DOOMS giving them abilities, rain that accelerates time for anything it touches and a brain-overloading amount more of things to remember.
A lot of things about the game mechanics are quite surprising, especially when it comes to your cargo. Getting the right weight distribution can mean the difference between running a lot and constantly holding your straps. I remember one specific point really made me stop in my tracks, because it was such a surprise where I was running to deliver cargo, with a hilariously high stack of boxes and I ran underneath some sort of little array tower. While running under it, the dishes sticking out of the tower just clipped a single box on my back and knocked it off. It's these little details that really make you appreciate how thought-out it is.
Death Stranding is equal parts depressive, as it is optimistic in many ways. Practically everything is in ruins, humanity is on the edge and yet, through your gameplay, you're helping to reconnect the world. Perhaps it's as a result of all the issues COVID caused as playing Death Stranding now felt very close to home. I felt like I needed this experience.
Honestly, I thought I wouldn't like it but I was sold pretty quickly on it. Not without faults though. The UI feels like a hot mess and is often confusing, vehicle movement is nowhere near as good as walking and feels a little cheap and other more minor things but overall it's worth it. Do check it out.
Played with Proton Experimental, the Linux experience was practically flawless. It's such a wonderfully weird experience that it has really gotten me to firmly enjoy hours of gaming in my own free time again.
You can buy Death Stranding on Humble Store and Steam.
Some you may have missed, popular articles from the last month: