Some early thoughts on Geneshift [
Steam
,
Official Site
], the new top-down shooter with vehicles that's been in development for a long time. It's had eight long years to craft an interesting experience, but it still launched into Early Access to continue this.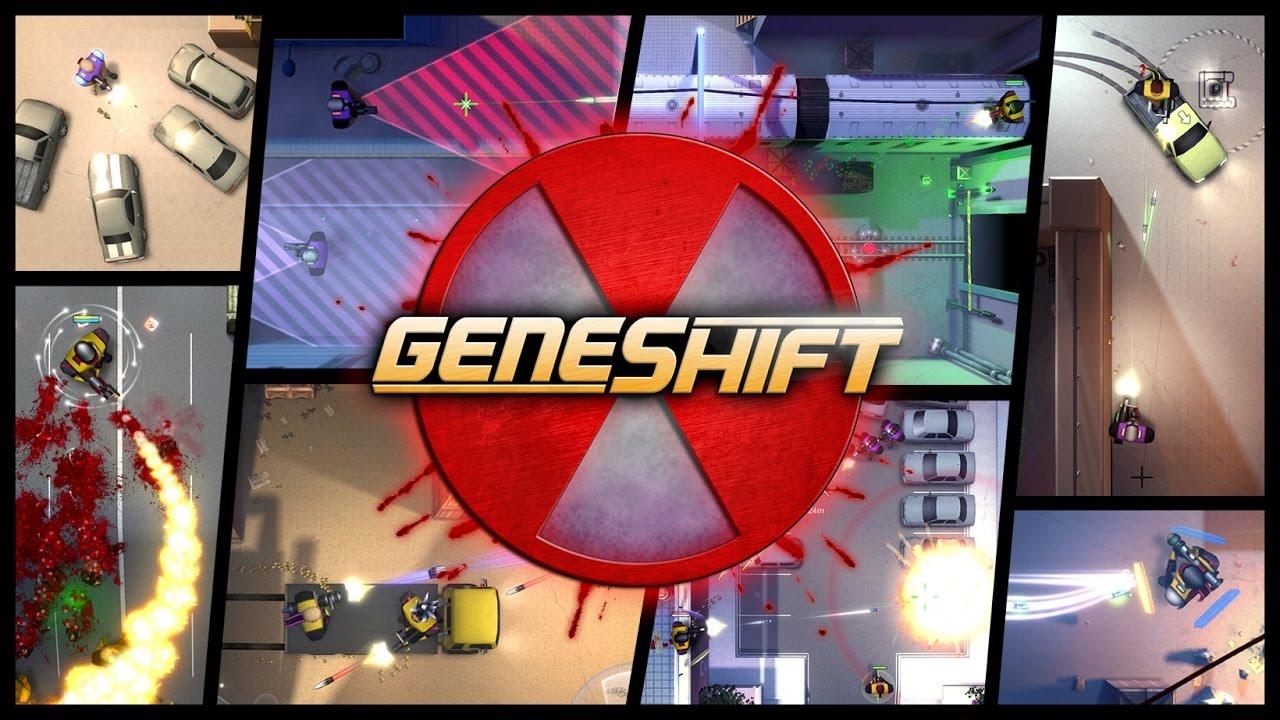 Sadly, the initial release had major issues preventing me playing it, which the developer has now solved. This is not a full review, but more of an initial thoughts post since the game is not complete. This should give you an idea of how it feels as the game stands right now.
Geneshift has a campaign mode as well as online play and it's absolutely hectic the whole way through. There's a lot of people comparing to GTA2, but honestly I really don't get where they're coming from. It feels nothing like it, the campaign is completely linear and has very little in common with GTA. I feel like anyone saying that, hasn't played either GTA2 or Geneshift and just parrot what they hear from others. Just because it's top down and has vehicles, doesn't make it a GTA-like.
The campaign mode so far seems pretty fun, while I haven't much of a clue as to what's going on since there's little in the way of explanations, it does at least offer up some good gun-play. I like the fact that it's not yet another wave-based shooter, it has some sort of story (which needs to be better explained) and it does a good job of standing out in a crowded genre.
You seem to work for some sort of science facility that's been overrun and now Zombies are escaping and they've made their way to the surface. That's all I can gather anyway, since practically nothing is really explained. I have no idea who the purple-shirt enemies are or why my company had a bunch of Zombies in the first place. The story isn't particularly engaging or interesting, but the gameplay does make up for it somewhat.
While I said it isn't like the GTA games, it does have reasonably good vehicle play. You can unlock various vehicle for use during the campaign and jump into any you find and if you happen to have an AI with you, they can jump in and shoot while you drive. It's damn fun, but honestly it's still nothing like GTA. I do wish people wouldn't compare it, as they are vastly different games serving a different audience. The campaign is linear with tightly made maps, while GTA is very much open.
You have abilities like self-healing, invisibility, a shield and plenty more. There's quite a lot on offer both in terms of abilities and weaponry. You gradually unlock more as you go and you're free to level up the abilities as you see fit. Although if you level up your abilities differently to what the game suggests, the AI doesn't take that into account. At one point I levelled up invisibility, while the AI was blabbering on about something else so everything they told me was wrong, including what buttons to press.
The AI in the campaign mode needs a lot of work. They end up standing around doing nothing a lot of the time. I've had times where I'm being shot at, with three AI buddies standing there doing literally nothing while an enemy is standing practically on their head shooting at me. The enemy AI on the other hand is fine, they take cover, they use their special abilities and they seem quite good at turning me into mush. It does do well at giving you a challenge, so it's quite fun.
The campaign actually supports online co-op play, so while the friendly AI is a bit pants, having friends along for the ride will make it a lot more enjoyable. That's another place that makes Geneshift stand out, as not many top-down shooters on Linux offer a fully co-operative campaign.
The writing can be a little on the cringe-worthy side. I met a fellow yellow-shirt having a shot to the knee and after a little whine, he explodes? Yeah not sure why he explodes, but my other AI comrade said something like "goodnight sweet prince", err, okay then. The whole campaign just feels completely weird. Nothing makes sense so far, but it's so completely stupid I quite like it.
The game is let down by a number of things. Firstly, the character models are pretty terrible. While the rest of the game looks okay, with pretty decent lighting, the character models stand out as being blocky and bland. They just don't fit in well with how the game looks, so I really hope they get re-done.
There's not enough variety in the sound effects and it doesn't help the game feel as epic as it should. The sound effects actually sound a little dull, they need more power and effect to them.
Most of my other complaints are minor, like buying something from the checkpoint instantly closes it, forcing you to keep reopening it to buy more. Little things, but it is Early Access so it will hopefully all get a polishing pass.
The game also freezes completely on loading a level sometimes, so the developer still needs a good polishing pass before it's a smooth experience.
Right now, we have a pretty reasonable top-down shooter with a campaign mode that could use a little work, but it's still pretty fun for what's in it so far. The online mode needs more players, as it's so unpopulated I have yet to get a game. I'm still a little iffy on recommending it as it still feels very raw right now, but if you adore your top-down shooters it's probably a no-brainer. I look forward to watching it progress.
Some you may have missed, popular articles from the last month: