Artifact, Valve's card game has now officially released and after spending more hours than I will ever admit playing it, here's some of my own thoughts while played on Linux. Tested on NVIDIA, I don't have an AMD GPU on hand.
Also, before we get into anything, let's note that this is the first Valve game to arrive with Linux support at release!
"We hope all gamers enjoy Artifact, especially fans of Dota 2 and card gaming enthusiasts," said Valve's Gabe Newell. "Working with Richard Garfield has been an incredible opportunity for everyone at Valve, and we look forward to expanding the game with him based upon feedback and input from the community."
Note: Key provided by Valve
I'm a huge fan of card games, however, I rarely get a chance to leave home and go out and play them. For many reasons including money for travel, real life friends or just being too busy. This is why I personally love playing them on PC, it frees up those issues and many more for me. To this day though, there hasn't really been a trading card game available for Linux that has really hooked me—until now.
"Working on Artifact has been fantastic - a digital card game which really leverages what is made possible by the medium rather than being limited by it," said Richard Garfield. "That has been a long time dream of mine and Valve has been a terrific partner in the development."
I will cut to the chase early on this one, I honestly really do enjoy it. I find it extremely engrossing! It's certainly not going to be for everyone, but in terms of the gameplay I think they've hit a bit of a sweet spot for complexity versus fun.
It's not just a game, they're also doing some comics to expand the Dota universe. Valve say that they aim for Artifact to be more than just a card game, something which will include a "shared universe with a storyline that will deepen the history, expand the world, and change the fates of the heroes of both games". You can see the first comic, Prelude, right here. The second, Call to Arms, released today which you can find here.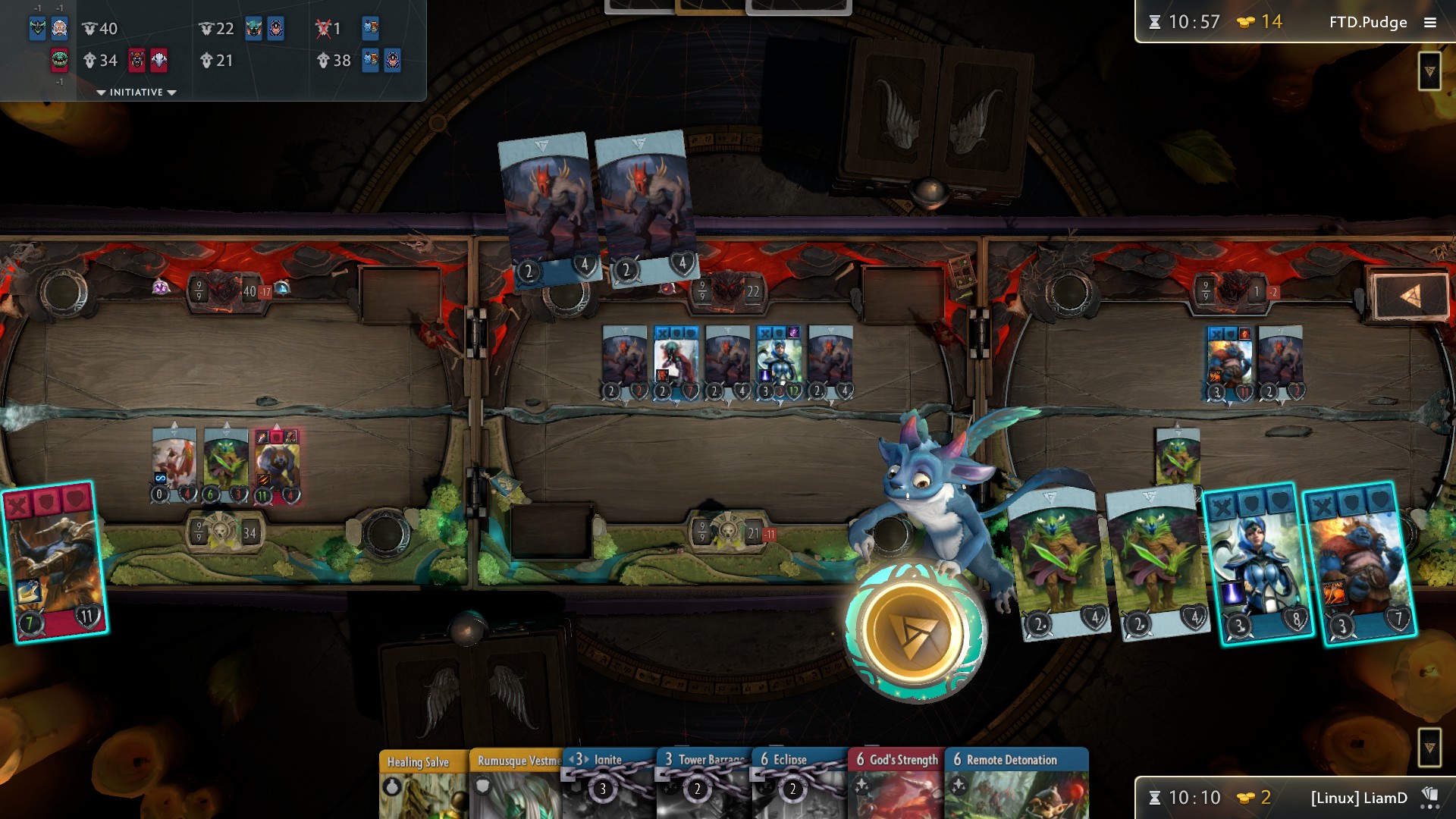 As for the game itself, the gameplay is split across three lanes, like Dota 2 itself, which certainly makes it extremely different to any other comparable card game. You are, essentially, playing three games at the same time. It's a little nuts, but it doesn't actually take you all that long to get to grips with it. The overall mechanics aren't actually that difficult, however, it does still obviously require a lot of time and effort to truly become good at it... something I will openly admit to not being, I suck. Games aren't always about winning though, if you enjoy it while you fail and possibly learn from it to try something fun for the next game, that's enough to keep me going. That's the key I've found with it, while it can be frustrating, I've always seen rather clearly what I could have done better and that frustration gets turned around pretty quickly as I queue up for "just one more go".
For a card game, it feels surprisingly alive too. Tons of little touches add up to a vibrant and constantly engaging experience. From the river in the centre passing through all three boards, to some recognisable sounds from Dota 2 and your little familiar practically wetting himself in fear when your tower is about to fall.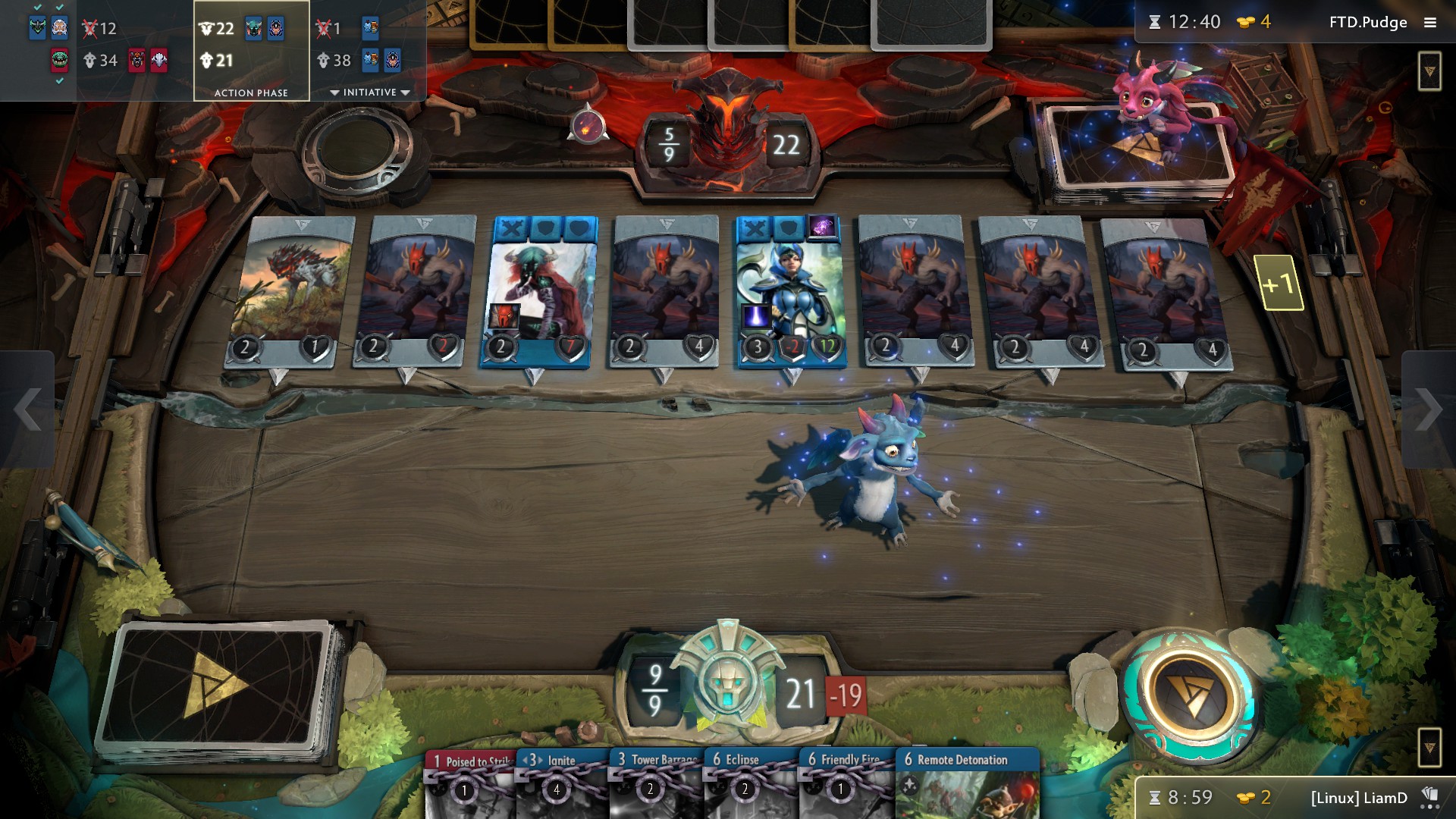 There's a lot of game mechanics that I appreciate with the gameplay. You have all the usual suspects like cards that will buff up other cards, spell cards to dish out the pain to your opponent and special improvements to place on your side of the board which can be truly menacing. I went up against a player online, who had a big focus on "improvement" cards which did all sorts of things and it certainly made for an entertaining game. These improvement cards can dish out damage to enemies at the start of a round, replenish your mana to play more cards, attack a single card across any lane and so on. If you manage to combine a few of them in the same lane, the results can be devastating to the other player.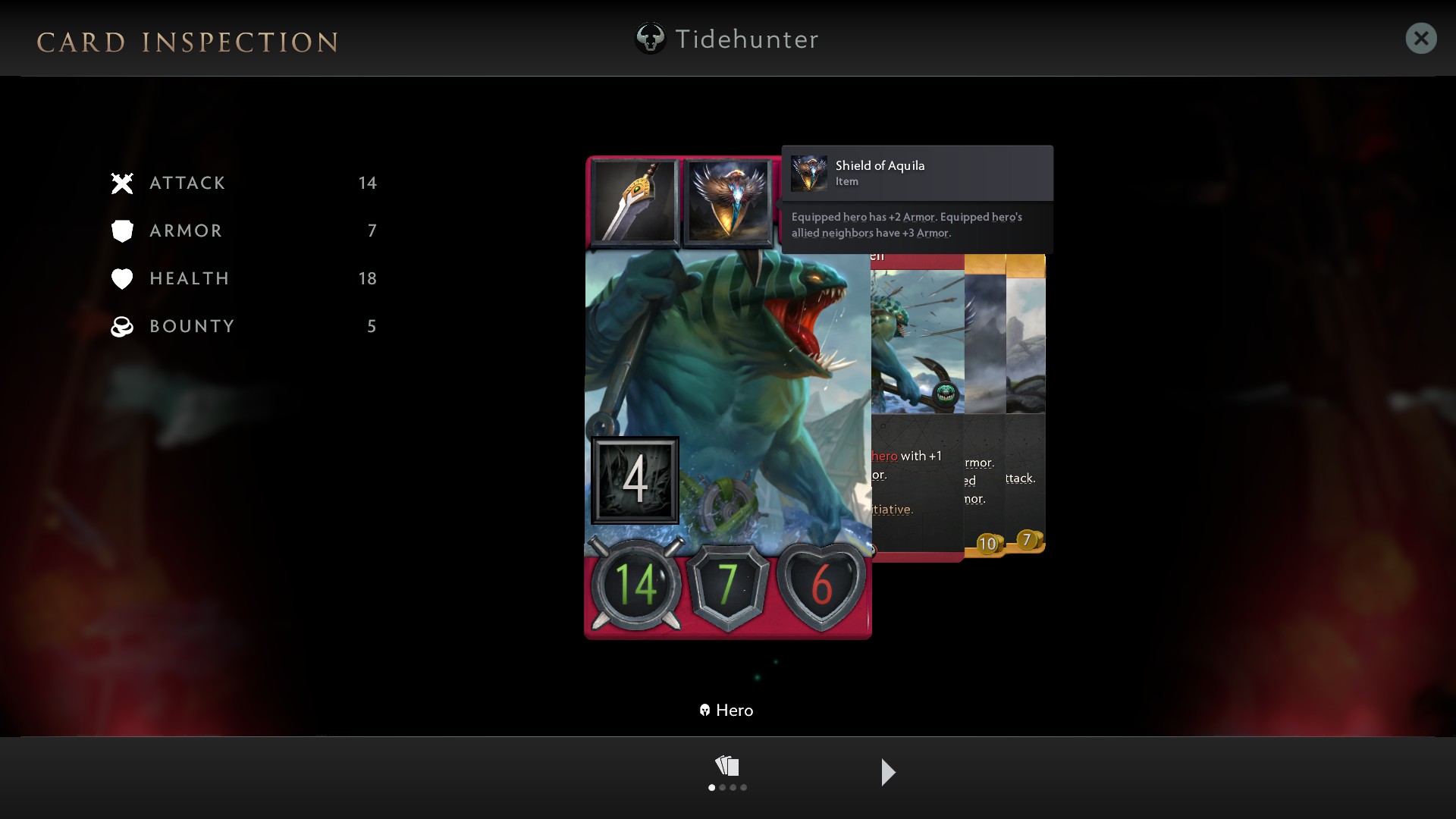 It's the hero system that I especially like, each coming with their own unique ability. On top of that, hero cards also have equipment slots. After you've played an entire round across each lane, you go through a shopping phase where you spend money earned by taking down enemies, this is where you will be able to pick up healing potions for cards, equipment to put on your heroes and so on. What truly makes it interesting, is that when a hero is cut down they will keep their equipment ready for when you get to bring them back into play in a couple of turns. Perhaps you want to strengthen a particular lane, but all your hero cards are already in play? You can also get a card to return them to the fountain, to then place down in a different lane later on. It's all the gameplay elements like that, which keep it thoroughly interesting to play.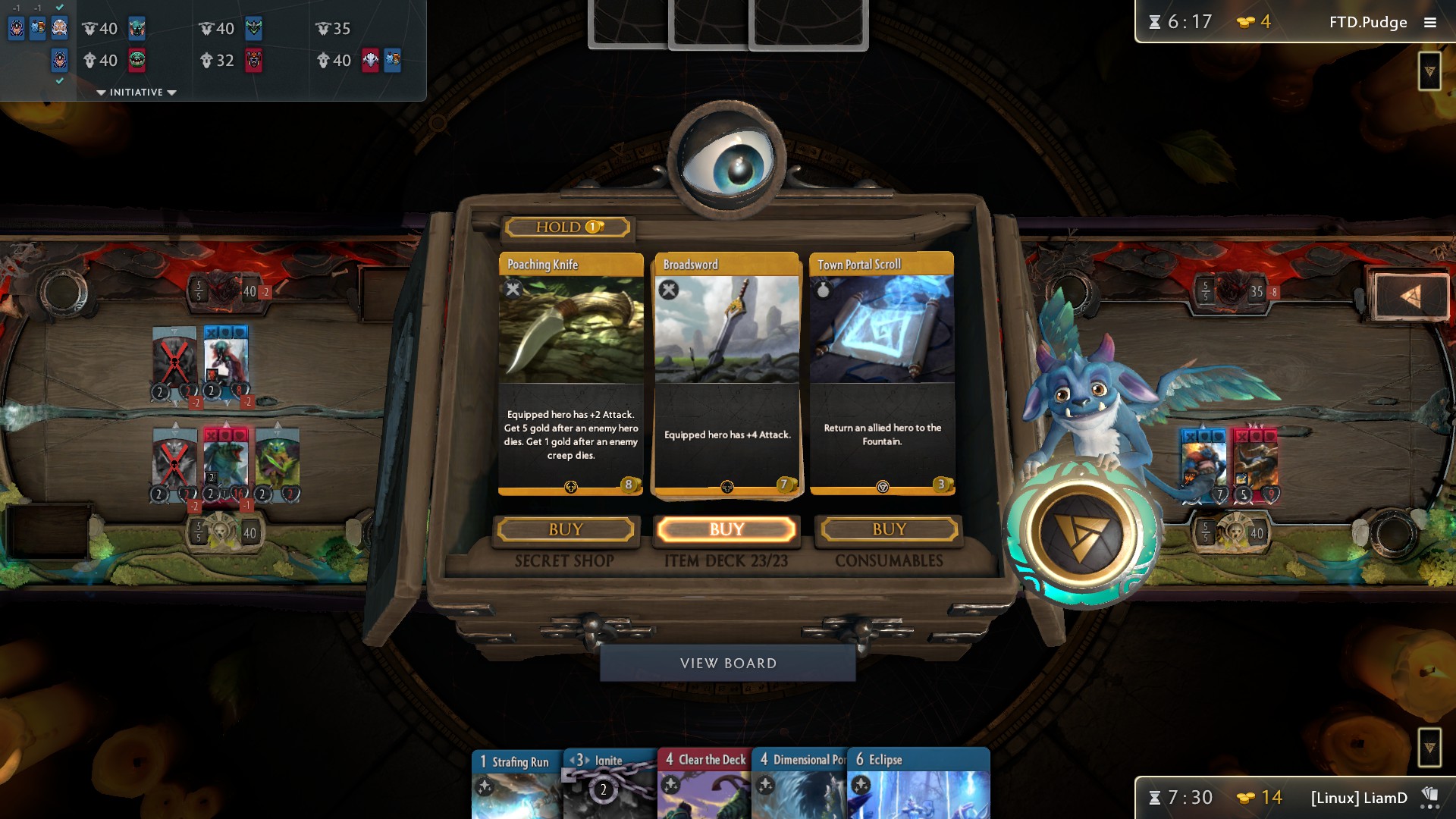 The multi-lane approach has tripped me up a good few times. It's a little too easy to become overly focused on how you're doing in one lane, which can result in some spectacular failure. Winning in Artifact can be done in two ways: You can take down two towers in any lane or take down one tower and the Ancient that replaces it in the same lane.
There's never a dull moment in Artifact, that's one thing I'm absolutely certain on. I've seen some extremely varied decks when playing online. In a game I had only earlier today, my opponent had cards to constantly replenish their mana to play more cards, while also constantly locking my cards for a turn. Something I thought was equal parts clever, amusing and annoying.
Even with the annoyance of some of my cards being locked for multiple turns, it all gets turned around when you see your little familiar fly over to the enemy's tower and laugh at it as you're about to annihilate them and win the game. At least, that's what I would like to say, unfortunately for me my enemy had the Zeus hero unit, whose ability annihilated all remaining cards I had in the lane that would win me the game…as I said, never a dull moment.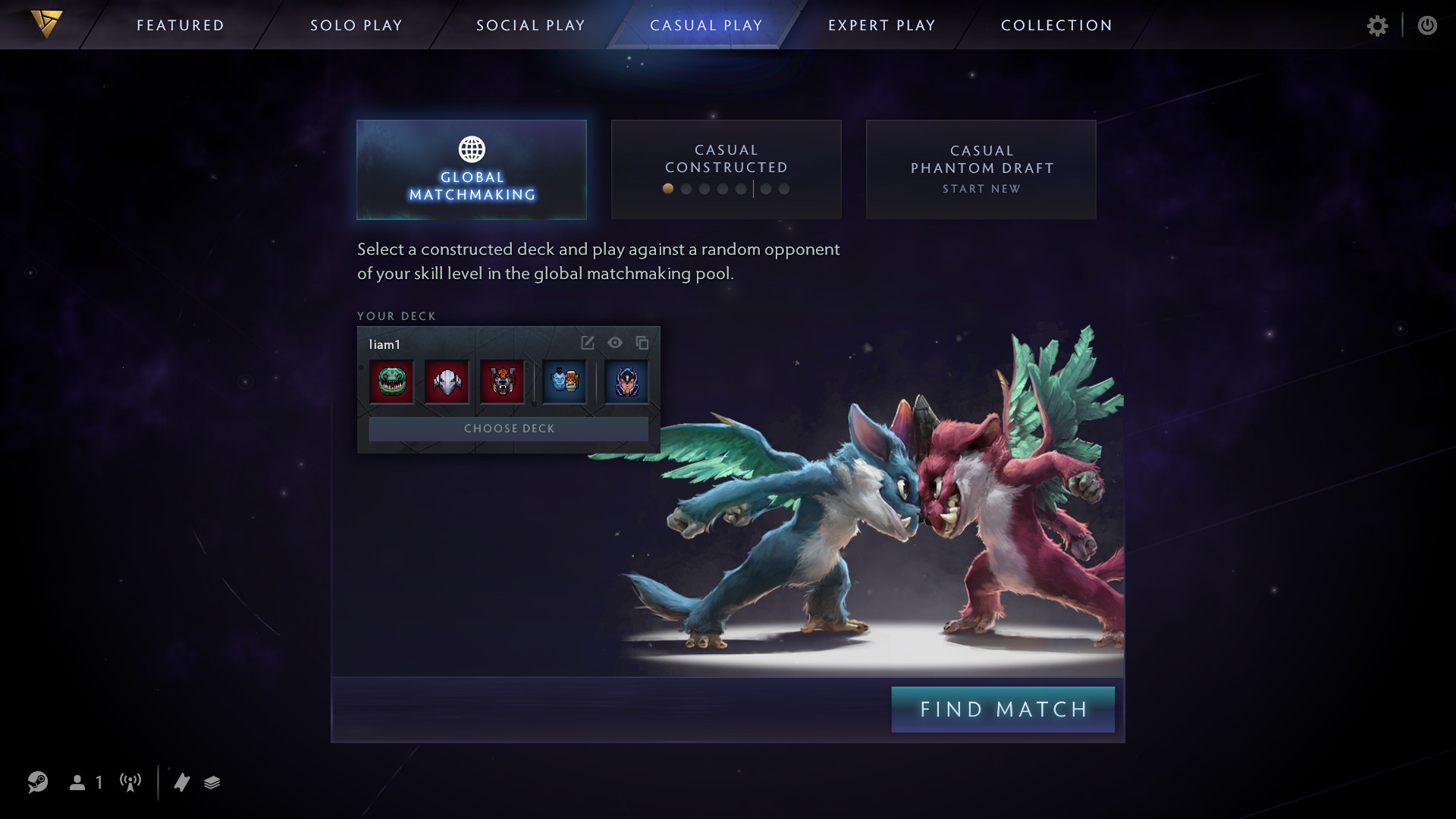 Artifact offers up multiple game modes, depending on how you're feeling.
There's Solo Play bot matches so you never need to face anyone online, which can be quite interesting since bots can play cards you don't own.
Social Play will allow you to face off against friends, Open Play which essentially shows you in a list for people in the same Steam groups as you (join our GamingOnLinux Steam Group!) to match up and player created tournaments.
Casual Play will allow you to play online against anyone globally, a Constructed mode where you pick a specific deck and attempt to win a series of games with that single deck and then a Phantom Draft mode which lets you make a new deck and edit it before matches.
Finally, we come to the Expert Mode which is similar to the Casual Play mode with one major difference—you can win prizes, but this comes at a cost.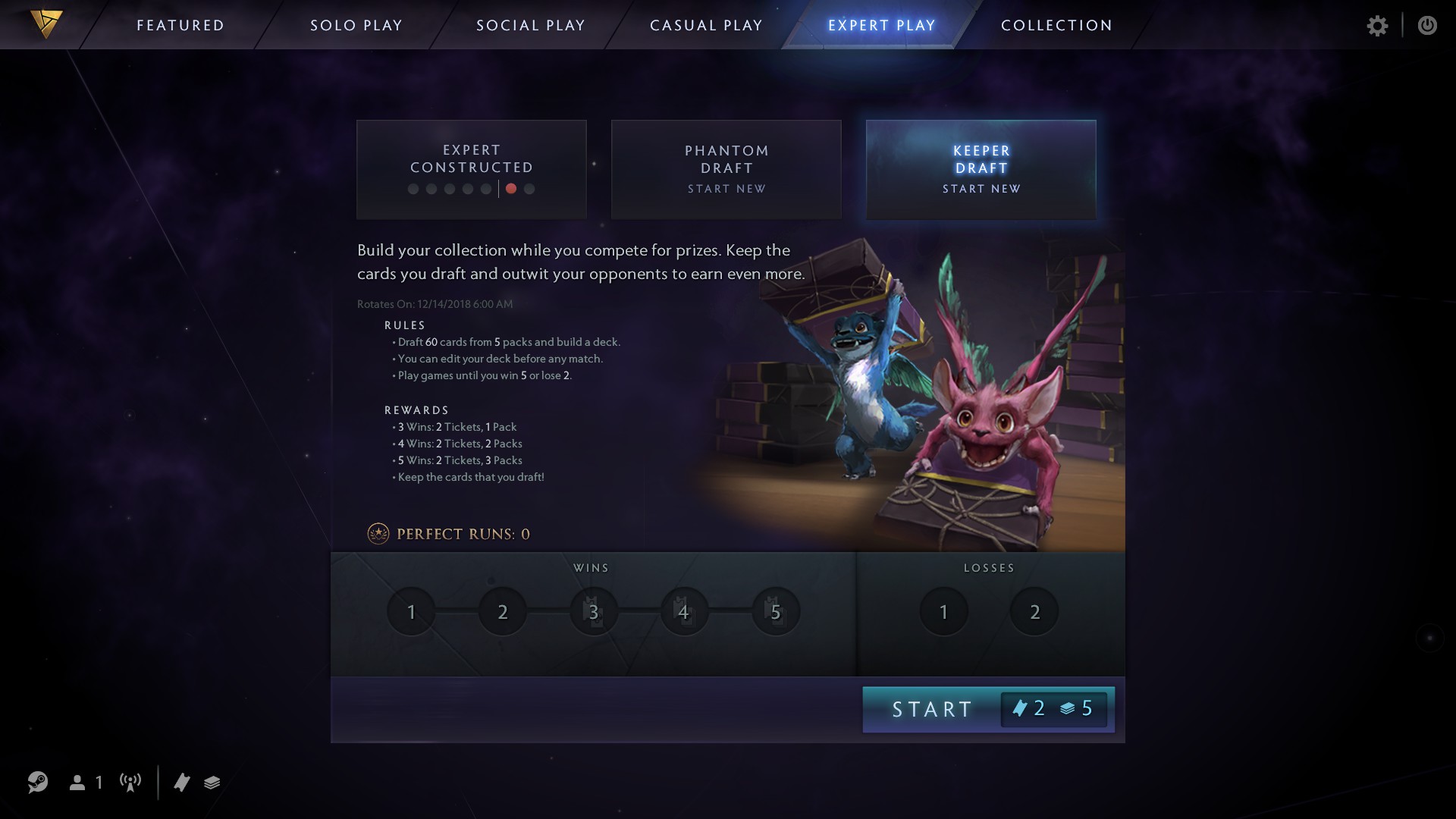 That cost, can be Tickets you pay for in a bundle or for the Expert Keeper Draft mode, both Tickets and Booster Packs. Sure, there is an element of increased adrenaline-based excitement because you really don't want to lose anything, which adds an curious element to it. However, for a game you've already spent money on to play and will likely spend more money on to buy extra packs of cards, it just doesn't feel right having some modes so limited like this. Considering it costs $4.95/£3.95 for only five tickets, that works out to be quite expensive just to play in certain game modes if you're not good enough to win extra tickets. You can turn unwanted cards into tickets too, although that's at a cost of 20 cards to one ticket which doesn't seem like great value.
On top of that, for a game that isn't free to play, it certainly can end up costing you a lot of money after your initial purchase. There's been a lot of talk about Valve's monetization model with Artifact with it being rather costly in the long-run when buying extra cards. For reference, here's the pricing:
Buying it for $19.99/£15.99/€17.95 will give you:
5 Event tickets
2 Complete Decks
10 Booster Packs
Booster Packs can be purchased in-game for $2/£1.50/€1.75 and will include:
12 random cards
At least one card is a rare
Such packs do have an element of gambling to them, since you have no idea what you're getting. That can end up being a lot of money if you don't get the cards you want. Exactly like real-life packs though, but still worth mentioning of course. To me, the cost of the Booster Packs are pretty reasonable though, as someone who buys his kid Pokemon cards often which are quite a bit more expensive (and his collection is rather large…).
Although the Draft mode you can do can offset that somewhat, since you pick different cards each time to construct decks. This way, no one has any kind of edge over the other based on cards they own. That's a pretty big thing, especially for those who don't want to spend any extra.
A deal-breaker for some, might be the fact that there's no actual ranking system. Like a lot of other games have, competitive play in Artifact doesn't give you any special rank or badges and so there's no real feeling of progression outside of either winning or losing. Valve are listening, as they said on Twitter that "Progression is top on the list of things we want to tackle post-launch!".
I do like the fact that I don't need to chat to people while playing online, for me that's actually a big bonus. I don't want to see trash talk or anything, I want to focus and relax. Not that the game is actually relaxing by any stretch, it can suddenly become a very nerve-racking game at any moments notice.
The Linux version has been working really well for me. It hasn't crashed a single time and they've improved performance since the earlier beta builds, so it's now incredibly smooth for me.
Overall, I like it a lot and will no doubt continue playing it, but I would like it a lot more if there was an actual progression system, plus more ways to earn tickets and cards outside of giving Valve even more money.
You can find Artifact on Steam.
Trailer: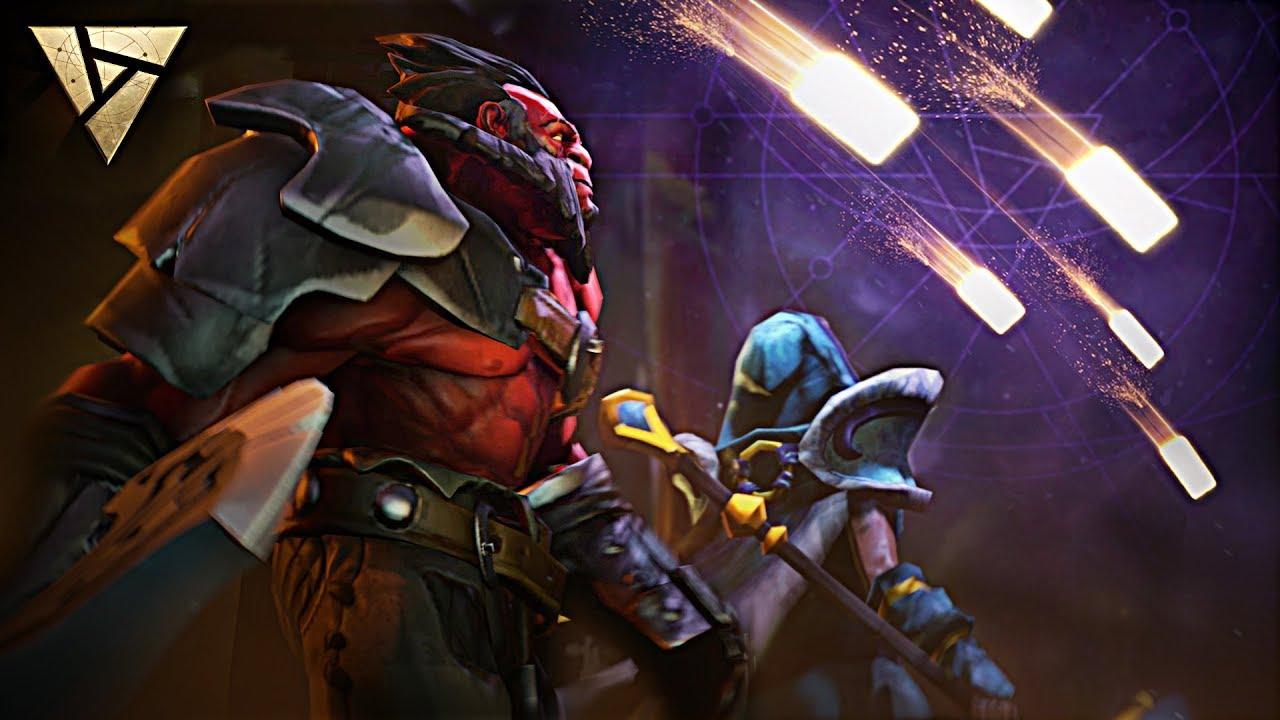 Some you may have missed, popular articles from the last month: