Taking place in the cursed city of Icenaire, Vambrace: Cold Soul offers a narrative-driven fantasy adventure that's worth your time. Developed by Devespresso Games (The Coma), it takes a great deal of inspiration from the likes of Darkest Dungeon right down to the graphical style (although the characters are a little more Anime-like in some cases) and the battle system while managing to still come off as a very different experience overall.
Note: Key provided by the developer.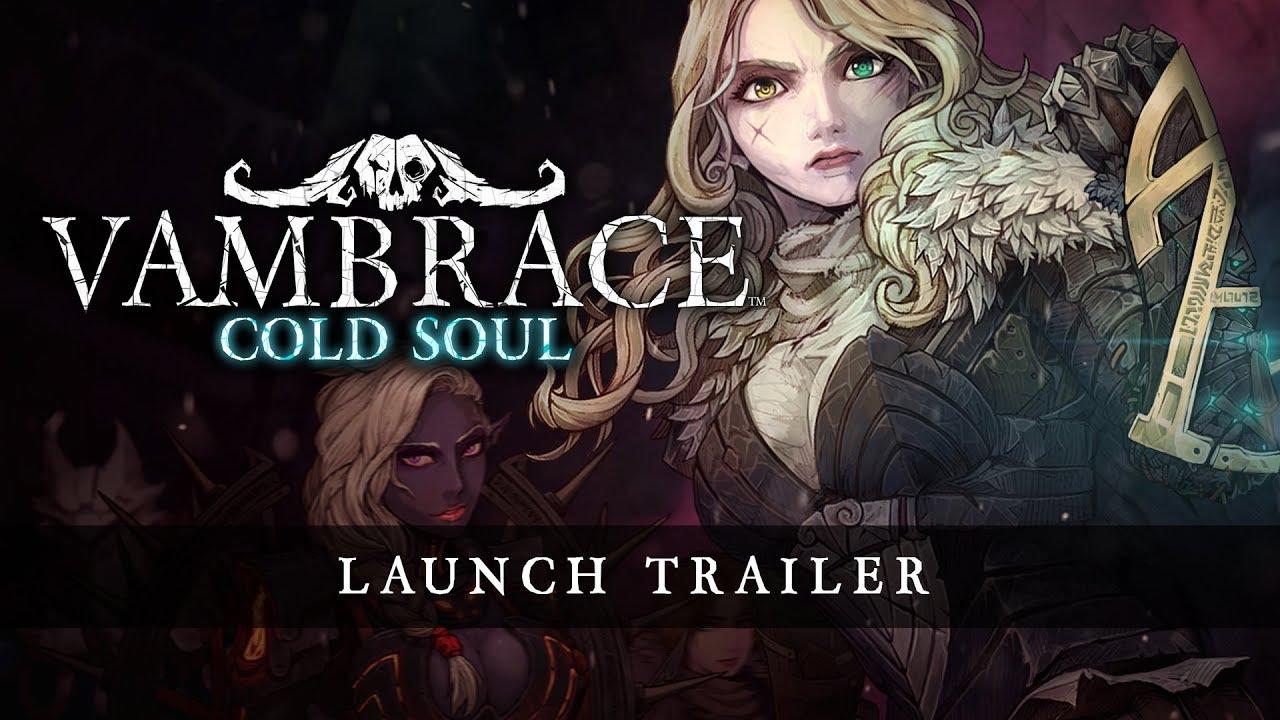 For those who found Darkest Dungeon too difficult, you will likely still find a great challenge with Vambrace: Cold Soul. In some ways it's more streamlined but actually getting through it is still a pretty tough challenge, as some of the missions are quite long requiring a lot of careful exploration and plenty of supplies on hand.
Combat in Vambrace is a pretty simple turn-based system, with little really going on. This is amplified somewhat by characters having few abilities, with one of them needing to charge up so the combat gets quite repetitive as you spam E for your main attacks. As simple as it is, there's still a few things you do need to take into account. Character attacks do depend on their range and positioning, so you're going to need to place characters with a decent amount of health up front, ranged at the back and so on. Other than the combat, the exploration is quite simple too as you move from one area to another, dealing with traps and doing a bit of looting. What's interesting here, is that you again need to take into account your party positioning, as a character with a higher observation powers can better detect and avoid traps. The map design is quite confusing too though, since your exploration is 2D side-scrolling while the map gives an overhead view making it easy to take the wrong exit and go in circles.
What makes the game difficult is not just the length of missions, it's also how you're only able to replenish your health and deal with any negative status effects when you reach a camp site. These can be quite far between and by the time you find one, you might have already lost a party member.
One of the big differences to Darkest Dungeon is the parts outside of the exploration and combat, since you have a town to actually walk around, trade, recruit new party members, chat to people and more. It changes a little as you progress through the game too, making the progression quite satisfying and it gives it more of an RPG/Adventure-game style to it rather than just a dungeon crawler.
Features:
Embark on an epic fantasy-adventure spanning 7 intriguing chapters.
Complete sub-quests to unlock up to 26 new, thematic character skins.
Assemble your party from 5 races and 10 unique classes of recruits.
Craft items and armor from precious materials gathered on your trips.
Make crucial decisions where one wrong turn can seal your party's fate.
Prepare well or condemn your comrades to permanent death.
Find codex pages to expand upon Ethera's history and mythical lore.
One of the main problems I have with Vambrace is the UI, it's unintuitive at the best of times. When I want to quickly get information about something, I'm so used to other games having plenty of handy tooltips when hovering the mouse over, which isn't the case here. Like character abilities, I have to bring up the whole character bio screen each time I want to remember what their special ability is, rather than just a quick mouse-hover. It doesn't really help that there's no in-game reference once you've gone through the tutorial and since there's little tooltips, remembering what icons mean each time you come back to it can be an issue.
That same issue is apparent when picking a party, you don't get to see what their special ability is before recruiting them. Pressing ESC during combat, you would think would bring up the main menu, but instead it skips your turn with no warning which has tripped me up a few times and annoyed me. When enemies use abilities during combat, it doesn't really tell you what they are. Little icons appear on enemies but it would be far better if it actually said "defence raised" or something. Tons of niggling issues like that which need sorting, as they can be a nuisance and reduce your fun a little.
To be clear through my complaints about it, I enjoyed it but the many UI issues do need sorting. It's nothing major, just too many smaller issues that shouldn't be too much trouble for the developer to sort out. Overall though, it's a fun and very engaging adventure to sink some time into. If you enjoy a tough challenge, an interesting storyline and a beautiful style with an equally good soundtrack it's a game for you.
You can pick up a copy of Vambrace: Cold Soul on Humble Store, GOG and Steam.
Some you may have missed, popular articles from the last month: