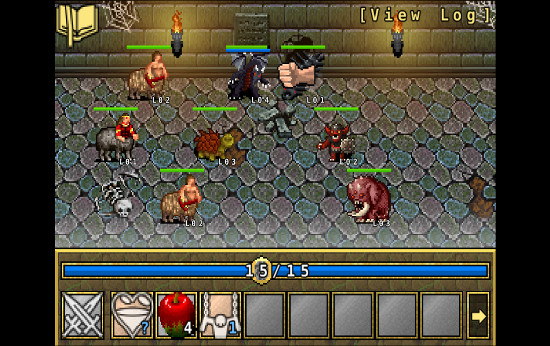 I have often longed for a more adult orientated form of Pokemon, and to find the developer of Deity Quest reach out to me to take a look I was rather eager to get going.
My thoughts
It's not quite Pokemon (far from it in reality), but it is certainly interesting. I like it when I get to pick the evil side and have some monstrous looking fighters on my side, so that made me happy from the very beginning. The problem in a lot of games is you never get to be the bad guy!
I did encounter a crash during my first battle, but luckily the game auto-saves so I didn't need to go through the beginning of picking a side and character name again. I've sent the bug report to the developer, as I found the game stores crash-logs which is great.
The battles aren't turn-based which makes it play out very different to Pokemon styled games, as the battles play out in real-time before your very eyes, and you can choose to use items and spells during the course of the battle on your own creatures, or on the enemy. I didn't quite get it at first as I must have skim-read the tutorial text (tutorial text is configurable in the settings), and I thought my random clicking was doing it, but once you understand that it's simple.
The interface is pretty simple too, and it's easy to understand so that's good, but the game is a low-resolution and can put some people off, although it was still enjoyable enough for me (and I usually dislike such low-res games). I suggest playing it in windowed mode as it looks nice that way, the full-screen mode is what makes it look iffy.
Once I got into the game some more and levelled up my monsters they started running away during fights, and this is due to them being a higher level than me. It wouldn't be a massive issue if levelling up didn't take so long, but you can manage it by switching you creatures around for lower levels. It's a slightly annoying mechanic to have, and I don't quite understand why people enjoy that "feature", but as I said you can overcome it by using lower levelled creatures for a while.
The game works on an exploration to level up, and then a simple quest system to defeat different gods, but some gods may give you a quest to battle a different god and give a gift in return. This mixes it up a little, and does make it more interesting have more options.
Overall I enjoyed my time with it, but the character levelling to control higher level monsters is a bit slow and grindy. Apart from that it was actually quite good, and I badly hope to see a sequel with more to do, as it could be a fantastic series.
About the game
(From Steam)
Deity Quest is a light-hearted, pokemon-inspired RPG where you play as an ambitious young god, recently assigned to a world - Aberos - to convert followers and gain power. Your goal is to become the Overgod, the highest position among the many gods of Aberos. Develop your divine magic, support your followers in fast-paced 6 vs. 6 battles, adventure through locations, and compete with other deities in your quest to reach the top!
Features
- Convert Followers
- Discover 128 unique follower types throughout the land of Aberos, each with their own strengths, weaknesses and skills.
- Develop as a Deity
- Gain powerful magic unique to your alignment to support your followers and smite your enemies.
- Explore Aberos
- Travel through locations and quests, finding items and secrets, solving puzzles, gaining experience and discovering new followers.
- Fight 6 vs. 6 Battles
- Use strategy to manage and support your followers as they fight, and get the most out of their individual skills.
- Become the Overgod
- Race your rival, battle other deities and solve a murder mystery as you strive to become the Overgod of Aberos!
- Multiplayer Trading and Battles
- You can now trade followers with other players and battle other players online or over a LAN without the extended edition DLC!
Check out
Deity Quest on Steam
for some light-hearted monster battling fun, with a little exploration. It looks like it has a demo too, so you should be able to try before you buy.
Some you may have missed, popular articles from the last month: