I have been debating whether to write this up for a while, but here I am. I have completely ditched SteamOS in favour of Ubuntu Mate.

If you follow me on Twitter, you would have probably known this article was coming due to how frustrating an experience it has been for me.

I was spurred on due to the BoilingSteam website writing about it, and they echo some of my own thoughts and frustrations.

Recently I was sat with my son and wanted to play a point & click adventure game called Putt-Putt with him. SteamOS needed to restart to update, so I did and it just flashed into a black screen. We waited quite a long time to see if anything happened but nothing did. After rebooting, the system was completely broken with another black screen.
Oh god #SteamOS what have you done to yourself! pic.twitter.com/tQdzSuPuQs

— LiamLinux (@thenaughtysquid) August 20, 2016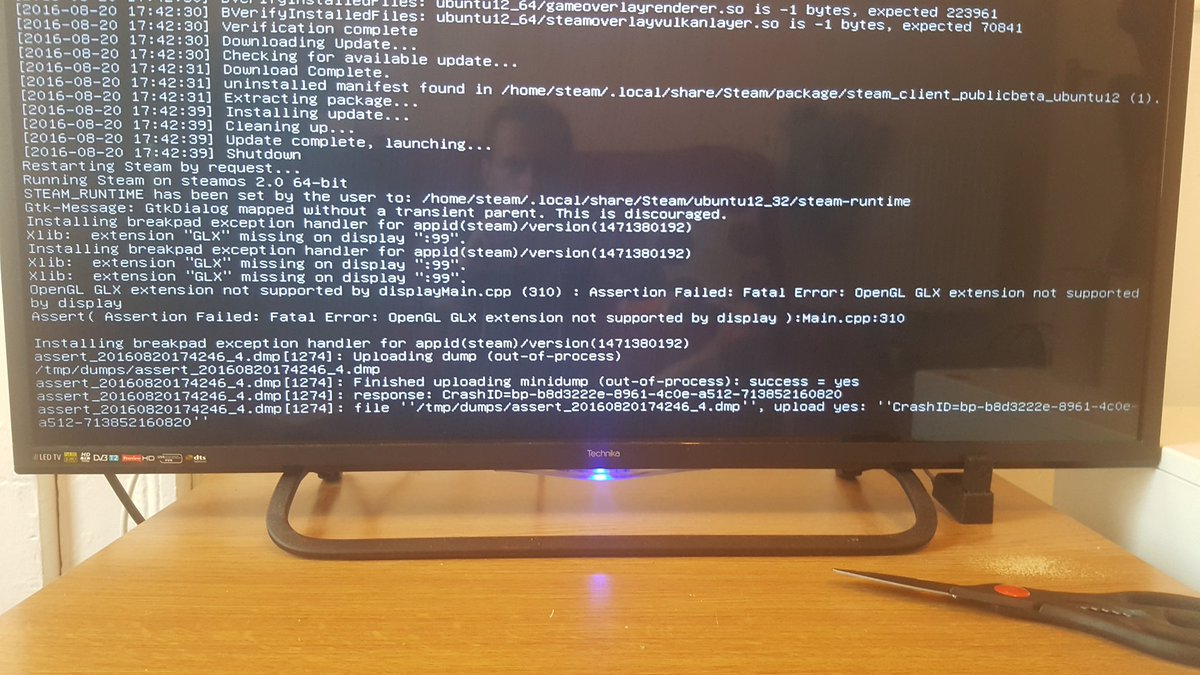 I tried everything I could find to fix it. I trawled through the SteamOS help pages, ran their automated recovery scripts from the terminal and nothing worked, everything just resulted in the same black screen. Their help pages mentioned some recovery option that would reset SteamOS, but that doesn't seem to exist if you do the advanced install method (as I had multiple drives with other things on).

I'm not the only person this has happened to; I've seen quite a number of people have a "fatal error loop" requiring a re-install. That is the sort of thing that is going to put people off and already has in some cases. You can see a bug report here that was closed, but people are still having issues. There's another post here, another here and so on. Quite a few people get issues like this and it's not looking good.

That was the final nail in the coffin for my time with SteamOS. I don't have time to deal with such breakage.

That wasn't the first time SteamOS gave me a black screen. It has actually happened to me 3-4 times now, but this time it just didn't want to come back alive. A lot of hassle for something that's supposed to be console-like and be easier to work with to just load up and go. The whole thing feels like it's still in its infancy.

My PS4 has had problems before, so SteamOS certainly isn't alone in having issues, but the difference here is massive. On the PS4 I was able to boot into some sort of safe mode and essentially re-do the PS4 operating system. All achieved with a controller and without any terminals, no resorting to keyboard commands or anything of the sort.

My other issue is that, honestly, I feel like Valve themselves are doing very little for SteamOS to progress into something. Other than driver updates and security fixes they don't seem to be doing anything with it — not even talking about it anymore. I am hoping they have something planned for the next Steam Dev Days, but I'm not holding out hope for something SteamOS related there.

I feel like SteamOS is still missing even some of the most basic things that makes a console-like box attractive to a wider audience. Things like Netflix, Spotify and other simple but useful things like that. You may not agree with me, but everyone I know that owns a console uses a mixture of those two or both rather a lot.

They also missed an important feature of having a party-like system, where you can gather multiple people into a chat/voice chat easily on SteamOS. Something like that is rather essential for setting up games together. I tried it a couple times with Samsai and other people and the built-in voice chat never worked for any of us.

Hell, I feel Valve really missed the mark by not having any livestreaming options in SteamOS. They still haven't even put their own Broadcasting feature into the Linux desktop client nor the SteamOS build yet.

I later setup Ubuntu Mate and within about half an hour it was running solidly with Steam and everything was dandy. For someone like me with whom Linux is the norm, SteamOS is no better than a normal desktop distribution with Steam installed. Since you can have Steam boot directly into Big Picture mode it does seem a little pointless for me now personally. If Steam breaks on Ubuntu Mate, I can find ways to fix it on the same machine — and it won't take the whole machine with it like it will on SteamOS.

The Steam Controller is by far the most useful thing Valve has done recently. I will still happily play from my sofa on Linux thanks to this wonderful device. Thanks to it, I can stay on my sofa, come out of Steam Big Picture and still navigate to other things I want to do all without having to get closer to my TV with a keyboard and mouse.

I still believe SteamOS has its place though. On pre-built machines of course it is much easier (and likely more attractive to consumers) to have SteamOS sold on it, and it makes a good target for developers who use the line of "there's too many distributions". It has done a lot to help push Linux gaming, that goes without saying, but for me it's just not a good fit.

I don't think Valve plan to drop SteamOS any time soon nor do I think it has been a failure. A great experiment and something that has utterly catapulted Linux gaming to where it is now. If Valve ever do a big update to it, I may return to it to see if it's worth it, but considering the few minor updates it gets this may be a long ways off.

So, there ends my experimenting with SteamOS for now.

My final take on this whole experience is this: SteamOS is built for the people making systems and selling them, not for us in reality, Valve just provide it for us because they can. Valve only really care about the problems on the systems sold with it. So I would personally just steer clear of SteamOS unless you're buying it on a supported system.

How have you found your time with SteamOS? Have you also replaced it with a normal distribution like me? Let me know in the comments.
Some you may have missed, popular articles from the last month: