Space is vast and travelling through it can often be hazardous. The Away Team follows the crew of the last spaceship to leave Earth in search of a new home. I gave this interactive sci-fi novel a try and have some thoughts on the experience.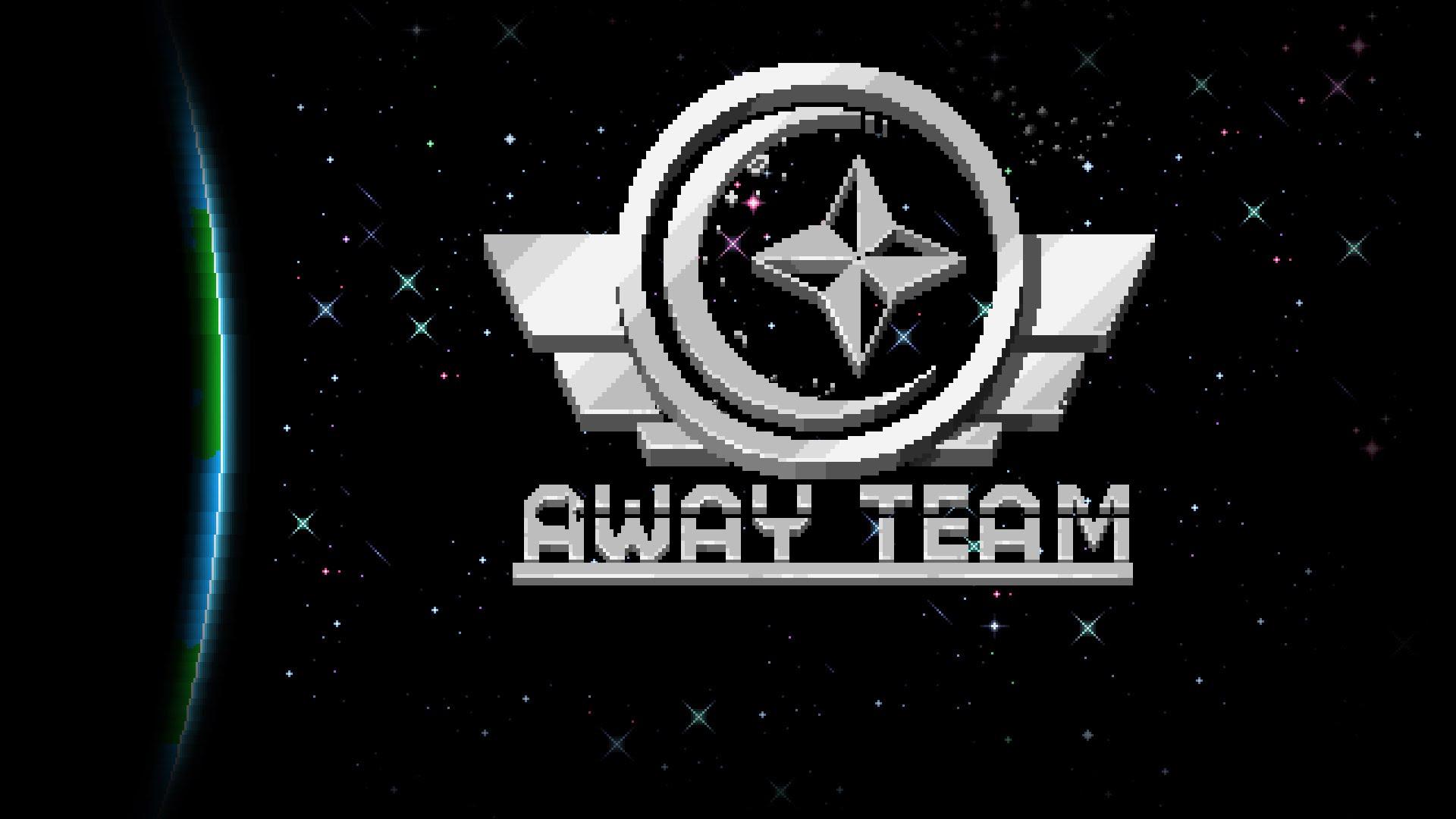 Note: Key provided by fellow GOL editor, Cheeseness. He also helped port the game.
The Away Team [Official Site] is something different to most games I've played lately. It places the player in the role of a ship's AI and you're tasked with monitoring your crew and exploring space in the hopes of finding your cargo of precious humans a new place to live. You select a crew with different backgrounds and quirks at the beginning of each game and must keep an eye on food and fuel reserves as you go from planet to planet, looking for a place where humanity can thrive.
Though it may sound superficially similar to games like FTL and Halcyon 6, The Away Team is less focused on ship and crew management and is more about exploring the narrative. Though there's sequences where you direct the ship in between planets, the bulk of the game is found in the heaps and heaps of text when you send down part of the crew to explore a new world. You're get choices regularly about what you see and what you wish your crew to do, modified by your crew's traits as well as some randomization. On one world you may be investigating a derelict ship that's sunk beneath the waves and on another you may be dealing with rogue AI and hostile fauna.
Connecting it all, are the threads of what happened to the other expeditions which left before your ship. The fate of the rest of humanity is often presented as a series of unfortunate events but there's also a hope that there may be survivors and clues as to where the rest of the ships finally ended up. The decisions the player makes ultimately leads the ship and crew to reckon with this legacy, provided you don't run out of food or fuel before reaching the end.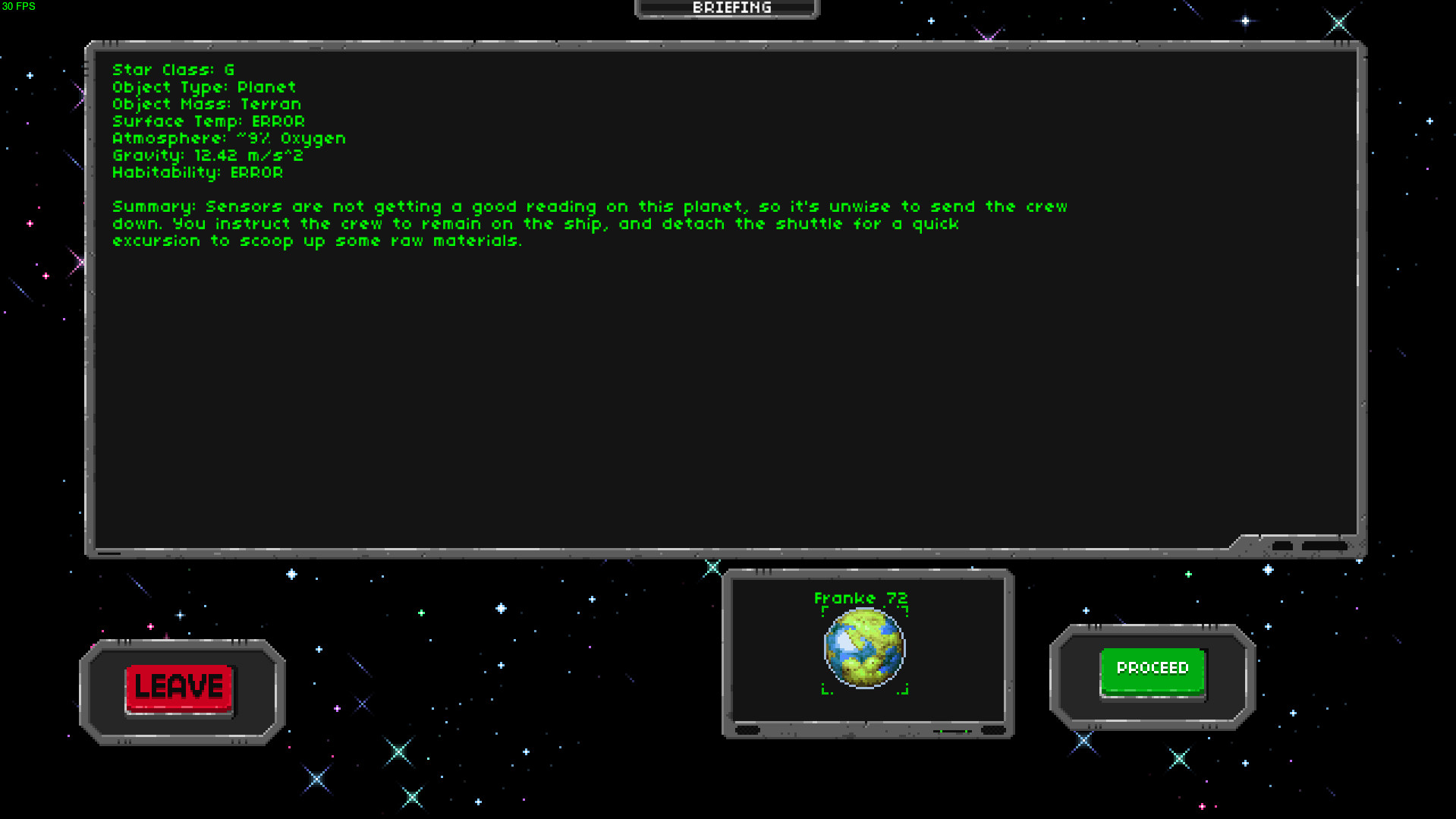 The writing of the game is generally competent and does a good job of describing the things you encounter as well as the various quirks of your crew members. The player character, the AI, is also strongly characterized and the urge to protect your crew from harm is effectively demonstrated. At times, however, the tone can shift a bit abruptly or become a little self-indulgent. It didn't happen often enough to take me out of the experience for good but, on one occasion, sitting through several hundred words of purposefully bad and Shakespeare-like dialogue and exposition on a certain planet proved to be painful. Likewise, a few other parts came off as maudlin or suddenly too whimsical.
My main problem with the game, however, is that it often feels like player agency is mostly stripped away. Many of the decisions you make have utterly unforeseen consequences, sometimes boiling down to "go left" or "go right" or their equivalent, making a lot of decisions feel like a coin flip. Some choices have a little text before it that hint at what may happen, but this is sadly really rare. It's mostly trial and error, ostensibly to encourage multiple playthroughs, but I found it frustrating to get my bearings at first. Especially as crew members may suddenly die if you make the wrong choice. Or even if you make the "right" choice but the randomness of the game decides things will play out somewhat differently.
This criticism can be extended to the character system itself. The traits have no tooltip or hint of what practical consequence they may have. "Careless" may suggest that you shouldn't have this character in dangerous or delicate situations but what does "loner" mean in terms of gameplay? What's more it's hard to predict which traits will matter at all during a mission, since if you haven't played through the scenario at least one time before, it's hard to know what the hell could happen on a particular planet. Even playing through a few times, I found that there were enough variations that made it hard to tell what team was ideal for what expedition. There were plenty of times where a character died with no way of predicting that it was likely to happen. Trial and error with chance thrown in isn't exactly the best of game design.
There's a few other sticking points that are worth mentioning here. I thought it was a wasted opportunity not to have some art thrown into certain scenes, for added impact and immersion. Then there's annoyances like not knowing what certain upgrades you may find actually do to your ship. Also there's the fact that to get an alternative ending you need to trigger a random even on a certain planet and recruit a special character, making it so only the most dedicated of players will even bother. Space segments between worlds feel underdeveloped and dull—outside of getting resources it doesn't really matter where you go, you'll eventually reach one of the two ending planets. Finally, it would have been nice to be able to scroll back text beyond what was being displayed at the moment.
With all that said, The Away Team isn't a bad experience. Despite its questionable design decisions in places, it still transmits a plot and sci-fi mysteries in an interesting manner. It can feel like something out of Star Trek; exploring alien worlds and figuring out mysteries about both humanity and space are central things. If you're willing to approach it more like a novel with some choose-your-own-adventure elements, it's easy to overlook the fact that it's not much of a game. There's also the ability to create your own characters with a little tweaking of text files. Cheeseness went ahead and added Tux to the Linux version of the game.
Still, The Away Team gets a very conditional recommendation, aimed at those who have the patience to fully grasp the story via multiple replays and aren't too bothered by the mostly ancillary gameplay elements.
Some you may have missed, popular articles from the last month: