People were interested in seeing some AMD benchmarks for the just released Dirt Showdown and I'm happy to oblige. Here are some comparative results for both of my main GPUs.
Remember, based on theoretical numbers these two GPUs are about as powerful. The R7 of course has more VRAM than the 760 (2GB vs 4GB) but that rarely gets utilized. So, without further ado, let's benchmark this!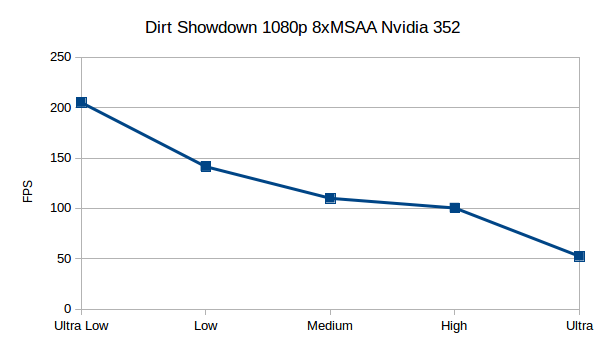 So here are the Nvidia numbers. As you can see, the game performs very well and only goes below the magical 60 FPS mark on Ultra and even there it's at a reasonable 52 FPS. Note that these are average framerates and the game can occasionally drop about 20 FPS for a moment. The performance drop-off is fairly small up until Ultra, where the performance drops quite radically.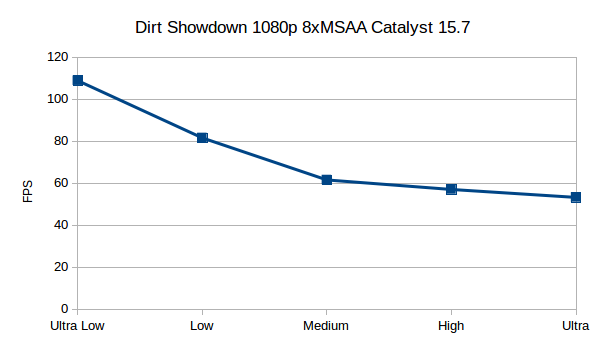 And now we come to the newbie of my hardware, the R7 370 which I have been using for the past two weeks. While Dirt Showdown is apparently playable on the RadeonSI driver, provided that you compile it yourself, I stuck to the Catalyst 15.7 driver for this benchmark. Mainly because I'm extremely lazy and won't compile my own GPU drivers. It's worth noting that the R7 runs a lot slower on Ultra Low, it's only about half the performance of the 760. However, the performance also seems to drop a lot slower. And when reaching Ultra the R7 actually catches up to the 760.
Here you can see both results on the same chart for easier reading: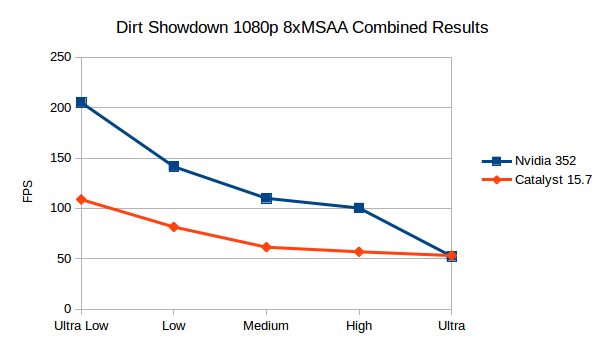 So generally the R7 performs quite a bit worse than the 760 initially. I haven't quite figured out what caused the sudden drop in performance for the 760 on Ultra. It could be the VRAM but somehow I don't think that's the case. Regardless, the game was completely playable on both cards and I congratulate Virtual Programming for a fine performing port. I haven't actually played the game yet, I simply ran these benchmarks but if the benchmarks give any idea about how well the game is going to run, then this will probably be a pleasant game to play framerate-wise.
If you want to see additional Nvidia numbers and a little bit of gameplay, you can head on over to
Liam's preview article
where he tested the game with a GTX 560 Ti and a GTX 970.
I'll reserve a spot for Dirt Showdown for the Friday Livestream so you can see my first impressions of the game there.
Some you may have missed, popular articles from the last month: