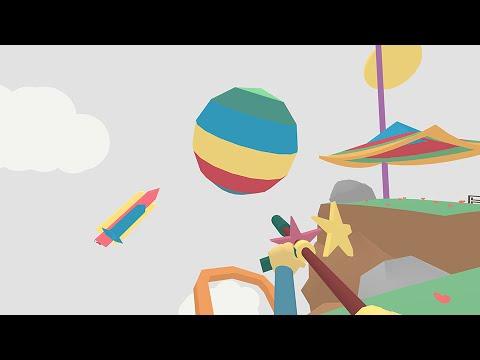 Lovely Planet is one of the oddest titles I've played recently, and it's not what I expected. The game is now available on Linux, so we let you know if it's worth it.

The game is just plain weird, as it's a mix between a runner game (get from a->b) and a first person shooter.

What I thought
At first I hated it, and I thought "what the heck is this?", but give it a chance as I did and you will finding it's surprisingly well made.

Everything felt far too floaty for the movement at the start, so I suggest turning the sensitivity up a fair bit. It's down quite low to begin with.

The art style does make the game feel very simple, but as you progress through it you will see the how well the levels are built. I failed a couple of them repeatedly due to how well made they are, and my times seem to be not even close to the records set.

The enemies are very simple, but they do their purpose extremely well. Their purpose is simply to slow you down, and some of them can really add a few seconds where you need to be faster than the speed of light to beat those damned records set.

Check Lovely Planet out on Steam if you like the look of it. It's a fairly decent mix of good old fashioned running and shooting.

Official About
With boots of speed on your feet, an infinite supply of bullets for your semi-automatic and the ability to jump over twice your own height, you're well equipped to go up against any enemy on your quest to reach Lovely Planet! Balance between jumping around dodging bullets and taking aim for a better shot at your enemies, don't waste time camping at cover spots and waiting for enemies to pop out - artfully evade the onslaught of bullets and defeat all baddies that stand in your way!
-The most authentic First Person Shooter experience, a game of jumping and shooting
-Hundred levels to master, five worlds to discover, one faraway destination
-Learn and practice each level to earn stars and set world records
-Search for multiple secrets hidden deep within each world
-Precise Gun Ballet at a flawless 60 frames per second! (conditions apply)
-A story so abstract, it's not told at all - you won't know what hit you
-Original Soundtrack by Calum Bowen
Some you may have missed, popular articles from the last month: