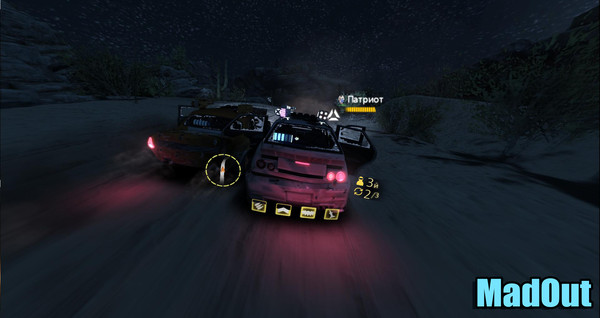 Here I am pointing out another game you should probably avoid on Linux. This time it's the turn of MadOut, a combat racer that's just not good.
MadOut certainly looked like it would be pretty promising, but sadly after checking it out I found it to be lacking in everything. I'm really not surprised the reviews on Steam are "Mixed" with nearly as many negative reviews as there are positive reviews.
I had a few people ask about MadOut, so I decided to take a quick look at it to advise people how to spend their money.
The good
The cars themselves don't actually look too bad, you can choose a couple different paint jobs for them to suit your style, or even different wheel styles. I like customization, so having that was rather nice.
My Logitech was picked up fine, and worked well.
That is about all the good points though.
The bad
The game has some translation errors in places, as noted by a review on Steam I also noticed some russian characters appearing in random places.
The tracks are simplistic, boring and very straightforward. I'm not sure how else to describe them, but they really were just that dull.
The cars don't actually make any noise, at all. The only sound you hear is either music, or random tyre squeal when taking a corner. What kind of actual car racing game that attempts to have real looking cars doesn't have even a hint of engine noise?
The user interface is awful. It looks like it was designed solely to be used on a tablet. The main menu is confusing, and annoying to use. It's a serious eyesore, whoever thought bland grey overlays was a good idea needs to rethink their design skills.
It looks nothing close to the screenshots on Steam. This is another case of a developer using extra effects for the screenshots, do not trust them.
The cars seem sluggish and completely unrealistic in their handling, it's very much a basic representation of driving, very arcade in style. To quote a Steam review for it "the cars handle like shopping carts". I think that guy had it pretty bang on in his review.
It also pollutes your home folder with a "MadOut" folder, inside is one single config file. What's even the point of a new folder for that in my home?
I'm glad the Steam refund feature exists now, and it's easy to get a refund. I did so with this title, as I could never honestly see myself picking it up again.
About the game
(Official)
Wrecked cars making jumps over bumps and potholes, not always fitting into corners, they are driving at maximum speeds with only one goal in mind - to be the first on the finish line. Win the race. Be better than rivals in every way. Take the main prize!
Unlike the other games, where you can only knock your rival off the track, this game will allow you creatively get rid of rivals. How about to smash cars? You can do that! Get rid off the rivals with missiles and mines or knock them off the road with your car. Put the fear in them! Do whatever you want - there are no rules except The desire to win. Ability to upgrade your car and the car's weapons like never before. Physics from the real world - you can even feel the weight of a car.
Find
MadOut on Steam
, but I would just go buy
Distance
or
DiRT Showdown
.
Some you may have missed, popular articles from the last month: