The survival game Rust has come a long way in a short amount of time. It continues to be one of the best on Linux and this latest update sounds great.
Finally, for those teaming up there's a proper team interface. You no longer have to arrange some special jump or uniforms to make out who is who, which is especially useful during a raid. They have a default maximum size of eight and server owners can completely disable the system if they feel it isn't a good fit.
There's also a rather nice watchtower you can deploy, for a quick and easy way to look over your walls at the incoming raiding party about to destroy hours worth of your hard work: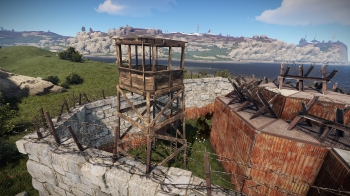 Also now available is the Pneumatic Jackhammer, which will annihilate resource nodes like rock and also make a mean weapon for when you're up close and personal.
For those who get lost often (like me, hello!) there's also now a Compass at the top of the screen including your current heading as well as numbered points to call out to friends for enemy fire.
Water has seen a small improvement too, which makes it look a bit more natural. Ambient Occlusion was also updated to improve performance. Sadly, the Bandit Town monument didn't make it in for this patch, the advantage of them working on it for another month, is that when it arrives it will also bring with it a swamp mini-biome! It's looking really good too: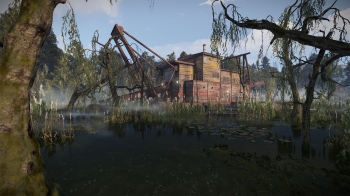 Full update notes here. You can grab a copy from Humble Store or Steam.
We have a community-run server for it, with a reasonably active bunch of players. Details on this page, we also have a channel for it in our Discord.