Death Road to Canada [Steam, GOG] is a game about survival and zombies, something that's pretty common now, but it's actually pretty good. This latest update is also rather amusing.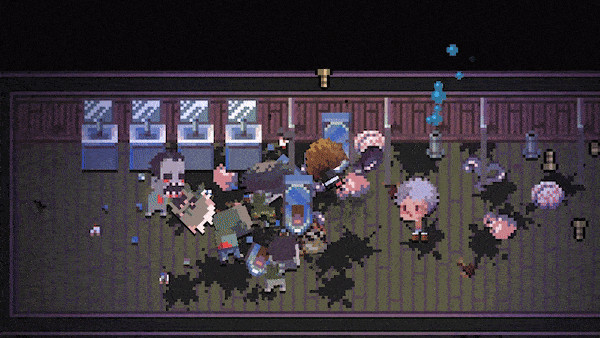 If you have a character that's on the insanely strong side, they're now able to pick up previously immobile objects like sinks, bathtubs, and toilets to hulk-smash into zombies. In addition, you can now also find bonesaws and a new bow and arrows weapon type. What's awesome, is that a fully-drawn bow can end up rather powerful as it can rip through a line of zombies!
Also, you can find a new special character that has a bow in one weapon slot and a random melee weapon. They're not finished with it either, with another content update planned this month and another update after that sometime in May with even more content. Their second anniversary is coming up, so in July they will also be pushing out some bigger updates. I have to say, the post release support in the form of free content for Death Road to Canada has been excellent.
What I really like about Death Road to Canada is that it's a game made for funny stories, there's so many ways to fail and die and many ways to squish zombies. It's pretty lighthearted too, with some fun combat where zombies will explode all over the place and it can get a little frantic when you come up against a particularly big horde.
I had a bit of a bad run earlier, I had to choose between a restaurant and a gym to search through, thinking the gym might have some good equipment I decided to loot there. We arrived in style, with our car smashing through a bunch of zombies, but when we got into the gym it wasn't just rammed full of zombies—it had been ransacked already. When trying to get out, we faced a horde of Zombies and my main character became breakfast, leaving poor Isaias all by himself against the apocalypse. Low on food and fuel I thought my luck had run out until I came across a knight in shining armour, literally.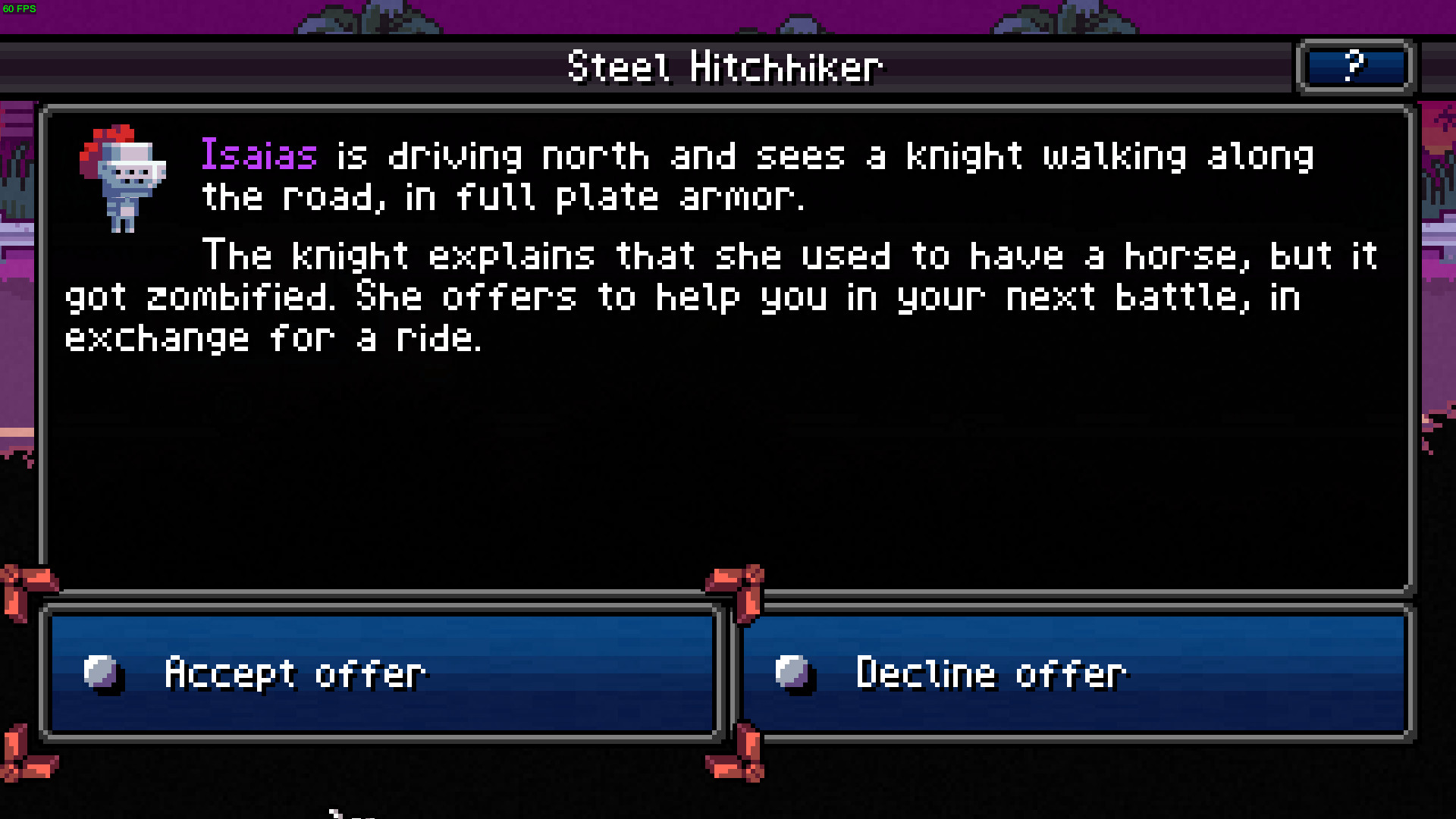 Moments later, the car got stuck in a ditch. As we tried to pull it out, a horde approached and there was no getting around them. I take out my Katana, the night has their sword and we begin cutting zombies down. Exhausted, we managed to escape. Sadly the Knight decided to part ways and so Isaias was alone again…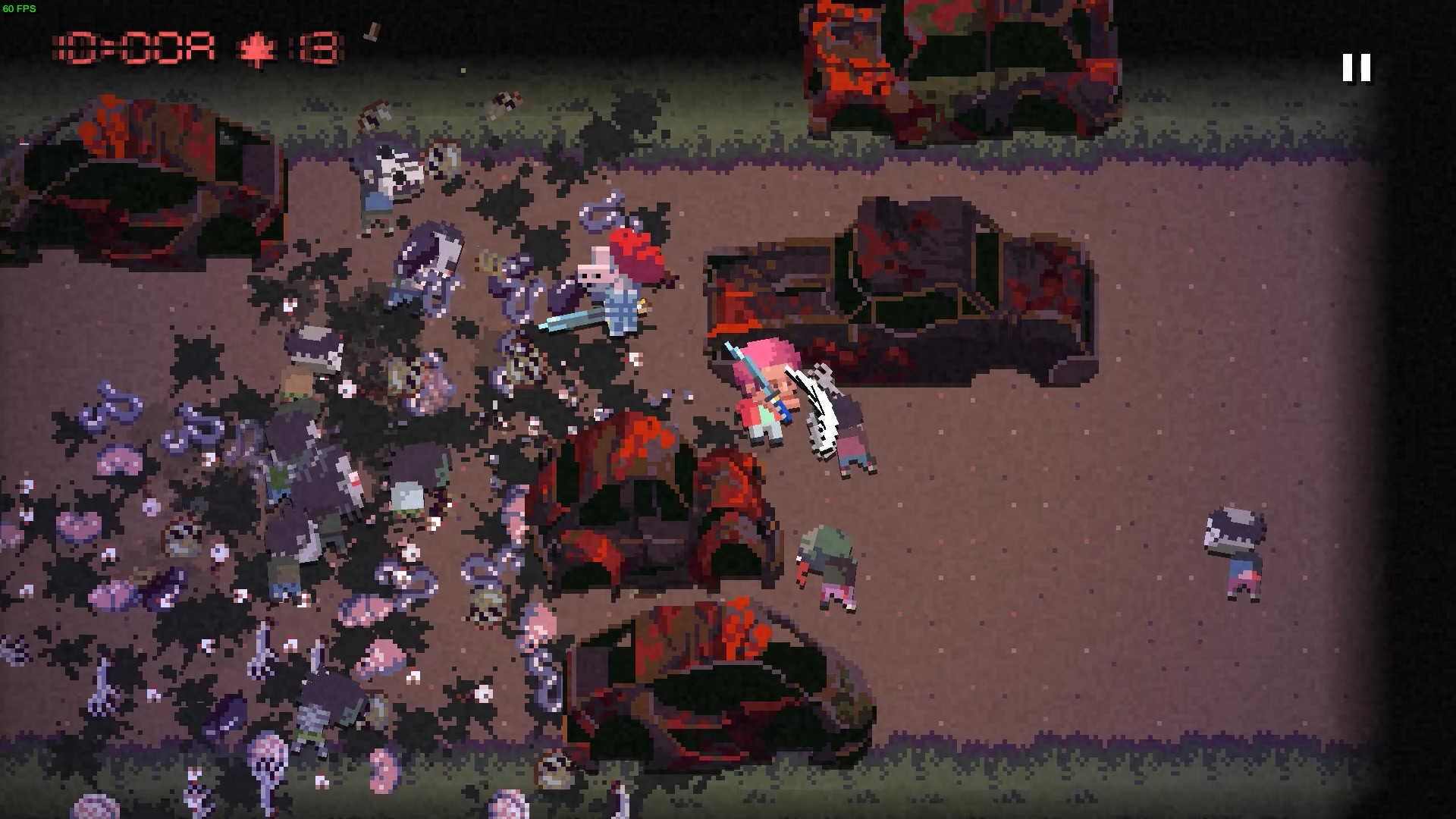 Features:
Up to 500 zombies can hunt you down at a time. Fight them, try to squirm past, or run.
Use the character creator to put yourself, friends, and family in the game. Have them show up at random to get eaten!
Find special and rare events, weapons, and characters with strange abilities.
Make tough choices in Interactive Fiction events. Get different options and results based on the traits of your party members.
Teach a dog how to drive a car.
Throw chairs. Get your characters strong enough to throw large sofas.
Most family friendly zombie apocalypse game on the market! Any gore explosion is in a cute style. We censor the word d*ngus once.
Tell people to "Cool it."
2 player local same screen co-op where you control up to 4 characters!
You can grab it now on Steam and GOG.
GOG links are affiliate links.
Some you may have missed, popular articles from the last month: