For those who love your traditional roguelikes, you might want to check out Caves of Qud which is now available on GOG and itch.io.
Along with the release on new stores, they just did a big update to the game too which includes generated villages spread throughout the game, each with its own faction, history and so on. A dynamic quest system to go along with that, giving you unique quests for each! Also, you have the option of choosing your starting location now which includes some of the new villages.
It's quite highly rated and I've certainly never heard anyone say a bad word about it. It had been a while since I had played it (2015 in fact!), so I attempted another run at it today.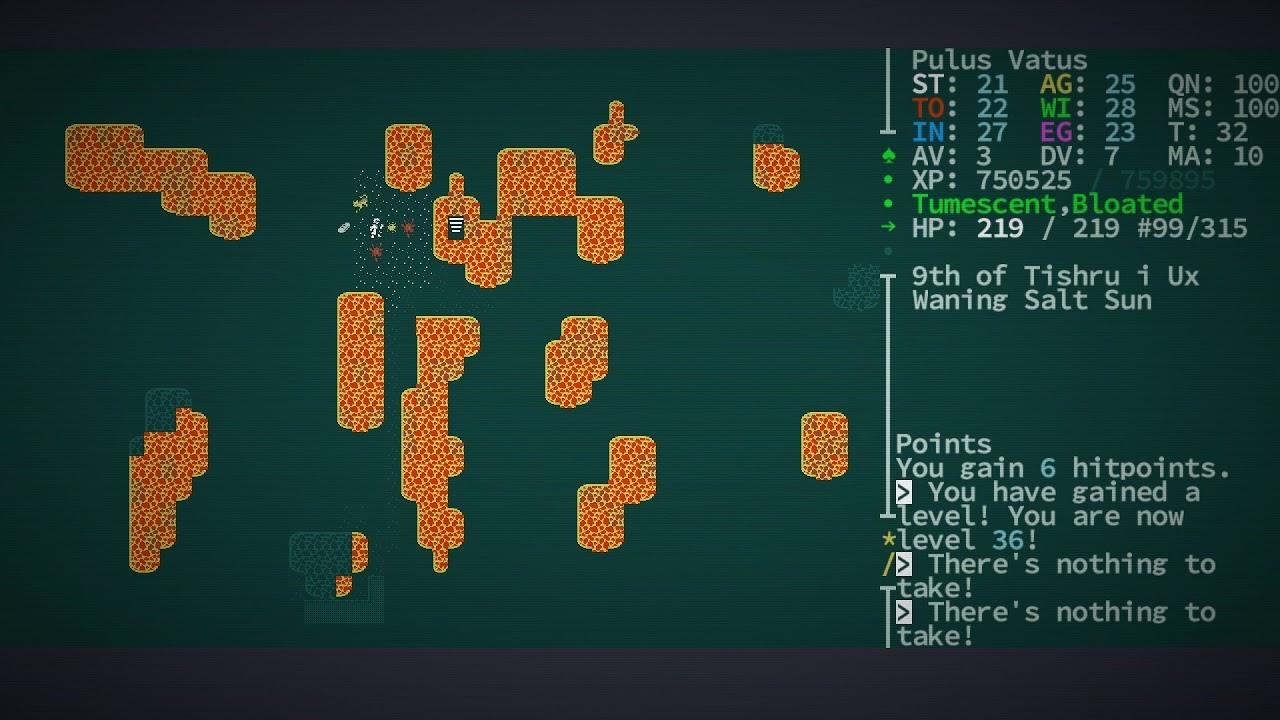 I decided to roll a random character rather than creating my own and it did not disappoint. I was given a Mutated Human Gunslinger, with photosynthetic skin, a stinger with paralysing venom…and narcolepsy (hah!). A fun little feature, is that you can get the game to create a tweet with your character build for others to try out, it's code is "BDMLKLKOBRBYDBDODZED" if this build interests you.
It does initially seem like it's quite hard to get into, but honestly the in-game guide actually does a great job at getting you going. Once you get a few of the keys sorted, it's surprisingly easy to have an amusing time with it.
Naturally, my first attempt didn't last long. I found a chest, opened it and decided all that tasty loot should be mine, especially this random artifact. Suddenly—I'm confused, the world is all warped and all the walls are out of place, someone's started attacking me (presumably the person who's house I'm robbing) and I'm dead.
Okay, let's try again. This time, I'm a friendly face willing to help out and get my name out in the world. What's that? You need help getting rid of some critters eating your crops? Okay…moments later—"You Died. You were killed by a worm of the earth". Well, that was unexpected. And so begins my new addiction to Caves of Qud. A game that will give you an endless amount of stories to tell with tons of content.
Features:
Assemble your character from over 70 mutations and defects and 24 castes and kits—outfit yourself with wings, two heads, quills, four arms, flaming hands, or the power to clone yourself—it's all the character diversity you could want.
Explore procedurally-generated regions with some familiar locations—each world is nearly 1 million maps large.
Dig through everything—don't like the wall blocking your way? Dig through it with a pickaxe, or eat through it with your corrosive gas mutation, or melt it to lava. Yes, every wall has a melting point.
Hack the limbs off monsters—every monster and NPC is as fully simulated as the player. That means they have levels, skills, equipment, faction allegiances, and body parts. So if you have a mutation that lets you, say, psionically dominate a spider, you can traipse through the world as a spider, laying webs and eating things.
Pursue allegiances with over 60 factions—apes, crabs, robots, and highly entropic beings—just to name a few.
Follow the plot to Barathrum the Old, a sentient cave bear who leads a sect of tinkers intent on restoring technological splendor to Qud.
Learn the lore—there's a story in every nook, from legendary items with storied pasts to in-game history books written by plant historians.
Die—Caves of Qud is brutally difficult and deaths are permanent. Don't worry, though—you can always roll a new character.
While it's been on Steam for a while, GOG as usual is a little later to the party, however it comes with a Linux build right away!
Find Caves of Qud on GOG or itch.io now as well as of today!
It arrived on itch just after we posted the article, it was updated to note this.