I love city/town building games like Banished, Settlers and the like, so a brand new one on Linux was too good to pass up. Here we go with
Villagers
!
For a city/town builder, it does far too much mindless chatter between characters in the first campaign mission. I don't know about you, but when it comes to building games like this I tend to just want to be quickly told what to do, and then for the UI to get out of the way so I can enjoy watching everything be put together.
I don't mind a bit of chatter when the game is starting out so I know what to do, but there was far, far too much to end with telling me to press a button and get my people to chop some trees.
There is a free build mode though, so you don't have to go through a campaign.
For a game centred around building, the actual building isn't even remotely satisfying. They simply pick up a material, go over to a building and stand with it for a few seconds until it vanishes out of their hands. There's no actual building animations, which is a big letdown for me. I started to think this was a bug later on, as I caught a builder doing two hits with a hammer right as a bridge finished building.
I do like the fact that it has weather effects, with decent sound effects and a day and night cycle. It at least gives off a pretty good atmosphere.
I actually quite like the graphical style of the game, it's not going for a realistic look and it actually somewhat reminds me of older Settler games in the art: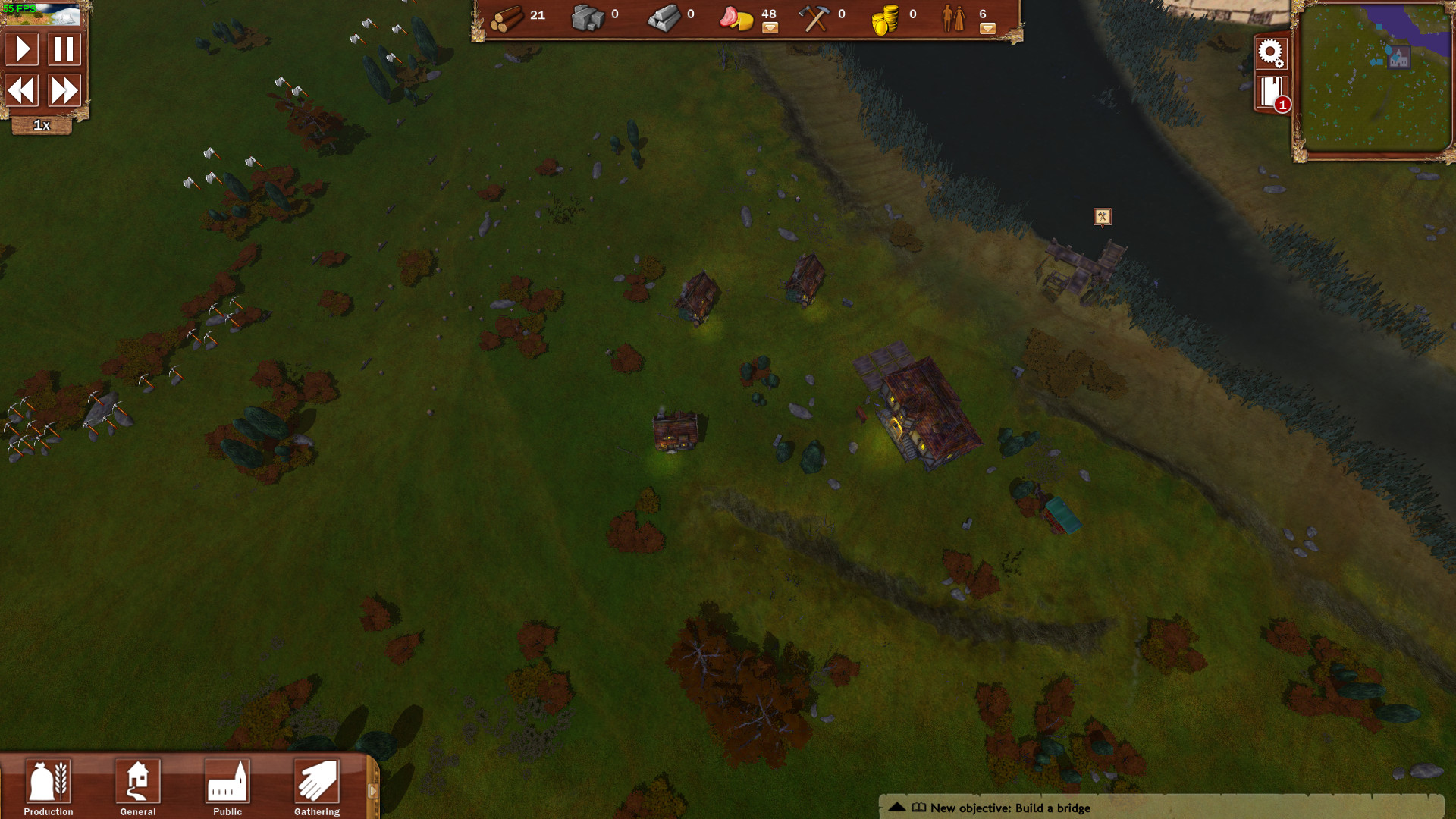 It certainly won't suit everyone though due to the simplicity. The graphics do look quite cartoony.
I actually quite like the slow pace of the game, it reminds me of some older titles like Settlers and Pharaoh (Damn I loved that game) which I played in my youth. Certain buildings require quite a bit of resources, and will take a while to build.
The maps sadly aren't very big, in fact they all seem rather on the small side which is another big shame as your settlements will only be able to grow so big.
Issues
The mouse seems to do a weird blinking thing all the time, it's hard to describe, but it's terrible. I doubt it's intentional, but right now it's extremely distracting and not making the experience all that great, but I've tried to ignore it for this article.
Turns out this is an issue in all Unity games for some people, and I
found a solution here
. Not sure why or how it's even a thing, but it is.
Gathering resources is a little buggy in the animation department, with them sometimes standing quite far away while they chop down imaginary trees.
You cannot zoom in or out while you have a building selected to place, very annoying.
The progress bar on building construction is buggy when saving and loading, often showing the wrong percentage.
It only told me I could rotate and change the length of a bridge after I had already built one, seems like a completely miss-timed tip right there.
Performance on my Intel i7 with a 980ti really isn't very good. On the "recommended" setting I've seen it drop down to 40FPS and below, and it really does feel sluggish.
The game totally crashed at the start of level two. I pressed ESC for the menu, and then I couldn't interact with anything.
Ending notes
I think it's an okay game, it looks nice (not amazing), but it has lots of niggling issues that just
should
have been found during testing.
It could very well be a diamond in the rough, but right now it's a little more on the rough side.
You can find
Villagers on Steam
.
Some you may have missed, popular articles from the last month: