Profiles
Viewing more comments
Latest Comments by devland
D9VK 0.13 "Hypnotoad" is out, further advancing the D3D9 to Vulkan layer for Wine
10 July 2019 at 1:12 pm UTC Likes: 1
---
This latest release has doubled the frame-rate for me in Dragon Dogma: Dark Arisen on Manjaro with mesa 19.1.1 on an RX 580. I'm getting stable 60 fps with vsync on. It goes near 100 fps with vsync off.
Joshua is doing really good work here.

---
Epic's Tim Sweeney thinks Wine "is the one hope for breaking the cycle", Easy Anti-Cheat continuing Linux support
24 June 2019 at 12:53 pm UTC Likes: 9
---
QuoteActually I think WINE is the one hope for breaking the cycle. If most PC games were automatically compatible with Linux, it would greatly increase the viability of Linux as a consumer platform.
Developers will have no incentive to make a Linux native port for a game that already works in wine. Especially developers like this one.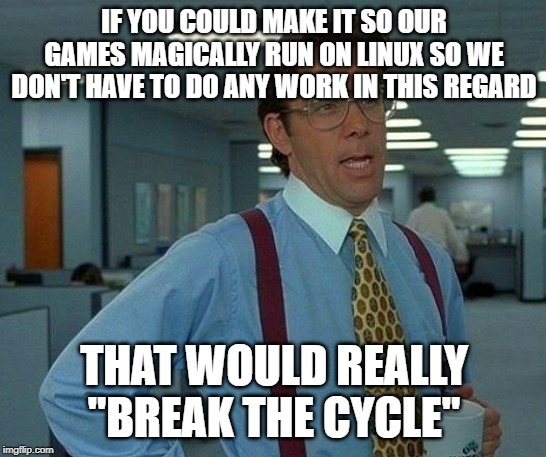 ---
Valve are doing a small celebration for 20 years of Counter-Strike
19 June 2019 at 12:02 pm UTC
---
tadzikDon't forget Condition Zero! :­)

It's a bit of a quirky sibling, with its focus on singleplayer campaigns, building a team of bots you buy or going through linear, scripted missions with bullet-spongy enemies, but I think it's still a fun episode – I still revisit it every few years :­)
I loved condition zero.

Offline bots are a rarity these days and they were uncommon even then.
---
Pillars of Eternity II: Deadfire gets one final patch to consider it complete
9 May 2019 at 11:44 am UTC Likes: 1
---
Eike

devlandThe first game was also great but I always felt like the combat was heavily randomized by how the AI reacted and you had little control over it besides pausing the game every so often.


Didn't it have many auto pause options? If I remember corretly, I enables lots of them and it didn't feel much different from turn based.
Yep, it does. However, in some battles, missing a heal could mean the difference between victory and defeat. Real time combat makes this a bit tricky. It's ok for most people & encounters, though.

---