Today I present to you the interview with Jordan Brock of Hit the Sticks developers of
Just Tactics
(which we are doing a key give-away here!).
Trailer: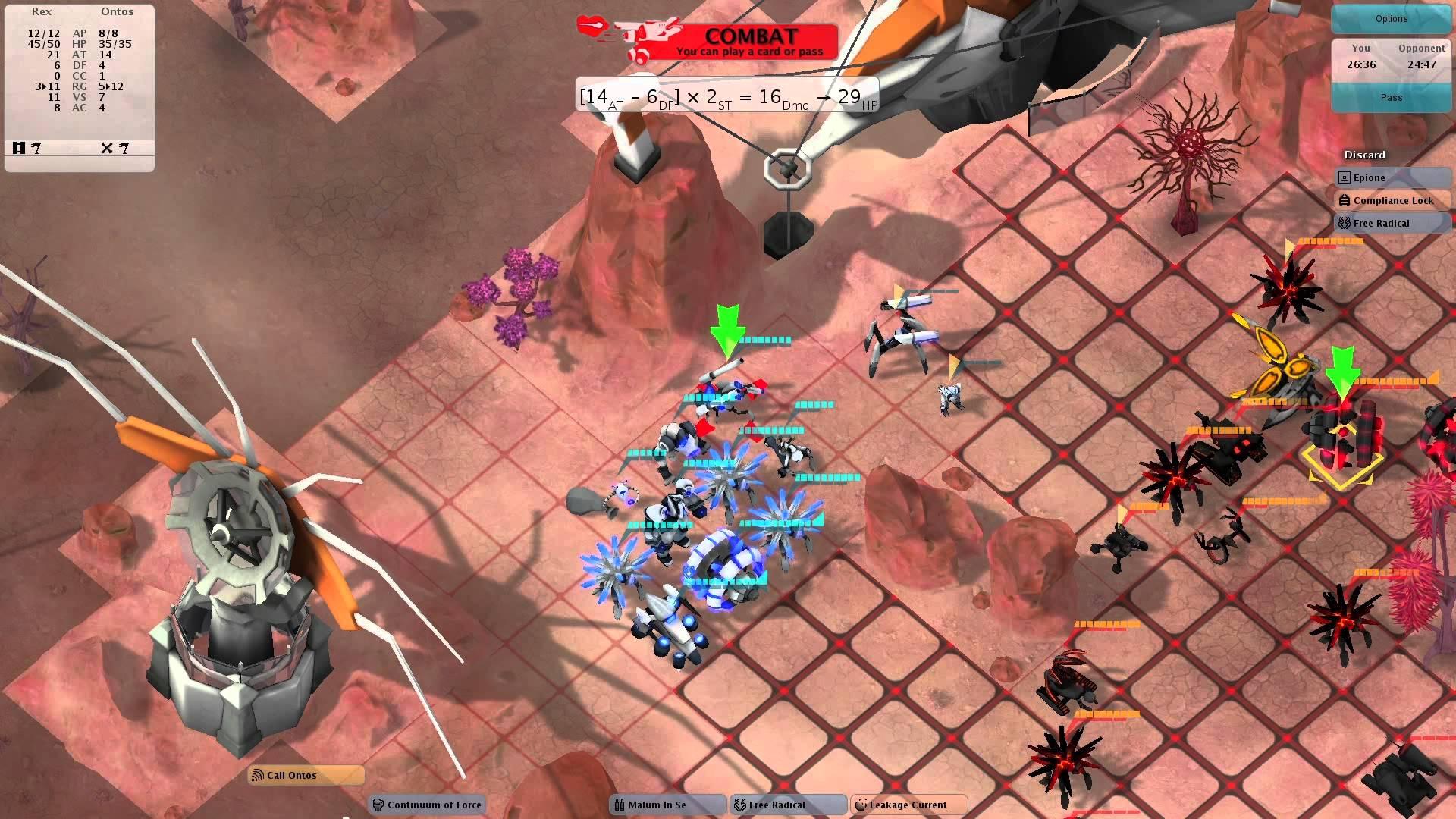 First of all please introduce yourself and your game to us!
Hi, my name is Jordan Brock.  Our studio is called Hit the Sticks.  We are a talented team of artists and engineers located in the suburbs of Philadelphia.  We are nearing the completion of our game called Just Tactics.
Just Tactics is a turn based strategy game.  It is played online 1v1.  Just Tactics plays kind of like a traditional table top war game, with the addition of fog of war.   By bringing a table top war game to the PC we have eliminated arguments about rules, line of fire, and the need to buy lots of expensive miniatures.  We have also eliminated dice.  Just Tactics is ultimately deterministic, the movement and the combat system are straightforward.  (Attack - Defense) x Shots = Damage.  Attack from an adjacent square and your Attack value gets a Close Combat modifier applied to it.  There are no dice rolls or other random mechanics  to ruin your day.  We reintroduce a bit of uncertainty into the game via a deck system.  You enter combat expecting to do X damage, but your opponent plays a card that buffs their unit's Defense, so you play a card, back and back and forth it goes until someone breaks.  So, in Just Tactics you  have not only all of the tactical goodness of squad based combat, but also deck building as major components of the game.  These two mechanics are brought to a head when you are customizing your armies (deployments) before a match starts.  If you spend more deployment points on your squads, you get a weaker deck, and perhaps your opponent trumps your cards time after time.  If you spend too many points on powerful cards, your squads may get overrun before you have a chance to draw enough of those cards into your hand.  Your squads and deck must have some balance, however, there are still a near infinite number of options open to you when customizing deployments.
Your game is a turn based strategy game, what makes it different to others of the genre?
Teleporters.  We have some teleporter units in Just Tactics that create an awesome game mechanic.  One teleporter on its own is useless, but get two teleporters in range of each other and they form a wormhole that other units can warp through.  You can link many teleporters together into a giant network.  When used properly, they give players a ton of flexibility when assaulting, reinforcing, retreating, etcetera.  Speed kills.
Any plans for a single player or will it remain multiplayer only?
I think we are going to stick with multiplayer.  Writing good AI is not easy.  We are an indie game dev team with finite resources.  We are smart enough  to stay within ourselves and deliver the features that we know we can deliver.  Honestly, delivering great AI is not something that we can do, and frankly it's hard for anyone to do.  We all prefer multiplayer anyway, a human opponent provides a much more dynamic and interesting game play experience than AI is going to give you.
Where do you see the game in a year's time from now?
The card system is the easiest to extend.  We brainstorm, then write up the rules for the card, make a visual effect and a sound effect.  There are somewhere around 75 cards right now, in another year there should be hundreds of cards.  Adding more units is more time consuming.  You have to design, model, rig, animate, and texture the unit.  It took about 2.5 man-years to make 26 units, so in another year we could have 10 more units.  Of course, when Just Tactics gets popular, we can hire more artists and build faster.  After a year we would like to have a couple more maps to play on as well.  Our plan is to treat the Just Tactics community well; part of that is the continual creation of great content that makes the game deeper and more fun to play.
One problem games like this face being online only is that if you don't get too many players it can be hard to find a game, what are your thoughts on that?
I agree.  In the early going finding a match was an issue, not that many people knew about Just Tactics.  We are putting a ton of effort into marketing right now to grow the community.  Our community is still small, but it is growing.  We have mitigated the problem of not finding an opponent for a match by having meet up times.  Right now we meet up to play at 11:00 AM EST, 3:00 PM EST, and 9:00 PM EST.  If you show up at any of those times you are basically guaranteed to get a match.  Members of the dev team are also typically online and down for a match from 8:00 AM EST - 5:00 PM EST, you have a good chance to get a match anywhere in that window, although I can't guarantee it because we do have to get some work done sometime...  A great way to get a match is to bring a friend to play against, it guarantees you get a match, you can help teach them how to play, and it makes the community grow!
The meet up times are a good solution for the time being, but ultimately you should be able to join the Quickmatch queue anytime and get a match, we are not there yet.  But, I am optimistic that we will get there because I love playing Just Tactics.  I try out a lot of games, but I don't play them for very long.  I am just searching for a game that can occupy me for hundreds if not thousands of hours.  In the past 15 years it has pretty much been Starcraft (1,2), Halo (1,2,3), Counter Strike (1.6, Source), Left for Dead (1,2), Just Tactics.  It is a short list, but each one of those games I have played for 300+ hours, a few for 1,000+ hours.  The fact that Just Tactics is on that list gives me the confidence to know that this is a special game, it is the kind of game that when you get the basics down you will be totally intrigued and want to keep playing to explore all of the wonderful tactical possibilities in Just Tactics. 
What are the future plans for the game itself?
At the moment we are in Beta.  Just Tactics is 100% playable, but we are still finishing off some of the art assets and polishing them.  So polishing is what we are doing for the near term.  We are also responding to user feedback and improving things to make the game better, make it more intuitive, etcetera.  After  we get out of Beta, Just Tactics can really be extended forever.  We want to make more units, more cards, more maps, etcetera.
What got you interested in bringing the game to Linux?
Aubrey Jones, our chief engineer, is most comfortable developing in Linux, so the game is developed in Linux, and a result of that is that it plays on Linux.
Where there any problems in getting it to run on Linux?
We are using jMonkeyEngine, so between Java and developing on Linux, there is no problem getting Just Tactics to run on Linux.  The only difficulty in developing in our environment has been the art asset tool chain.  The bridge between jMoneyEngine and the professional art tools that we use, such as Maya, is far from ideal.
Can you give us more info about the engine?

jMonkeyEngine is open sourced, and other than the art tool chain difficulties, working with it has been a great experience.  We branched from jMonkeyEngine almost two years ago, so at this point the engine is pretty customized.  There is not much use in open sourcing our code, our customizations are all very specific to the rules of our game and would not be useful to anyone else.  Anything that we have built that would be useful to anyone we have already open sourced.  You can read about the tools we have open sourced on our devblog (
http://devblog.htssoft.com/2012/09/giving-back.html
).
Will you be bringing your game once finished to any services like Steam, Desura, Gameolith etc? Which would give you other possible ways for people to pay.
We do not have any plans to do that at the moment.
Any plans for more games after this one?
Yes, we are brainstorming some other games.  There is one idea in particular that we really like.  Aubrey built a basic prototype for it one weekend so we could try out the game's basic mechanics, which are really fun.  So, it is has become our top game to brainstorm and write ideas down for.  But, 99.9% of our efforts will all still be going into Just Tactics for the foreseeable future.
Many thanks to Jordan for the interview and for giving us the
free keys to give away
.
Some you may have missed, popular articles from the last month: