Today, Linux gaming takes a huge step forward as Valve have now officially released the Steam Client for Linux and so it's available for everyone to try. Valve are also doing a big sale to celebrate, with 50-75% off select games.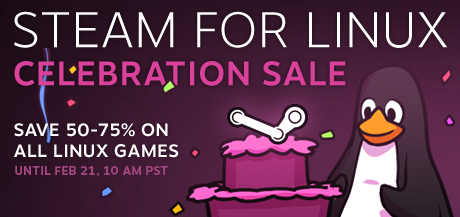 Additionally, they have some interesting quotes to share:
"The introduction of Steam to Ubuntu demonstrates growing demand for open systems from gamers and game developers," said David Pitkin, Director of Consumer Applications at Canonical. "We expect a growing number of game developers to include Ubuntu among their target platforms. We're looking forward to seeing AAA games developed with Ubuntu in mind as part of a multi-platform day and date release on Steam."
As well as this one:
"We're huge fans of Linux. It's like the indie OS–a perfect home for our indie game," said Alen Ladavac, CTO of Croteam, creator of the Serious Sam franchise of games. "And who better to lead the charge into Linux gaming than Valve? With Steam distribution on Windows, Mac OS, and now Linux, plus the buy-once, play-anywhere promise of Steam Play, our games are available to everyone, regardless what type of computer they're running. That's huge."
That's not all, the free to play game Team Fortress 2 is now officially available on Linux too!
See their official news post here. This is all very exciting, can't wait to play even more games.
Some you may have missed, popular articles from the last month: