Some fun news for you all,
Nordic Games
are reviving the MX vs. ATV series of games and they have planned Linux support.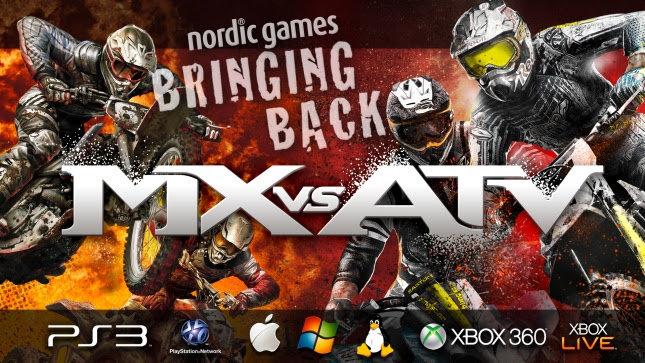 After getting the rights from the sale of THQ they assembled a team to bring back the off-road bike racer!
MX vs. ATV is a 'supercross' racer where you are off-roading doing jumps, flips and getting very muddy.
The title of the new game in the series will be called 'MX vs. ATV Supercross' and will hit our digital shelves in early 2014.
Looks like this is one of the games that Nordic recently hinted at when they gave hints at wider Linux support, good news!
Full release:
QuoteBeloved off-road racing series given new life as key team members reform ahead of 2014 release

2014 promises to be a very happy New Year for fans of extreme racing, as Nordic Games has unveiled its plans to revive the best-selling MX vs. ATV series.

Nordic Games secured the rights to the MX vs. ATV series as part of its agreement to acquire a range of THQ's intellectual property earlier this year. Now the firm can reveal it has assembled a team of former MX vs. ATV staff along with other, high-profile developers to properly resurrect the franchise. This dedicated team will be taking it to even greater heights while retaining the ingredients that made MX vs. ATV so successful. It's no coincidence the team is based in Phoenix Arizona where it all began in the mid-90s. Perhaps one can be forgiven for borrowing from the well-worn cliché: the Phoenix has truly risen from the (digital) ashes.

Led by Ken George and comprising of numerous MX vs. ATV staff along with game development veterans including Dave Dwire, Chris Gilbert, Mike Mamula, Brad Bowling, Scott Hofmann, Justin Walsh, and David Knudsen, the new team's first title will be MX vs. ATV Supercross due for release in the first half of 2014 for PlayStation 3, Xbox 360, PC, Mac and Linux. As the title suggests, MX vs. ATV Supercross is centered around the popular Supercross sport and has the scope of a downloadable game.

The team is also maintaining the existing MX vs. ATV Alive and MX vs. ATV Reflex code and bringing back as many features as possible including multiplayer on consoles, Motoclub Depot, and more to be announced soon.

"We're absolutely thrilled to be working with Nordic Games because they appreciate the team's passion and dedication to bring the feel of real motocross racing to MX vs. ATV fans. Not just the adrenaline rush, but the whole experience from top to bottom.", says Ken George, Executive Producer of MX vs. ATV Supercross. "A lot of the original team members have been aching to continue their passion: building the most authentic off-road racing games possible. The hiatus is over, and the team is back to work on MX vs. ATV with great new things to come."

"We're all devoted fans of the MX vs. ATV games," adds Reinhard Pollice, Business & Product Development Director at Nordic Games, "so being able to play a part in continuing this brilliant series is a dream come true. We're absolutely committed to ensuring Ken and his team receive the best support and the freedom to create the games they love making – and we're confident that the series will continue to grow from strength to strength. Supercross is just the start of our MX vs. ATV plans. 2014 and beyond will prove to be a hell of a ride."

Further details on MX vs. ATV Supercross will be announced in due time.
Source
Some you may have missed, popular articles from the last month: