Dark Gates
is a title an RPG I reviewed quite a while ago now, and it has just received the first 2014 update for it and with it comes some final art.
My thoughts on DG 0.7
It's good to see it get some better looking art in for the characters, it does brighten up the battle section of the game a bit. I still can't help feeling that the battles feel empty and a bit boring, nothing really happens apart from repeatedly mashing enter to progress through the battle.
If the characters moved in some-way during combat, that would certainly make it a little less tedious. Right now it is pretty much a button-bashing of pressing the enter key.
The movement is tile-based during the exploration part of the game, which also gets a little annoying when you have to keep manually tapping the arrow keys to move, as it doesn't seem to register the key press right after the previous one - some you seem to double up on key-presses, I would much rather it have the possibly of continuous movement.
It's like playing a board-game meant for 4 players by yourself at times. Lonely and void of fun.
Due to the above issues it's hard to progress far into the game, for fear of aching fingers and being honest here, boredom.
I previously gave the game a 6/10 and sadly even with the newer and much better character art, it is staying at a 6 for now.
New Stuff at a glance
Fight Avatars - Finally all the playable characters have their own unique avatars, no more generic looking characters!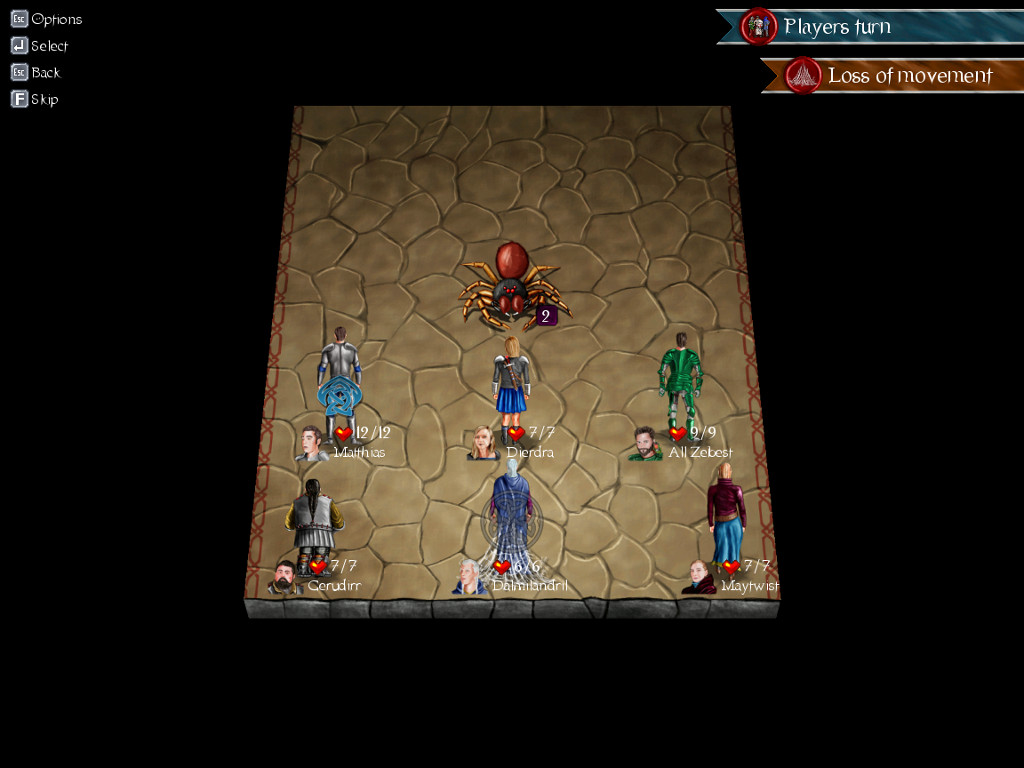 Some monsters have become far more deadly with unique skills like the Hydra which gains +1 agility on each turn if it is wounded.
UI refinements to the fighting UI have been made to make it a lot more useful.
Full Log
QuoteNew: In fight avatars: All Zebest, Alryk, Curvenol, Dalmilandril, Dierdra, Eodred, Maytwist, Gwaigilion, Sliggoth, Gislan, Larraka, Linfalas, Theregond, Weldron,
New: Monsters (Hydra, Kronk, Troll, Spider, Gorgon, Sorcerer, Unnamed) have special skills/spells which affect fight,
New: Permadeath - Killed heroes no longer can be selected back into party when continuing saved game,
New: Doors are now displayed on corridor tiles,
New: Enhanced fight screen UI,
New: Sounds for Female heroes, Spider, Warg/Werewolf,
New: Dark Gates are visible on mini map after placement.
New: Spell - Mass Heal
Change: Adjustments in frame rate to make menus more responsive
Change: Monsters and heroes stats adjustment.
You can also
vote for the title to be on Steam
via greenlight if you like the sound of it.
Some you may have missed, popular articles from the last month: