Mutant Factions
, a fast-paced top-down shooter is free, it has multiplayer, it has sick abilities, vehicles, and guns. It just reached 1.0 version, which means it is ready to expand. I interviewed the developer! Check it out.
You can remember it by the name 'Subvein' and
I wrote about it here already
.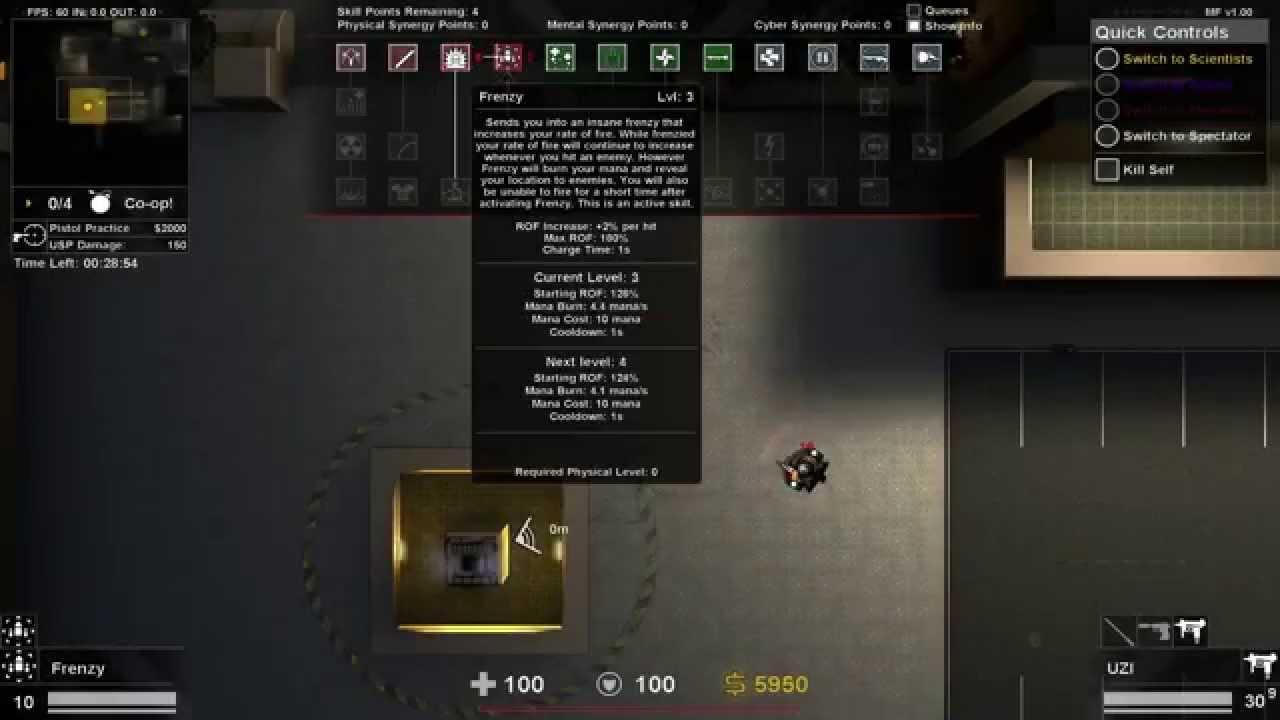 Support it on
greenlight here
.
To celebrate new version release and to learn more about the game, the uneasy path of indie game dev and supporting Linux, I interviewed the developer,
Ben Johnson (bencelot)
.
What was the general idea behind creating Mutant Factions?
QuoteSo I finished university in 2007 and wanted to make a project. My favourite games at the time were GTA2, Counterstrike and Diablo so figured I'd just try and take the best parts of all of those games and merge them together :) The key idea that would make the game special though was the fact that you could unlock skills and build your character like in an RPG, while still having the fast-paced combat of a shooter
We can clearly see then that it has been a long time since you started developing the game, and it reaches version 1.0 now. Does it mean Mutant Factions is completed now?
QuoteIt means that Mutant Factions is finally polished enough for me to want to share it with the world and start building a community. I still plan on developing the game for many years to come, adding new features, fixing bugs and balancing gameplay. But right now the game is stable, 100% playable and has everything it needs to be released.
What would you tell me about the tough path of indie game dev, what did you learn from it?
QuoteWell I learned a lot. I obviously learned a lot of technical skills such as programming C++, graphics design, game design, audio editing, how to build the website. As for the development process I learned that you'll often make mistakes and have to rewrite huge chunks of code, but it's worth doing.

An example was the skills system. Originally I made the skills give you heaps of benefits, just like happens in Diablo. They made you strong and powerful and I thought that would work. However 3 years into development I realised that this would lead to massive imbalances in PvP combat as experienced players had more skills and an unfair advantage against newbies. So I then had to spend the next 2 years redesigning the entire system and rebalancing every single skill. It took forever but at least now I can happily share the game to new players and know they'll enjoy themselves.

Also, 6 years is a long time to go without getting paid, and I can see that being tough for motivation for some. I was lucky to have a few veteran players who stuck with the game throughout the years and kept me going up until this point.

I also learned how to use linux as a result of this game, which is certainly a handy skill to have :)

Community surely can give you tons of motivation :) Would you have any hints for anyone willing to make his own games?
QuoteYup, start small! I tried to start small, but soon fell victim to feature creep, adding all sorts of features without taking the time to polish up the existing ones. That's why it took me so long to finish the game. As for motivation, it's nice to have a community and try to set aside just an hour or 2 every night to work on the game. You'll often find that once you start you get into a rhythm and end up getting 5 or 6 hours worth of work done.
The game is currently available on its website, it has also its own Greenlight page, where else is it or will be possible to get the game?
QuoteWell the game is free, so truely the easiest way to get the game is to simply go to the website at mutantfactions.net. The download is only 28MB so you can start playing it in minutes. And of course Steam would be amazing, but we'll have to see how the game goes on Greenlight. I'm also in the process of adding the game to Desura to raise exposure. but again for such a small game, it's easiest to just grab it from the main site I think :)
Is Mutant Factions gonna be always free-to-play?
QuoteThat's a good question, and to be honest I don't actually know. The current business model works through the "community credits" system, where players can purchase community credits and then use those to unlock cosmetics. I like this model because it keeps the game free, while allowing the game to makea bit of money on the side without anyone getting an unfair gameplay advantage. The cosmetics are purely for showing off :)

What matters most to me is building a large playerbase, not money. Money will be needed to host servers and whatnot, and if I made enough money from this game to work on it full time that would be a dream come true, but it's not a priority. The deciding factor I believe will be Steam. It may be the case that the game will only be accepted onto Steam if there is some money involved, in which case I'll have to see what Valve says. If the game does become paid on Steam however I will try to have all of the existing accounts remain free to play.
Since I remember, you always provided Linux builds for game. From the technical side, was it any problem for you? Why did you decide to do so?
QuoteIt was a bit of a pain to get the first Linux build working. I think it took me about 2 weeks of full-time work to get it all ported over. I believe it was worth it for two reasons though. Firstly, supporting Linux means that more people can play the game, which is great. Secondly, it allows for dedicated servers to be set up on Linux machines very easily. Before I ported the game over to linux we only had 1 stable server in the community, and even that wasn't all too great. But now that linux is supported we have dozens of servers running on Linux VPS's at affordable prices :D

Fortunately I did plan on supporting Linux all along though, which is why I chose C++ and OpenGL to develop the game.
Do you have anything to say to GamingOnLinux beloved readers?
QuoteKeep fighting the good fight and keep supporting devs who support Linux! More and more games are shifting to Linux every year, and they should because Linux is awesome :)
Thanks for the interview and thanks for supporting Linux! Best luck with promoting your game!
QuoteCheers, thanks for my first ever interview! It's been fun!
Ben is one of my favorite indie game devs and you can see that game deserves some love :) Come and play! There are plenty of servers ready for you to come, we only need players now :)
Some you may have missed, popular articles from the last month: