Planets³ is a 3D open-world voxel-based RPG (first person view) on Kickstarter. It was over-funded, but sadly it didn't hit the Linux stretch goal. Thankfully the developers won't be excluding Linux gamers.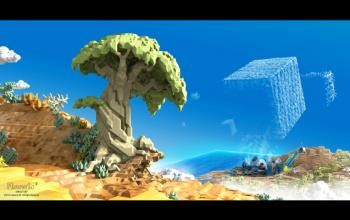 I had a quick message from them:
QuoteHello Liam,

Thanks for your interest.
We really don't want to exclude the Linux community, so we will do our best to release a Linux version of Planets³. We just don't want to promise something that is not guaranteed.

Best regards,

Guyk - Planets³ Team

So, keep your eyes peeled as it looks brilliant, just keep letting the developers know there is interest from Linux users.

About the game
Imagined by video game lovers, Planets³ (pronounced «planets cube») combines the excitement of a RPG with the pleasure of construction and the boundless freedom to roam about in a 3D universe. Its intricate plot and outstanding voxel based design offers opportunities for intense action and unlimited creativity. Planets³ has been designed to promote multi-player gameplay, to share the fun with friends.

More than just an adventure game, Planets³ is also a construction game. The wide range of shapes and materials allows you to create everything you need: tools, vehicles, housing… A hundred different materials are represented, including woods, rocks, metals, dirt, sand, gravel, transformed materials, and of course…alien technology and materials!
The best way to travel will be to create vehicles.
Some quests in the game will require the player to build houses or vehicles.
Some you may have missed, popular articles from the last month: