Eminence: Xander's Tales
is a very interesting looking game that came across my inbox recently that is a mix between an RPG and a trading card game and it looks like the battles are quite good too. There aren't many good online RPG games for Linux, and WoW in Wine for me doesn't really count although there's some good guides at
KillerGuides.net
for you Wine drinking Wow players.
I love the fact that trading card games are making a slow come-back as some of them are really quite good.
The difference in Eminence: Xander's Tales to other games in its class is that you can actually explore the world, it's not just a game that you go from battle to battle. Another little twist is that you gain cards from beating opponents and taking their cards! I'm not entirely convinced that will work out well if it's not balanced, but it sure would make the actual battles a bit more edge of the seat worthy.
I hope that is balanced enough to allow crap players to still enjoy the game. I am sure they will have mechanics in place so you cannot lose all of your cards.
You can see a preview of a battle here:
https://www.youtube.com/watch?v=QwyWuTGxH9I
The cards themselves look quite beautiful with the art inside them don't you think?
You can also see a preview of how the over-world will look like below: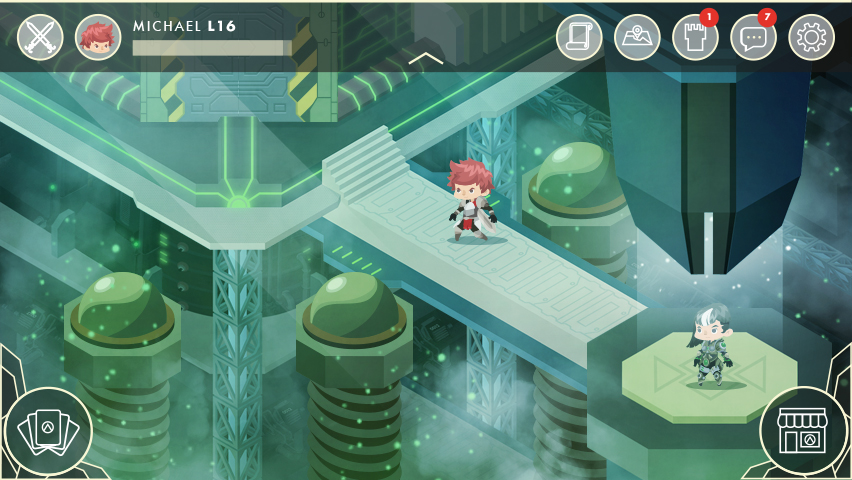 That's some great looking art.
Features
- Collect Them All: Collect hundreds of beautifully designed cards drawn by award winning designers. Trade with friends or unlock exclusive cards from story based quests.
- Card Steal: Conquer your opponents in a strategic high risk card game where the winner can take the loser's cards. Build a collection of uniquely designed cards.
- Evolving Story: Immerse yourself in a progressive storyline. Take up Xander's quests to reveal the tales which unfold within the grand storyline.
- Exploration & MMO: Explore a real time virtual world. Meet with real people in real time and traverse a continuously expanding environment and story.
- Character Creation: Customise your character. Choose from a wide variety of different looks and hairstyles. Upgrade your gear and create a look which separates you from the pack
- Online Multiplayer: Participate in ongoing events and tournaments which offer rare cards, exclusive armour/gear, prizes and bragging rights.
- Unique Guild System: Join forces with other heroes and build a team to battle cooperatively against other teams. Invite your friends to make your team even stronger.
The game is heading to Kickstarter in August of this year, so it really is one to keep an eye out for. I certainly will be as I love trading card games that do things a bit differently like this and the chance to steal someone's rarest card by kicking their butt is a fun idea indeed.
What do you think to this one then guys?
Some you may have missed, popular articles from the last month: