If you are a regular visitor of this site, you probably want your Steam purchase to be counted as a Linux sale. But how does Steam actually consider you to be a Linux buyer? It's trickier than you think.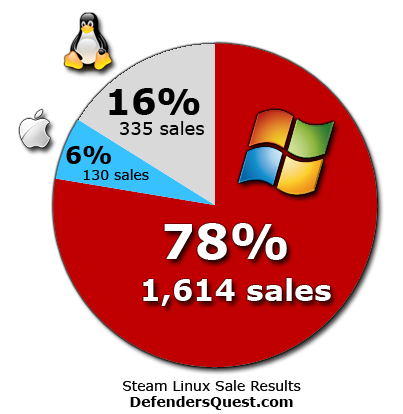 The described methodology comes from Defender's Quest Steam sale results blogpost from Lars Doucet, who asked Valve about this. There doesn't seem to be any official information posted about this anywhere, but there's no reason not to believe the blogpost. The methodology is:
QuoteMac/Linux sales are based on platform of purchase; or after 7 days, the platform with the most minutes played.

As you can see, there are several things to keep in mind, if you want your sale to count towards Linux purchases:
Always try to buy the game from Linux, either Steam client running on Linux, or a web browser running on Linux. The platform of purchase is the default indicator of which platform the sale was intended for. So, for example, instead of buying the game from work (using Windows), wait and buy it at home (using Linux).
The number of minutes played on each platform is evaluated 7 days after the purchase was made, and the platform with most minutes played is considered the final platform of sale. This step is ignored only if you haven't played the game during the week at all (all platforms have 0 minutes played), in that case the platform of purchase decides. Otherwise, the platform with most minutes played wins. This is very good to keep in mind especially if you decided to play this game on Windows instead of Linux (e.g. the Linux version doesn't work well on your system). If you want your purchase to count as Linux, Linux needs to have the most minutes played after 7 days. So you either need to wait a week before spending a lot of time in this game on Windows, or come up with some other solution (leaving the game running in the main menu in order to bump up the played time on Linux counts).
On the 7th day after purchase, the target platform decision has been made, it's final, and it won't be ever changed. So, as the blogpost states, if you buy the game, play a few minutes on Windows just to test it, and then invest 60 hours on Linux into it after a few weeks... sorry, still counted as a Windows sale.
This was also echoed by Icculus earlier this year:
QuoteInstall and play it on Linux for the first week after you buy it and they consider it a Linux sale.

Source

I hope this helped people a bit to understand how the platform sale numbers work in Steam. I think we possibly lose quite a few Linux sales in statistics because people are not informed about the methodology. It certainly happened to me in the past, e.g. buying the game from Windows and then playing it on Linux a month later. Hopefully, more informed Linux gamers could mean more accurate statistics in the future :-)

Editorial Note
While this is how Steam calculates sales and certainly how porting houses like Feral or Aspyr are rewarded, some smaller developers may look at things like number of players or number of downloads and use this information as a basis on the market potential that Linux has for future ports. That said, it's never a bad idea to buy games after the Tux icon appears.
Some you may have missed, popular articles from the last month: