The new year is upon us and so is the latest survey. There were 787 respondents to the survey this time, 400 less than the record set last month, but still a healthy number nonetheless. Thanks to everyone who took the time to do it and please carry on filling it out.
You can find the new survey
here .
The survey will have no changes made to it for the first time in preparation for the month-by-month comparisons which should begin next month. GOL reader Fedso is working on a program that takes the csv files from Google Forms and automatically creates graphs comparing previous results. Once this is done, we will be able to observe trends for the first time and things should get a lot more interesting!
Otherwise, despite being a new year, it's going to be another fairly boring set of results, leaving analysis for next month when we have a clearer picture of how things have evolved since the survey started.
Do you currently use Linux as your primary PC gaming platform?

Did you use Wine to play games last month?

Did you use a Windows partition for gaming last month?

Did you delete your Windows partition or stop using it completely for gaming last month?

What distribution do you use on your primary Linux gaming PC?

What Desktop Environment do you use on your primary Linux gaming PC?

Did you change your primary Linux gaming distribution last month?

What graphics card do you use on your primary Linux gaming PC?

Which drivers do you use for that graphics card?

What CPU do you use on your primary Linux gaming PC?

Did you exclusively buy Linux-supported games last month?

How many Linux games did you buy last month?

Which of these retailers did you use to buy your Linux games last month?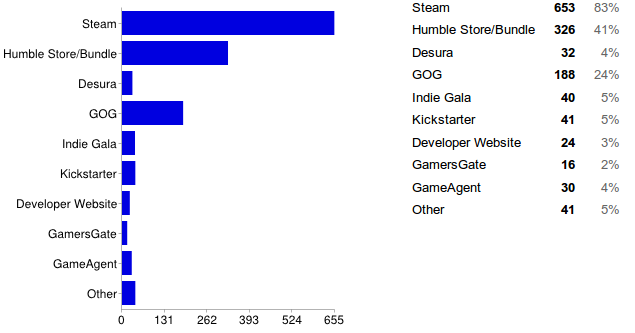 Unique Question - Do you use a gamepad/controller?

On to the unique question and I got a bit of flak for its question, with a perceived anti-gamepad "master race" bias. I just want to clarify that this was intended as a joke. The results showed that more than half of Linux gamers use gamepads, with less than 40% not using gamepads at all.
I use an unofficial Xbox 360 which works out of the box for everything with controller support, with one or two exceptions where I have had to unload xpad and use a series of cumbersome commands with the xboxdrv driver, then remap the whole thing on jstest which never saves the configuration. What are your gamepad experiences?
Conclusions
Normally there would have been a lot more analysis, but as a few people rightfully pointed out, if you comment month after month on incremental changes then you run out of things to say pretty quickly. The changes this month were all within 1-2% so this still applies and there is not much to say. However, next month expect to see a lot of analysis as we see all the results next to each other for the first time.
Please remember to fill out the
new survey
.
Some you may have missed, popular articles from the last month: