Sage Fusion 2 is a recent discovery and after trying it out for a bit, I think you guys need too as well. It's a solid mix of story with anime styled characters, and Final Fantasy styled turn based battles. I need to come up with a better way to describe the battle style for games like this...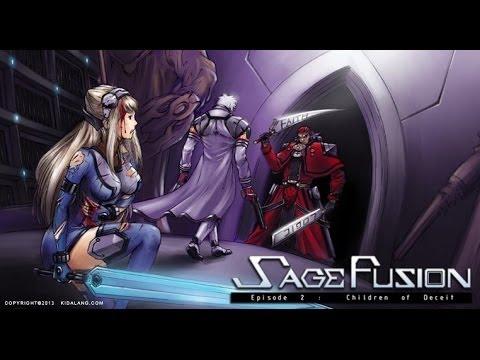 The first game in the series looks to be a mobile only game, and luckily this sequel was written so that you don't need to know a thing from the first game.

There's a good amount of story to it, and the visuals set the scene really well, so I had no trouble keeping up and understanding what was going on. The sci-fi theme touches on religion and philosophical points, and I found it to be quite interesting.

I was actually quite impressed with the turn based battle aspect to it, as each attack actually has a character animation, and the enemy reacts to being hit too, so it wasn't as simplistic as I thought it would be. It made the battles actually quite enjoyable.

The music is actually pretty good too, this was all quite surprising for such a cheap game. Impressive.

Features:
- Story as the most important aspect of the game
- More than 120 hand-drawn backgrounds and story illustrations
- A lot of character interaction and dialogue
- Story-driven RPG gameplay with science fiction setting
- RPG-style turn-based battle system with no random enemy encounters
- Side quests

About the game (From Itch.io)
Set in a futuristic universe in which artificial intelligence is considered religious taboo, Sage Fusion 2 tells the adventure of a businessman and his bodyguard who descend to an underground world, trying to get back their reportedly stolen spaceship after it fell and crashed in the middle of the city—an accident behind which lies a conspiracy that involves the galactic government, the military, the church, and centuries-old historical legend.

Sage Fusion 2 is a hybrid between Role-Playing Game (RPG), adventure, and visual novel. This is the sequel of the previously released Sage Fusion game, and is the last chapter which concludes the story. However, the game is designed and written so that new players who haven't played the first game can also play it.

Honestly, go pick it up from Itch.io if you like rpg games with battles, story, and nice visuals. For $2.99 it's a bloody steal!
Some you may have missed, popular articles from the last month: