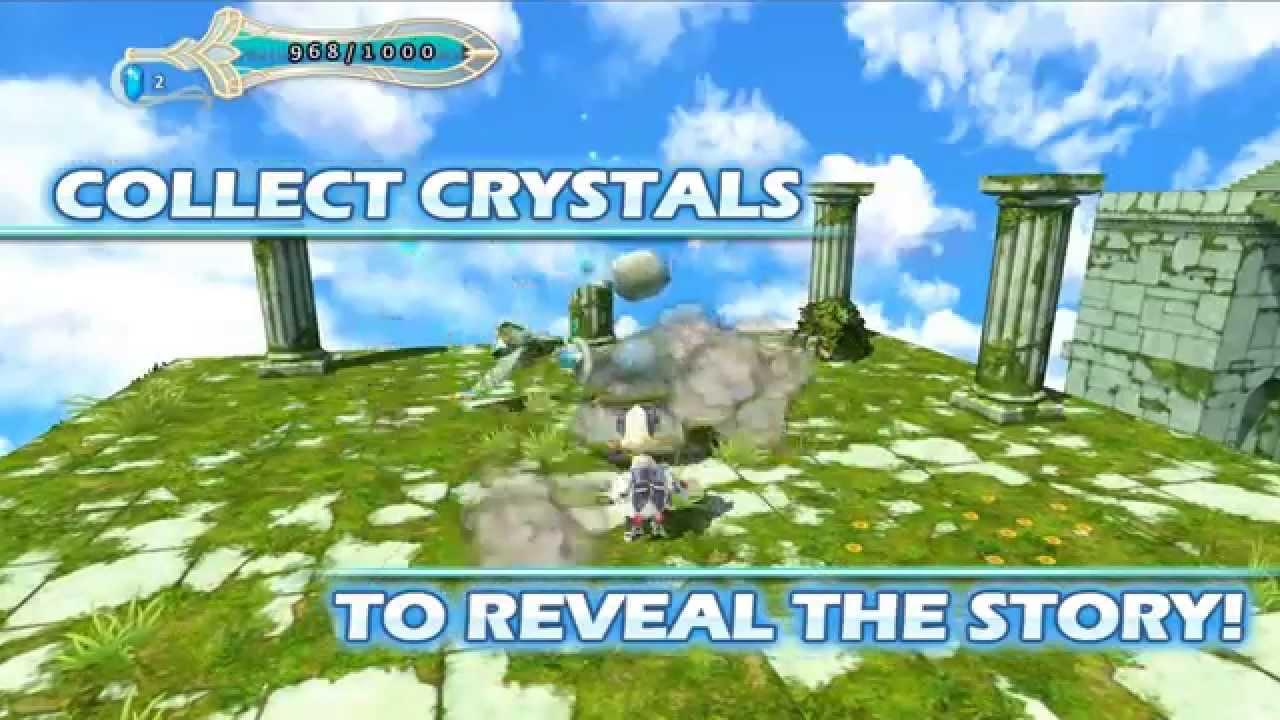 Forward to the Sky is a new Steam release indie title based on the idea of taking the Japanese Anime / Visual Novel art-style and incorporating it into a action puzzle platformer with a "run of the mill" campy story.
Note
: As this is a small review, please be aware this is from the view-point of the reviewer, and your experience may be different.
You might have seen it on the New Steam Release section and are wondering what the bloody hell it is and if it's worth buying as a Linux game. Well, I checked it out for you since the Steam reviews absolutely don't describe what this product is.
It runs perfectly on my crappy 3-year old laptop with the graphic settings on "Beautiful". That's cool, but is the game worth buying?
Community Description
"It's a Saber loli simulator".
Unfortunately, being from the Anime/Manga scene, I know what both "Saber" and "loli" describes. For those who have never come from this background, it is essentially gibberish for a heroine (Saber) from a cult classic Visual Novel,
Fate Stay/Night
, and the Anime,
Fate Zero
. I enjoyed the Fate series, but in no way does it describe the game. As for loli, I have no clue what this means in modern times anymore, but in this context I suppose it is referring to the protagonist being small or child-like.
What It Really Is
Forward to the Sky is a shallow mess of a 3D puzzle platformer cobbled together with poor and unintuitive game-play and art assets. Apparently there is a small following of Anime/JRPG starving gamers attracted to such a thing, but I am in no way convinced that this is a good product after buying it, despite it being perfectly functional for what is there.
As someone who enjoys many (if not exclusively these days) indie titles, I can appreciate a game that is at best, half-decent, just for the game-play. The real question is though, does this game express any of that in a creative or enjoyable experience? Well, no, in fact I would even say it's by far the opposite. So far off I would claim it took a giant step backward in the Stone Age of 3D gaming.
If you still think my standards are too high, then let me illustrate a bit further what I was expecting from this game.
Now, as someone who grew up enjoying many Anime shows and JRPG-esque games, I'm fairly lenient when expecting a half-baked idiotic story just to explore a beautiful world or enjoy something "odd" with average game-play. While the Anime trope is debatable as an art-style, I find it enjoyable to immerse myself in a cartoony world. So low-poly cel-shaded art in a 3D world has been something I been looking forward to experience in a Linux game. From the trailer of Forward to the Sky, I took the risk in hopes to try something mediocre just for that type of virtual world. I mean, why not support a developer's different low-budget artistic inspiration? Well, surprisingly, this is where I got burned, and not for all the reasons you might be expecting.
Gameplay
You will notice from the trailer that the game-play revolves around unique and enjoyable mechanics/experiences such as:
"A Sky Tower", "Adventure!", "Battle the Elements!", "Fly!", "Jump!", and "Collect Crystals"
The heck?
Not only was all that gibberish (mostly the tower), but the entire thing is a fallacy, even if it screams in-game "Yup, I guess I can do that.". Though, I will say if you're going to advertise "Jump!", I better be doing back flips like in Mario 64. Oh wait, apparently that is possible. Kind of... wait, what is the point of this? I didn't even know it existed in the game until I read on the Steam forum that you could do it.
Then you have (some) destructible walls and pillars, which apparently add pretty much no value to the game-play except bashing the occasional statue for crystals. I guess this resembles battling the elements part, so check that off the list of an amazing feature. I never felt so uninterested in collecting something, especially when it is so scarce.
Now let's talk about "Flying". No you do not fly in this game, manually, unless you want to dash/float through a few Superman 64 rings. You do however, use an uncontrollable air balloon at the beginning of each level and every time you fall off the level; just to drop you back off on a apparently short 8 floored tower. Let me just ask this, if you can summon an air balloon at will, couldn't you just use it to skip the whole torture of climbing it? That would be too logical or easy I guess. Now I know you can see terrible plot holes (filler anyone?) in many Anime stories from a mile away, but at least you can skip boring parts in a DvD / video format.
So why do I sound like I am talking about the story instead of the game-play? Simple, it's a metaphor for how stale "Adventure!" is when combat adds literally nothing to the game. It tries to perform like a hack-and-slash or some brawler with absolutely no depth or any extra abilities. That's not including the lack of sword slash sound effects which could have deluded someone into believing there is such a thing. Not that there is much of anything to fight from what I can tell from the first two levels.
Without criticizing the aesthetic blocky part, the level design feels empty and experimental. No NPC interactions a JRPG usually contains, no items, just a platform with puzzles and monsters, which are both few and far between. Content feels so lacklustre, I would go as far to say this game isn't finished.
Being a puzzle platformer, I did not find the puzzles challenging or engaging. Hit a switch, move a platform/object, wait, repeat. Not a creative bone in its body. It's not that I expected something amazing to blow my mind, but I did not desire something so uncharacteristically boring and generic. You know what is a simple yet more enjoyable puzzle? Match 3. Tetris. A Rubik's cube. Staring at a painting you were told that is "art" but you still didn't get it.
Visual Assets
Okay, this is my favourite subject, aesthetics and art design. Being an
amateur digital artist
, I'm well aware what I can and cannot do within the bounds of my ability. If it looks terrible, I KNOW, as I'm highly critical of myself and comparing it to professional works. I absolutely love seeing something new or just aesthetically pleasing as a whole from indie artist developers.
You see though, here's where it gets personal for me and is a highly subjective opinion, so please know I am probably in the minority for this, but I have to talk about it.
Paid art assets in a paid game.
When I sniff the smell of this in something I bought, I start to ask questions. Do these add or retract to the game's aesthetic? What parts did the development team create? Will they be considering hiring someone else to replace them for something more authentic and appealing to the game as a whole? These selfish questions only entangle within obscurity as I can only sit and wait to find out later down the road, to more often than not, disappointment. It's not like I want to be insulting to an indie developer, but this has been my experience and personal fallout between trusting a game's longevity or improvement.
It is simple as, "we cannot make enough money to hire anybody", if the game doesn't succeed. I always felt that I just didn't want to bash an indie game because of this reason as it isn't their fault to work with less. However, I just cannot stifle myself when I just hated the game-play you sold to me.
I just have to be frank, in the most polite way I can manage. I'm a fond believer in, if you're going to buy art assets for a game, at least attempt to blend them together as an aesthetic. If you cannot manage this, at least make the game-play engaging or gimmicky of some sort. Forward to the sky though, falls flat on its face on all these accounts.
For what little there is as an Anime-esque art-style, I find it to be extremely well done. Even the voice acting and music is much higher quality than I expected. The problem is, what I'm staring at in-game resembles only this in the main character and villain. While the monsters are not as polished as the heroine, I can at least live with their design. The core issue is the map itself and textures is completely out of place and immediately disconnects me. To add insult to injury, they're the same exact thing every level. A simple cartoony cel-shaded design would have matched, not pseudo-realistic block textures.
I can only verify, at the time of this writing, that (some?) of the map textures and enemies are bought. Developer's quote from their
Steam forum
:
Wei
To clarify, we bought it from the creator's online shop. I hope this doesn't affect your game experience. :)
Yes, it kind of did, sadly. :' (
Ending Thoughts
This game compelled me so much, it made me question whether or not I enjoyed platformers at all. Then I realized, yes, I probably do hate them at the basic core. Only if they lie to me so well in their game-physics and presentation I find them "fun". Basically, a fair-quality simulated lie of a virtual world. So you could make the argument that the indie charm in this title is at least "honest" with being so bare-boned. Okay then, if I were to continue this analogy, I wanted to pay for a game that at least suggested to me jumping off a bridge may or may not be a good idea because it could potentially save this virtual world. Too bad, I can't do either one.
I'm pretty sure for Linux-only gamers, we all had our guilty pleasure moments picking up something that resembles a quality title that was never released to us or simply for nostalgia sake. However, times are changing, and I do not feel like we're living in a starved gaming market as we once did. "Buyer beware" is, for me at least, starting to grasp its roots a little more firmly after picking up this game and genuinely left with nothing but disappointment.
Currently though, Anime / JRPG-style games are quite few and begging to find its market to Steam for all niche fans alike, even more so for a Linux-only gamer. We're even more starved of these type of games even outside of Steam, to the point it is almost non-existent. I mean, we all know Japanese developers are somehow arbitrarily region-locked to Windows only platform, but in no way do I feel compelled to recommend an incomplete game that should still be in development, or perhaps (I shudder at the notion of suggesting a stupid, once "free" practice) Early Access tagged.
Even despite the somewhat low price-tag, I can see no justification of selling what seems to be in a alpha or beta testing stage. Has the average gaming market adopted the idea of selling demos on the basis of nothing? Forward to the Sky, to me, is a small yet embodiment of such a thing. No it's not new, but its growing more as an accepted business practice in everyone's eyes, and that scares me for the sake of all gamers. There are plenty of good and half-decent platformer puzzlers out there, but this isn't one of them.
Instead of asking a refund, I hope the developer can at least continue to update the game on a regular basis to make this article appear, at best, obnoxiously wrong.
Some you may have missed, popular articles from the last month: