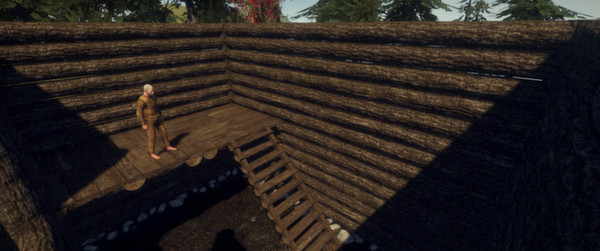 Rust from Facepunch Studios (notable for Garry's Mod) should once again work on Linux thanks to some more Unity engine updates, I've tested it and it works for me.
It may not work for all of you, but it now works for me. They are using the bleeding-edge Unity 5 game engine, and with it comes constant breakage.
About the game
(From Steam)
The only aim in Rust is to survive.
To do this you will need to overcome struggles such as hunger, thirst and cold. Build a fire. Build a shelter. Kill animals for meat. Protect yourself from other players, and kill them for meat. Create alliances with other players and form a town.
Whatever it takes to survive.
Some thoughts
I haven't really played much of Rust, at all, until today. The last time I properly tried it was before their "next generation" branch became the default, and the difference is insane.
Personally, I'm not sure what the massive deal with Rust is, and why it's doing so well, but there must be something I'm missing. It has the usual problems with survival games thrusting you into the game and not telling you anything about what to do, so you must figure everything out yourself.
My first game ended up finding another naked man, he proceeded to batter me with a stone, and that was it, dead in 5 minutes flat. Enjoying this, not.
My second game I decided to smash a few trees and grab some wood, and the game decided to allow me to gather 3 lots before completely crashing on me.
Luckily, the third game seemed crash-bug free and I was able to collect some stone, make a hammer and a hatched, and I stumbled across naked guy sleeping, so I did the obvious thing of smashing him in with my rock.
I could only find one animal to help me make clothes with (which didn't give me enough cloth), so I will have to continue being butt-naked for the foreseeable future. I know it's all about survival, but the extreme scarcity of animals was frustrating.
I do quite like the crafting system in rust, as you simply double click what you want and it takes a certain amount of time to craft, but while crafting you can still continue doing whatever you want. I think I'm finally getting the hang of what this is all about.
Sadly, while researching how to make paper someone popped out of nowhere and killed me. So, I decided to call it a day on that server and try another one. The game decided to crash again when picking a new server, annoying as hell.
The game is really quite beautiful now, so where it's pretty confusing at the start, it sure makes up for it in just how fantastic it looks.
Looks like it still has some ways to go before I understand it, and for the Linux version to be polished up. It also seems to leave a process running when you quit, so Steam thinks you're still playing it forcing you to manually kill it, rough.
It seems the key to enjoying Rust is to read up on it a lot first, and find a server that only has friendly people that won't kill you on sight.
Performance wise the game is quite a hog, but you can tweak quite a lot of different things for it, so I was able to keep it around 40FPS while still looking awesome. I think that's pretty great for a Unity game.
Check out
Rust on Steam
if you really into sandbox games with naked people running around.
Some you may have missed, popular articles from the last month: