Entroware
is a UK-based startup aiming their sights at the Linux market, and we have been sent the "Proteus" gaming laptop to give our thoughts on.
See a bigger clickable image of this unit below:

I have to admit, I had never really heard of Entroware before, so I didn't know what to expect. For a smaller company I expected some crap plastic shell with no configurability, boy I was wrong.
This is also our first ever official hardware review with an item sent by a vendor, so while we are new to this, I will be as thorough and interesting as possible.
One thing Linux is lacking, is a big presence in shops in the UK, and I don't think it's going to happen anytime soon. Microsoft is so entrenched in it that Apple have their own stores, so to see more shops appear online directly for us, that pleases me, a lot.
The last two times I've looked to buy a laptop I ended up buying a Windows machine, and spending time wiping Windows and getting it all setup is a real annoyance, not to mention having to mess around with setting up graphics when the stores kindly don't mention it has two graphics chips which gets messy.
Entroware haven't been around for long, in fact they only surfaced early last year, so I have been keen to see what their products are like since our communication started.
I have been secretly using their 'Proteus' for all of my GamingOnLinux work recently, and for gaming to give it some proper thoughts after real world use, and the Proteus performance blew me away.
Enter The Proteus
I've owned a fair few laptops in my time, and some of them have been at the higher end of the spectrum, so I have a decent grasp of what to expect from a laptop of such calibre. This is easily the most powerful unit I've ever touched though.
You have the option of Ubuntu 14.04, Ubuntu 14.10, or no operating system. The no OS option I imagine will keep a lot of people happy. Personally I would load up Linux Mint, but for the purposes of this we are reviewing it as you would buy it with Ubuntu.
You have a number of configurable options when picking your unit which is what I already love about Entroware, but this is the unit I was sent to test:
CPU: Intel Core i5 4210M
GPU: Nvidia GTX 860M
RAM: 8GB DDR3
13.3" 1080p matte IPS display
120GB SSD
Distro: Ubuntu 14.04
Pricing
That unit would set you back about £788.97, so you will need to dig deep into your wallets for it!
Comparing it to other Linux stores around the globe, and general stores it does seem to be a reasonable value. While there may be a slight markup on Entroware, not many places will test all their units for Linux compatibility, and that's exactly what we want. It does get annoying when buying a laptop to find out it has some badly supported wireless chip for example, so Entroware prevent this major annoyance for you.
My only gripe with their starting specifications is that the RAM is only a measly 4GB, as the bigger games Linux has been getting tend to eat through RAM, and I really consider 8GB to be a minimum now. If anything it gives you a bit of breathing room for future ports.

When opening her up I did get a slight giggle at the size of the power brick. It's no way near reaching WiiU levels of stupidity (the power brick on that is massive), but it's not exactly small either. It's about the size of a 360 controller to give you an idea, only a bit thinner. You might not think it's a big issue, but the point of laptops is portability, and so you want as small a power brick as you can get.
Style & Build Quality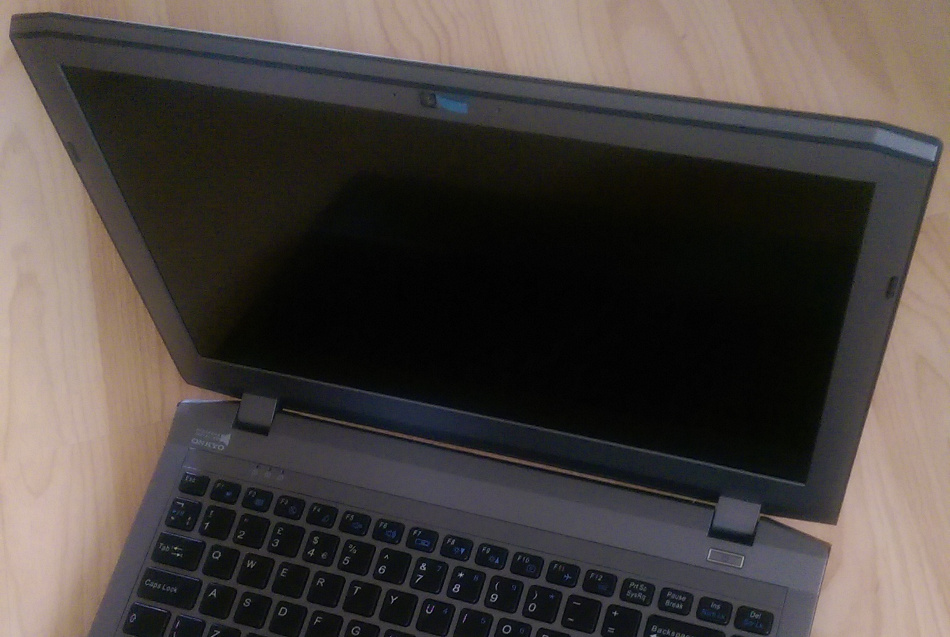 In the looks department it's one of the few places it falls a bit flat. It doesn't look like anything special, but for me that's really not an issue at all. I never understand why people want something with neon lights all over it, I like to use my computers, not enter them into a beauty pageant.
I get this may be an issue for some, so if you really are looking for something to show off to the masses, then the Proteus isn't what you're looking for.
The build quality does seem fantastic, and it doesn't feel cheap at all. Everything about it feels incredibly sturdy, and I feel a lot safer using this than my Macbook Air.
Screen
Wow, if you can afford it, you should really look at getting an IPS display. The clarity of the screen at different viewing angles compared to my regular desktop screen is quite noticeable. The colours are also very vibrant, so for general use it's excellent.
Keyboard

One thing I
really
dislike on laptops are the keyboards, as most of the time they can be quite horrible to type on as lots of them skimp on the keyboard, making them feel cheap. I'm not sure what can be done to solve this, as the Proteus seems to have a pretty standard keyboard without any extra bells and whistles.
I was also hoping it wouldn't have a Windows icon, but they haven't customised the keyboard.
Boot time
Thanks to the SSD the boot time is good, but it could be better. The Proteus took a nifty 25 seconds to get into the desktop. I would have thought it would be quicker, and it seems to spend about 6 seconds before you even get anything to appear at all.
Weight
It's not exactly going to win any awards here; it's heavy! You don't notice it when it's sat on your lap, but the moment you go to move it you are reminded it's quite the beast.
Weight is an issue with any higher end laptop I've ever had, as you're cramming more and more into such a small space. It's still easily portable and I had no problems carrying it around, so I don't think it's anything to really be bothered about.
Battery Power
Battery wise, it has a 5600mAh removable battery at the bottom, so that should be sufficient for general use, but won't last too long gaming on it.
Touchpad

Thankfully, it has a pretty normal touchpad with physical buttons. It's nice to use when comparing it to a clickpad like in the Macbook Air (which is awful to use!).
The touchpad does stay reasonably cool under load too, and I never really felt much heat around that area.
The touchpad scrolling is a little iffy, as I had to turn off two finger scrolling as it didn't work a good 70% of the time, and seemed to work at random. Edge scrolling with one finger seemed to work fine, but who really uses a touchpad all that much? Mouse all the way!
There is a bug on Linux with the latest Nvidia drivers, as when using the touchpad the entire unit can freeze up, this is a known issue, and seems to be a mix between a bug in the Nvidia driver, and the Linux touchpad drivers. This only happens on one specific version of the closed source Nvidia drivers.
Check out Page 2 for how it performs while gaming, as that's the most important thing, right?
Some you may have missed, popular articles from the last month: