Roguelites seem to be pretty abundant these days. If you check Steam, Desura or pretty much any online game store, you will find tons and tons of games that advertise themselves as roguelites. Delver is one too but, unlike many others, it's actually surprisingly close to the original Rogue.

Delver is a first-person roguelite dungeon crawler by Priority Interrupt with a quite familiar theme: your job is to descend down into the depths of a mysterious dungeon in search of a valuable artifact, the Yithidian orb, and then find your way back out of the dungeon alive. The dungeon is filled with traps and enemies of various sorts and the only way is through.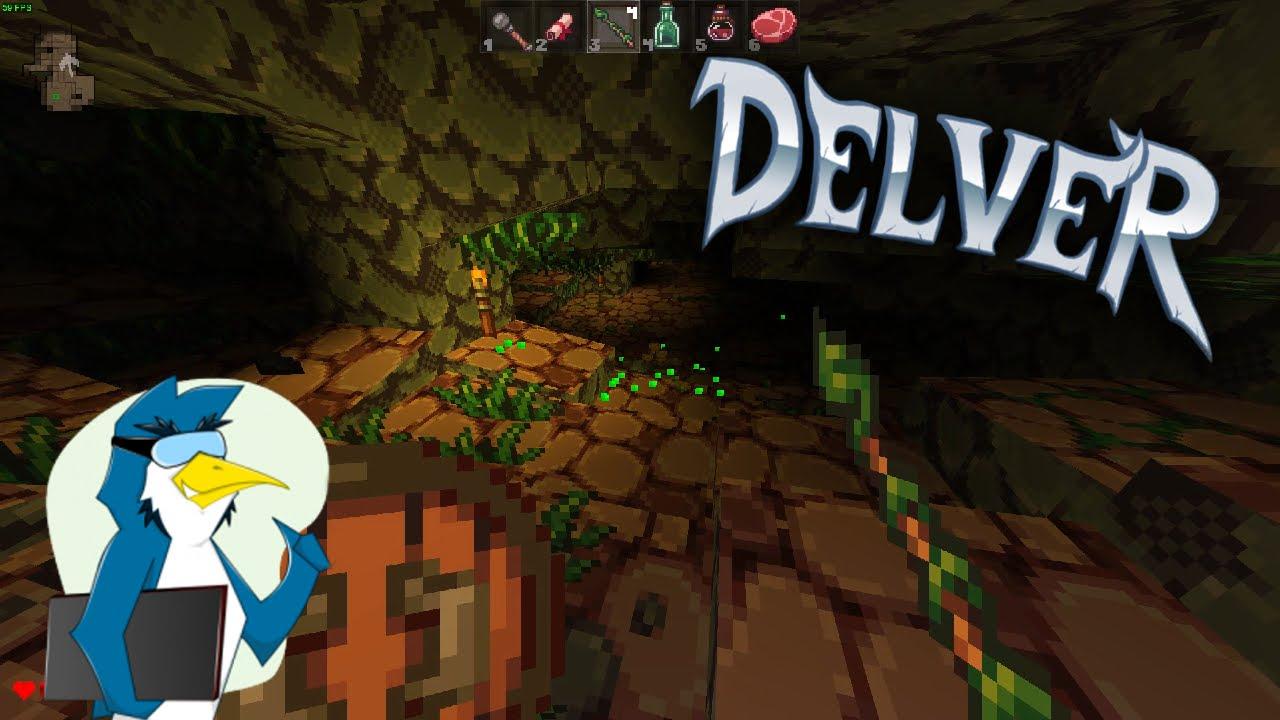 I've played all kinds of first-person roguelites and usually their connections to Rogue are pretty weak. Mostly it refers to the perma-death nature of those games and the procedurally generated levels they have. But Delver takes it one step further. Not only does it have the usual roguelite aspects, it also shares the general structure and idea of Rogue. The quest you are on and the theme of the dungeon could very well be from a true roguelike. Delver is sort of in a space between roguelike and roguelite.

While it is most definitely heavily influenced by roguelikes, Delver tries to keep things simple. The gameplay is so simple that after watching 10 minutes of gameplay you'll pretty much know everything there is to know about the gameplay. You travel through dungeons, find loot and bash enemies with swords, maces and daggers. You will also find scrolls to read for some magical benefits and potions to quaff to regain health or to give you various buffs (or debuffs) and when you need to hit your enemies from far away, you can rely on a bow or various kinds of wands. The potions in Delver are also unidentified when you first find them and only by drinking them you will figure out what their function is. That's another cool throwback to Rogue. Sadly that doesn't apply to scrolls which come pre-identified by default.

The controls are also about as basic as possible. One interesting thing is that you can't jump in Delver at all. In fact, Space is bound to attack as well as both of the mouse keys. At first I thought it was a bit weird but while testing the game on my laptop without a proper mouse I actually noticed that there is a benefit to doing it like this. Laptop touchpads are considered the worst way to game but Delver can actually be played quite well without an external mouse. You simply just use the touchpad to look around and hit space when you want to attack. I can't really think of first-person games that work this well using just the touchpad. Probably not the most important thing, since all of us have proper mice but it was a cool thing to discover.

The dungeon is randomly generated from a set of pre-built rooms, which you can also create yourself with the bundled room editor and each level of the dungeon is themed. Two of the first levels are traditional looking dungeon levels, levels 3 and 4 are set in caves, 5 and 6 in sewers and the final level is set in an ancient temple and contains the magical orb you are after. The fact that a pair of levels is dedicated to each dungeon theme was a bit disappointing to me. Considering that there are only 7 levels in total I would have liked to see more variety in the general look of the levels. The levels aren't too extensive either, making the game quite short to play through.

Graphically, as you can see, Delver is very pixel-y and retro with enemies and NPCs represented by sprites like in Doom or Wolfenstein 3D. We've seen that sort of stuff A LOT and I imagine many of us shy away from this kind of art style but personally I find the art style here is consistent and good to look at. The level of graphics also makes it possible to run the game even on relatively slow computers. My Acer Aspire v3 with Intel HD Graphics 3000 can push constant 60 fps and if the game wasn't locked to 60 it would probably go even higher than that. There is also a community-created texture pack for the game which turns the graphics into a higher-resolution comic style.

The graphics are accompanied by a nice subtle soundtrack with music that fits each level nicely and turns very dramatic when you finally reach the orb and portrays the feeling of being chased by a hellish army very well.

Roguelites seem to be moving further and further away from Rogue, so seeing Delver attempt to do something quite radically different was very pleasing. Personally I would take Delver even closer to Rogue by adding more features and making the game a lot longer than it is now. A succesful run is only about 40-60 minutes long and it will only take you a couple of attempts to get it right. It also seems that there are some balancing issues with the leveling system, since power-leveling health seems like the most certain strategy to win the game.

But then again, the game is still in Early Access and it's entirely possible that the devs will be implementing more stuff as time goes on. The devs are also encouraging people to mod the game and some community-made content has made it into the game itself. As it stands, Delver is an enjoyable game and I don't regret buying it. It's very reasonably priced for the amount of entertainment I've gotten from it so far, so recommending it is not hard at all. It's not a game I'd rave about but not a game to completely overlook either. Just watch a couple of minutes of gameplay and decide if it's a game for you.
A DRM-free build is also available on the Delver homepage through a Humble Widget. Delver's homepage: http://delvergame.com/
Some you may have missed, popular articles from the last month: