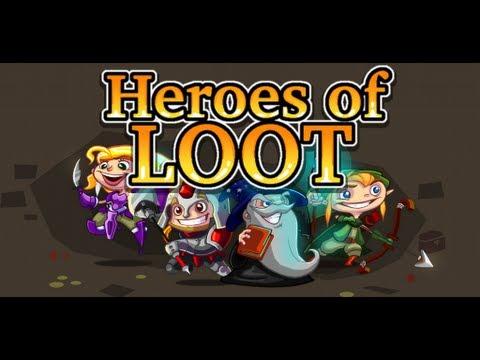 Heroes of Loot is a 2D dungeon crawler with twin stick like shooting, I've taken a little look so that you know what to expect.
About HoL
(Official)
Heroes of Loot combines the action of twin-stick shooters with the dungeon crawling of rogue-likes. You'll find yourself in the middle of hordes of ghosts, skulls, cyclops, critters and much more.. survive using quick reflexes, level up to improve your weapon, and if you have time complete some quests for extra loot and upgrades.
Heroes of Loot get's a lot of the inspiration from the original 80's classic Gauntlet games, combined with Robotron and Smash-TV style gameplay.
There are various secrets to uncover, hidden rooms full of special items to find, and perma-items to find and collect for extra power.
So, how deep into the dungeon can you go?
Play it alone, or with a co-op buddy.. just be sure to share the loot, healing potions, weapons, and shields...
...or not, and sacrifice your buddy for your own gain !
My thoughts
I do love dungeon crawlers, and I really like the art style that Orangepixel (the developer) has, but sadly Heroes of Loot feels stale really quickly. It's a heavily populated genre now, so I was hoping they had a bit more to make themselves stand out, but it's all just very "samey".
While I like the art style for the characters, the actual dungeons themselves are completely lifeless. The textures are all plain, and the colouring itself is a rather dull choice too. I get that it's a dungeon, but it's not exactly nice to look at constant greys.
You rather quickly float around a small dungeon looking for a key, blast every single enemy you see in sight and occasionally pop to a shop that has a single random item, or find a quest door to do a random thing like collect gold chests. It's not exactly the most engaging experience.
I really don't like putting games down, as I always try to be fair, and fair I will be; the gameplay is pretty boring. Most of the time you can simply fire down a hallway and rather quickly they just line up to die for you, how nice of them, but not exactly making it difficult. Even when the monsters have a bit more space, you can mostly circle around and dispatch them within seconds.
The "secret" area's are stupidly easy to find, because as you go even remotely near them, they just light up and it tells you that you found a secret area. That's not exactly a secret area now is it?
By dungeon 13 I thought that it finally got interesting, as it introduced what seemed like a boss monster. It even had a special attack that looked quite deadly! Annoyingly, I killed the Cyclops in about 3 seconds flat, and I'm not even exaggerating.
The gamepad support is also rather lacking on Linux, the developer stated it's using a 3rd part lib so it seems they may not be able to do much. Currently on my Logitech F310 it won't shoot left or right, only up and down, which is pretty useless for this game.
Final thoughts
: It might be fun for a blast on mobiles, but sadly it's a rather shallow game on the desktop. I find Nuclear Throne to be much more to my tastes, as you probably will too.
See
Heroes of Loot on Steam
.
Some you may have missed, popular articles from the last month: