I'm a big fan of gamepads, they enable me to kick back and relax while gaming. I decided to invest in one that is supposed to have good Linux support, so what did I find?
I was really tired of my old Xbox 360 wireless pad, when it was purchased for me years ago the battery it came with was half broken (it wouldn't stay in without tacking it to the gamepad). Due to this it already started life with me annoyed with it, but it was a present, so I stuck with it. I recently decided to dump it for something better, because I can.
Enter the Logitech F310, isn't it beautiful?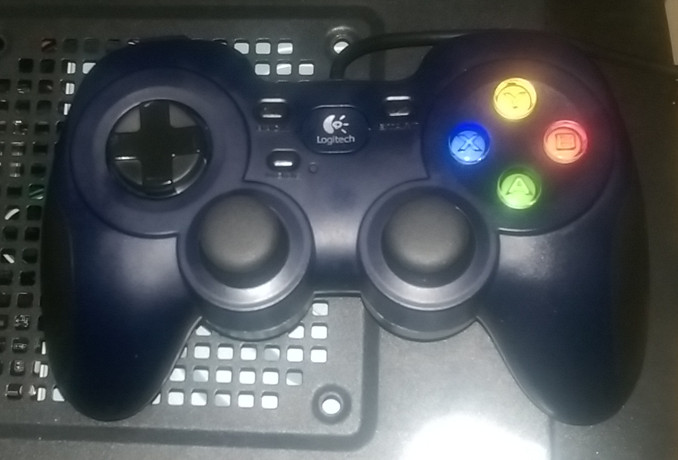 Configuration
Thanks to Steam it needed zero configuration, and worked beautifully out of the box. It even has a handy button directly in the middle which will bring up the Steam Overlay; something I wasn't able to do on my old wireless 360 controller. Logitech do directly advertise Steam Big Picture on their official product page, so it sounds like it was designed with it in mind.
I've tested it outside Steam as well, and without configuring anything it seems to work just as well. I am very impressed with how easy it is to get going. That's the most important thing after all—I want to game with it, not spend tons of time configuring it.
How does it feel?
Even with my smaller hands it still feels pretty comfortable, and fits snuggly into both hands together. I've used it for some pretty long sessions now, and my hands don't end up aching like they do with my Dualshock 4. There's practically no weight to it either, so that's a major bonus.
The wire on it is pretty long too, to the point that I can nearly sit half a room away! I still need a slight extension to lazy with it in bed though, sadly. I shall one day be the king of PC gaming leisure, lazing it up in bed while I game.
The trigger buttons are the only parts that don't feel quite right. I'm not sure if it's due to being brand new or not, but the triggers feel really quite stiff. It's not a big issue though, as they are still perfectly usable, but I do hope they become a little less stiff over time, with enough use they might, so I will just have to keep an eye on it.
The general build quality does seem great, and it feels quite strong. Feels like it might actually last quite some time even with me dropping it all over the place, and my son throwing it around. I really need to hide it away during the day!
Deadzone wise, there's a real tiny amount of it on each stick, and I imagine that's to stop accidental movements. You don't want them to be overly sensitive and respond to the tiniest touch by accident, so I think the responsiveness is pretty good. It may not be the best for a fast paced shooter when you're using something like a Sniper that needs pinpoint movement, but for everything else it should be a dream.
I've tested the gamepad in several games, and it performs really well in all of them. Some games like Half-Life 2 really were never designed for a gamepad, but it's nice to have the option to use one. The original layout that Half-Life 2 gives you for this controller is a bit crap, so after some customization it's all good, and I don't think I had to use the keyboard since I customized it.
One thing I did find during my testing is the "mode" button seems to switch between using the D-pad and the left analog stick for movement. It confused me to no end until i realised I accidentally pressed it, which is quite easy to do. If that happens to you, that's probably what you did.
Apart from BioShock's setting having an inverted look up/down the wrong way around (off is inverted, on isn't, lolwut?) the game seems to work pretty great with it. The Control layout is a bit crap, but bearable. Like with Half-Life 2, just customize as you like it.
The gamepad is just as responsive as it is in Half-Life 2, and that's great. It has enabled me to enjoy the game some more as I sit back and watch the story unfold.
Finally, I tested it extensively in Victor Vran, and i just never wanted to put it down, but more on that in another article to come soon.
Final Verdict:
If you're looking for a well built gamepad that has a good shape, and good support in games, then go for it. For the price I think it's fantastic, and you can find them dirt cheap on eBay.
You can find the
official F310 page
on Logitechs website.
Ps. What gamepad have you fallen in love with? Or are you too "pc master race" to go near one? Let me know!
Some you may have missed, popular articles from the last month: