Distance is a beautiful neon survival racer that I finally had a chance to play, and what I found really did surprise me.
About the game
(Official)
Distance is a survival racing game that combines the intense action of arcade racing with the exploration of an atmospheric world. You control a unique car that allows you to boost, jump, rotate, and even fly through a chaotic and twisted city. The world has a mysterious history, and as you explore you'll be able to uncover pieces of its past.
The game is currently in Early Access, but it's very playable right now.
My initial thoughts, video down below too
I'm not usually a big racer fan, and especially so when it's only you on the track (in single player), but something about Distance has me transfixed.
It's the kind of game that I picked up during a sale, and didn't expect much from. I always like to be surprised, and I certainly was after realising half an hour vanished in an instant on my first load. Not many games do that to me, and I really was loving what I played of it.

It gives me the same satisfying feeling that I got with Geometry Wars 3 and the leaderboards, only I seem to suck far less at Distance. I've even repeatedly beaten others scores from my Steam friends lists, so someone pass me my Diamond badge.
One of the most recent updates titled "Trackmogrify" adds an entirely new game mode. This new game mode will create a track based on any words you enter, so naturally I entered in "Linux" and it gave me a rather insane track. You all need to try to beat my times on it, as it will show up in the online scoreboards. It's a really fun feature, and something that will certainly keep the game alive for a long time. I warn you though, the Linux track is tricky! The lightning effect striking the racetrack is freaking awesome too, and there might also be flying involved.
It becomes even more awesome when you try it out online, and what I found was a very friendly community willing to wait for you to finish, and offer up tips. It's really great to see other cars online, and watch them fail as miserably as you. Although, my previous comments about repeatedly beating people doesn't apply online, as I apparently suck horribly.
From playing it online, I've had a chance to see some of the seriously insane tracks people have created. I honestly think people must be on drugs while making them, as they're preposterous. You don't need to worry about an online host picking a map you don't have either, thanks to the developers thinking ahead it will download for you.
You can see a video below of me failing a lot, but just wait for the end. After all my failures I cruise past someone right before the finish, and that was rather exhilarating not being in last place.
Note: The video recording gave me quite a big performance hit, the game is much more responsive and fluid than it looks, honest.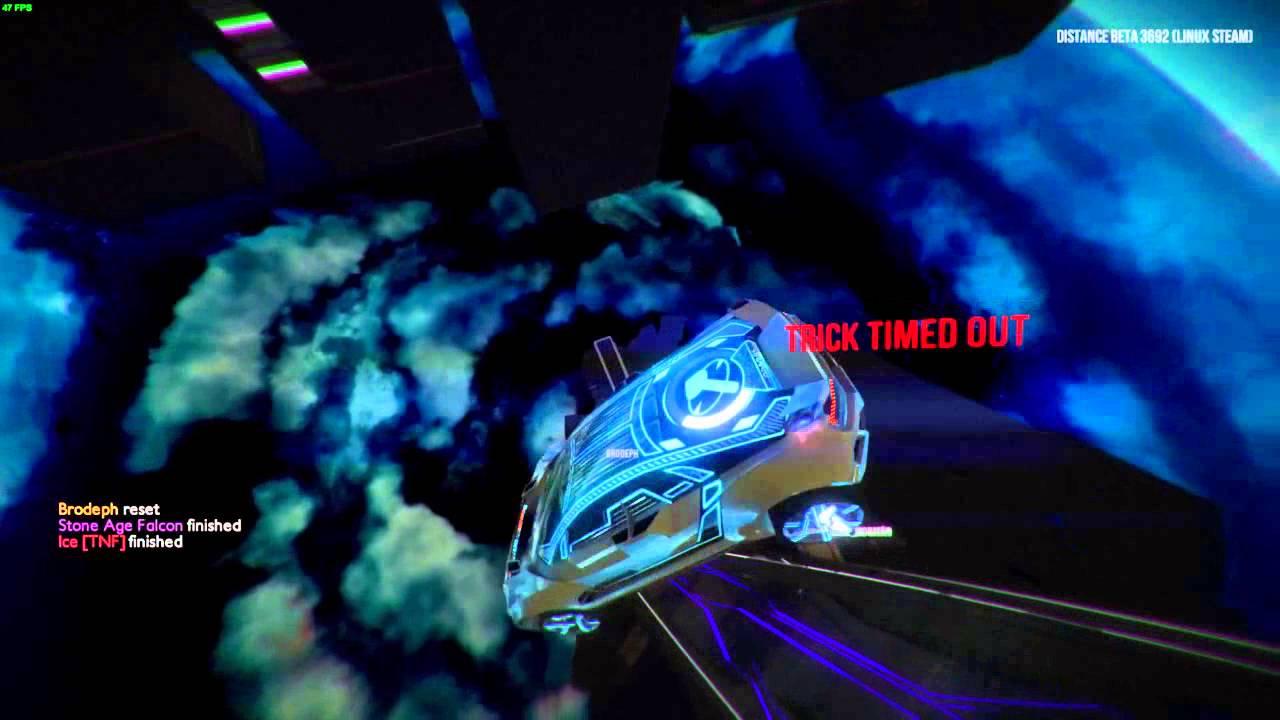 Drawbacks
Solo play can seem a little lonely without anything like ghost cars of times near yours, or friends' cars.
It can even seem a little bit easy at times, but once you try some more advanced tracks you will surely think again. Stick with it, and don't give up as you will see it has a lot to offer after a few simple tracks.
Final thoughts
I think it's going to be very popular when it's finished, and rightly so. The neon world/tracks are awe inspiring. I'm not really surprised it is so well reviewed on Steam. I can easily recommend it even though it's in Early Access.
I think this will easily be one of my go-to games for when friends come over. Not just because it has split-screen, but it's just good fun.
Check out
Distance on Steam
now.
Some you may have missed, popular articles from the last month: